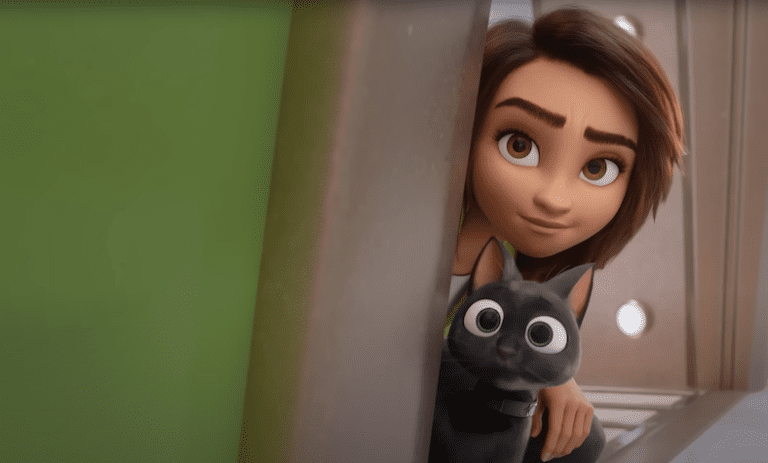 It rains movies in August. The summer's big blockbusters have come and gone, and studios are desperately trying to snag a few more ticket sales or a few more eyeballs on TV screens before the kids go back to school and footballs fill the air.
And that can lead to some pleasant surprises.
Take Luck, a G-rated animated film on Apple TV+.
Admittedly, Luck comes with baggage before you even flip it on. Former Pixar wizard John Lasseter—who left Pixar and Disney in the wake of sexual harassment allegations—now heads Skydance Animation, the studio behind Luck. The film hasn't been well-received by many critics, either.
Admittedly, a lot of the story's mechanizations feel needlessly convoluted. The movie's Land of Luck (where both good luck and bad luck are manufactured and distributed) feels a lot as if Willy Wonka's chocolate factory and a terrible DMV had a bureaucratic baby together and filed it in triplicate.
But for my money, that's OK. Because the movie isn't really about luck: It's about character.
Speaking of which …
Luck Be a Penny Tonight
Our lead character, Sam, is pretty much the unluckiest person on the planet. She's the sort of person whose toast always falls jelly-side down and whose bicycle tires always go flat on the worst possible days. This orphan was never lucky enough to find a "forever family," either.
But now that she's aged out of the foster house she was raised in, Sam wants to make sure that the other girls in the house—especially young Hazel—are luckier than she was.
She literally finds a bit of luck in the form of a penny—the sort of good luck charm that (Sam believes) Hazel could use. Alas, Sam accidentally flushes it down the toilet (proving that bad luck is about as indelible as a Sharpie scrawl in her life).
That's bad news for a talking cat named Bob, too. See, it was his lucky penny. And that penny serves, in a way, as his entry badge into the Land of Luck. If he doesn't bring that badge back, Bob'll be in some serious trouble.
So Bob and Sam hatch a convoluted scheme to swipe another lucky penny—a penny that'll help Hazel find a mom and dad, then help Bob to stay in the realm of good luck.
Notice who's not being helped by that lucky penny? Sam, the unluckiest person on the planet. Honestly, it never seems to occur to her to keep the penny herself.
But that's not what makes Sam so remarkable. Rather, it's how positive Sam stays in the face of all the bad luck she's constantly being peppered with.
When her bicycle tire goes flat, she whips out a tiny tire pump. When the pump is itself is broken, she McIvyers it with a stick of lip balm. "Take that, universe!" she shouts, as she boards her bike and rides to work—arriving just on time.
Making Your Own Luck
It's pretty characteristic of how Sam faces life. And when she makes a stop in the land of Bad Luck, she discovers most of the folks who work there face their own struggles the same way Sam does: Not with despair, not even with discouragement, but with a certain grit and gumption to move forward. Take that, universe, they say.
The Apostle Paul would be proud of them.
In Romans, Paul talks about suffering pretty extensively. He writes:
" … we rejoice in our sufferings, knowing that suffering produces endurance, and endurance produces character, and character produces hope, and hope does not put us to shame, because God's love has been poured into our hearts through the Holy Spirit who has been given to us (Rom. 5:3-5)."
Luck isn't really about luck, be it good or bad. It tells us that it's what we do with that luck—what we do with the circumstances we're given—that matters.
Sam doesn't profess any sort of religion or faith system in Luck. But she deals with her circumstances exactly how we Christians should. And it's not just about facing our unlucky trials with endurance, character and hope, but with selflessness, too.
Sam's outlook stands as a 180-degree contrast to that of Bob, our talking black cat. While Bob bemoans bad luck, Sam deals with it with a grin and grit. While Bob's sole focus is wrapped up in what's good for the cat, Sam is all about doing her best to help others.
Sam learns that bad luck can be a good thing. Suffering, as our faith teaches, can toughen us. Refine us. Give us, ultimately, hope.
There's a certain irony in that, at least when it comes to the movie. When someone commiserates with Sam that she was never able to find her own forever family, Sam quips, "On the upside, I can put all that hoping behind me."
But Sam did find a family—just not the one she expected to find one. And her whole saga would never have happened had it not been for her sense of hope—hope that, however unlucky she might be, she'd be able to overcome it.