A new interview with a Water Priestess! Read below to learn more about her practice and connection to the water.
Who are you and how do you practice?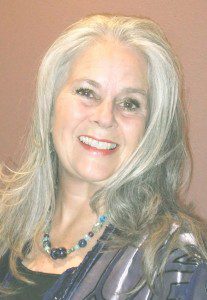 I am a Water Priestess, Kathryn Ravenwood (Raven). In addition to my Water Priestess work, I am a Priestess of the Trees, an initiated Priestess of Thoth, a certified Alchemical Healer practitioner and teacher (lineage of Thoth via Nicki Scully), trained in the Egyptian Mysteries and a devotee of that pantheon. I have walked with the Sacred Pipe in the tradition of White Buffalo Calf Woman for nearly 20 years, was a professional body worker/massage therapist for 20 years plus many years as a non-professional. I lead both public and private rituals in open circles or for individuals in my home. I am a Tarot reader and teacher.
I have written a book about my experience with Spirit and being a Water Priestess: How to Create Sacred Water: A Guide to Rituals and Practices
In addition to this book, I am a contributing author to Stepping Into Ourselves: an Antholgy of Writings on Priestesses
Also a contributor to Invoking the Scribes of Ancient Egypt: The Initiatory Path of Spiritual Journaling

Please introduce us to your Sacred Body of Water
My sacred body of water (they are ALL sacred, of course) has been my Sacred Water Altar.  I was instructed by Spirit to create this Altar in 1999.  Its purpose is to be a "crystal homeopathic elixir to heal the Waters of Gaia." The Altar is a glass punch bowl with a very large amethyst crystal in the bottom.  A selenite wand is used as well.
Tell us about the work you do at your altar and was it spirit lead?
I was directed to make the Altar as a full moon cycle altar. I put water in the bowl, over the amethyst, and stir it clock-wise with my prayers and blessing for the Waters of Gaia, using the selenite wand.  Prayers are offered during the month and the Altar is "worked" each time with prayers and stirring.  At the end of the moon cycle, the water is moved to portable containers labeled with my prayers and blessings, and then taken to a body of water to be given to Gaia with prayers and blessings.
The same amethyst has been used all these years and it is NEVER "cruddy" from being in the water. I dedicated it to the Water Altar and it continues to pour out its lovely energy and blessings.  The selenite wands have been replaced as selenite melts when left in water over time. It totally gives itself away for the Water.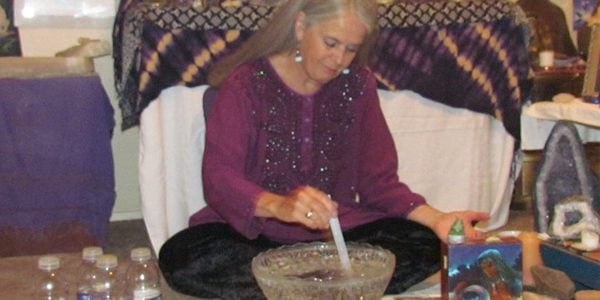 Can you talk about your work in conjunction with the current state of Water?
I first was instructed by Spirit when I was distressed by the massive water contamination of rivers and waterways in North Carolina following the devastation of Hurricane Floyd.  Literally millions of dead animals had been washed out into the waterways to rot. I was wondering just how much pollution the water table can handle when Spirit spoke to me and said, "you know, you could make a crystal homeopathic elixir that would heal the Waters of Gaia."  I did not know what this would be but I continued to ask and Spirit showed me, very clearly, how to create this Altar and how to work with it.
Can you tell us more about what the Water Spirits lead you to create?
I was guided step by step in the creation of this Altar. The process was huge for me as I had to learn to trust that (1) Spirit was teaching me directly, and (2) that it was time for me to step up and be more in service to Spirit and Gaia. These teachings are mine; I did not learn them from someone else or copy them from anyone.  Many months after I had been keeping the Altar and sharing the story of it and the elixir with friends, my planetary healing circle sister returned from Japan with a copy of Dr. Masaru Emoto's now famous book on water – written in Japanese (which she could speak and read).  None of us had ever heard of him or his work and the book was a direct confirmation to me that what I had learned from Spirit and trusted in doing the work was validate by this wonderful man and his work. There are many ways to pray for the Water. What I was given is one way and it is the way I have followed all these years.
What is your path? And how does it relate to your Water caretaking?
Most of the time my work has been solitary – between me, Spirit, and the Water. I have shared it in my circles and teachings and sometimes have been blessed to have people with me at the Water for the release of the elixir. While I am a teacher and healer, my private ritual is quite dear to me and much of my work has been done walking along the shore of the ocean or river edge in communion with Spirit. There are times I released the elixir to a tree or have even poured it down a toilet – now there is a source of polluted water for sure.
I have shared healing visions/journeys for the Water in my classes and rituals that provide for feedback from Gaia herself. Each time I have shared this people are shown in their vision journey how the work they just did for Gaia improved and healed the Waters. We forget we are channels for Spirit and agents of planetary healing.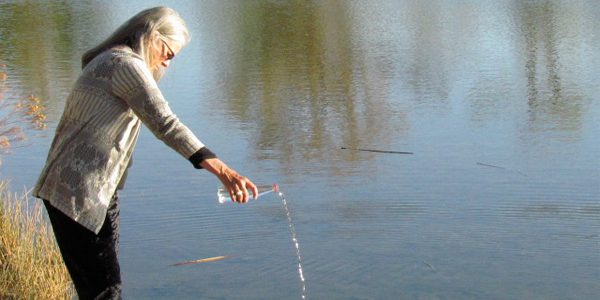 Can you tell us about your Water Temple Room?
In 1999 I had only been involved in women's circles and planetary healing circles for a few years. I found I had a passion for altars and one night while praying at my altar I realized it had grown from a very small start to taking up about one half of the floor along one wall in my bedroom. I was thinking of how it had grown when I heard Spirit say, "we want a whole room." And so my Altar Room- my Temple – was created and I have maintained that Sacred Space in every home I have lived since. It is an entire room dedicated to altars – each wall represents one of the Sacred Directions.  What a blessing to have this space! I keep the Water Altar in my home altar room on the West side – West for the Water. My Altar Room is where I do my prayers and offerings and I invite others to join me there for ritual and prayers.
 What type of work (spells, rituals, magic etc) do you do?
There are, of course, many ways to create ritual for the Water. For me, I am a Cancer, born on the full moon. One of my primary teachers and guides is Thoth (I am one of his Priestesses), who is a neteru of Egypt and known as a moon god. I believe it is quite natural that I was given this way to create ritual along a full moon cycle as I understand the cycle of the moon and am definitely a "moon goddess" as I feel our Grandmother as she travels through the night skies.
I find that over the years as I visit bodies of water to release the elixir for Gaia I have developed a much deeper relationship with Water as well as Spirit. One night while doing the ritual on a very low negative tide at Shillshoal Beach in Seattle, I was initiated by Spirit through visions as a Water Priestess. (For full details, please refer to my book, chapter 17)
I have shared the elixir in many states, as well as in Egypt for the Nile and the Red Sea. I have sent the elixir with friends as they travel (we used to be able to take water on the planes) to other states and countries. Since my book was published people have contacted me telling me they have started keeping their own Sacred Water Altars. I am most grateful for all the prayers for the Waters.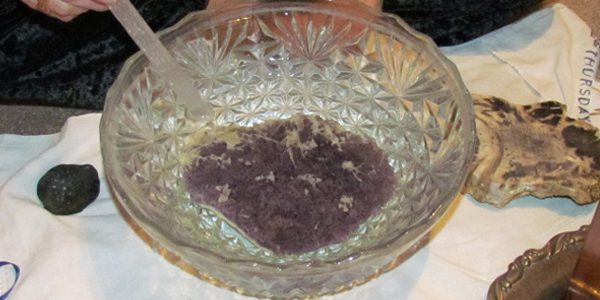 Can you tell us about the type of Water Magic/Energy work that you do?
When I do ritual at the Water, I smudge and Call in the Directions.  I sit or stand by the Water and just "hang out" for awhile. Then I offer prayers as I might be inspired not only for the Water but for the Beings of the Waters as well. Finally, I pour the elixir into the Waters with my blessings and sing to the Water.  Spirit gave me a very simple chant: "Thank you Water, thank you Water. Bless you, Water, bless you water" which I repeat until I feel it is complete. I have experienced many wonderful blessings by doing this ritual – sometimes birds fly overhead, or fish jump out of the water; once I saw two seals playing at the very edge of the water. I have been guarded by armed guards by the Nile, and seen the great bears with salmon in their mouths as a vision at the Red Sea. Mostly, I am spending time with the Water, giving back blessings as we are all so bountifully blessed by the Water.
How do you feel about the current attack on water? Standing Rock? And Pollution in general?
The current lack of respect for our Water is heartbreaking and terrifying with fracking, the massive ocean pollution – especially the plastic levels – and the attacks at Standing Rock as primary examples. But on a smaller level, people tend to not respect water, totally taking it for granted, wasting it, and never offering thanks. It is a simple enough thing to say "thank you" and "bless you" as we use water but how rarely we remember. Yet, the Water keeps giving to us. I believe we must all step up and concentrate our efforts to heal and protect the Waters of Gaia. I hope that the work I do contributes to this effort as well as inspires others to do what they can. Together we can make a huge difference.
Thank you, Water, for your Gift of Life. I see you clean and restore. Thank you, Water, I love you. Thank you, Water, I bless you.
Learn more about Kathryn Ravenwood by clicking here  www.kathrynravenwood.com