Almost as soon as I started to learn belly dance I became interested in the sacred aspect of movement. Over the years I studied many different forms of dance, mostly focusing around Middle Eastern culture. I studied Ballet and Folk dances as well. Only a few years after I began dancing I attended a sacred dance workshop and not too long after that I began to study different forms of sacred dance. I was invited to observe and partake in an Umbanda ritual and from then on I knew that Dancing was part of my magical path.
Over the years I became a dance teacher, I competed and placed in competitions and performed at venues around the US and Japan. For almost a decade I lived and breathed belly dance. Then there was a shift, something changed and it became a part of me, rather than everything I lived for. Witchcraft became my focus, and the Deities and Spirits I had devoted my practice to became the center. This was a lengthy process, not something that happened over night. It was a gradual waning of dance and waxing of witchcraft.
A few years went by and I still struggled, I found a few sacred dance classes and took them, and participated in workshops and events that were sacred dance focused. When I moved to Portland I wanted to take a break from competitive dance. My soul just couldn't take one more competition or stank eye from the latest diva dancer. I wanted connection and I wanted dance that fed my soul. You can imagine my joy when I found a group of Belly dancer who embodied just this.  I started taking classes every week. Yes, I still take classes, even after years and years of dancing, and even being in leadership positions I enjoy stepping back and allowing someone else to instruct me. It challenged my brain and body and pushes me past my own comfort zones! It so happened that the teacher of these wonderful classes decided to do an 8 week series on temple dance. I knew I was going to sign up.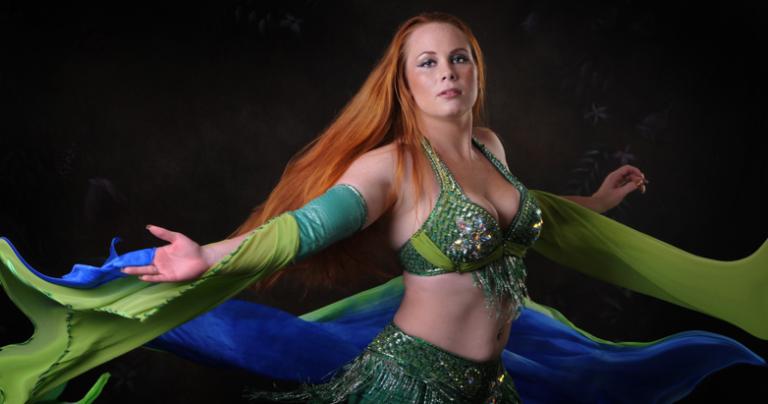 I pulled some cards, they weren't favorable, but I was so excited I did it anyways. I entered into the first week with blind enthusiasm. I was ecstatic, I was going to be able to participate in real temple dance. Dances moves that have a history of sacredness within the culture that developed them. Taught by someone I admired and that is a wonderful dancer and priestess. I was sure nothing could go wrong. We started the class with stretches and warm up and were taught some mudras and then the dance was dedicated to Shiva…..
Oh no! I thought, this isn't going to be good. So I immediately threw Gwyn up into my mind, I will dedicated this dance to him instead… The intent was there but I knew immediately that it wasn't going to work for me. This was a dance to Shiva and as a Polytheist I believe that what has been given to one deity must not be taken from him by some human priestess who thinks it should be dedicated to a different deity just because of her path. So I told myself I would learn them moved and take it more like a workshop or Zumba class where I learn the steps and have a good time. This was going to work I was sure of it…
Later the Teacher clarified that the dance was not specifically dedicated to Shiva, rather a masculine energy and that the "object of devotion was our choice" It was my interpretation that was off… just like everything else seemed to be for me.
From the moment that I started class I struggled. I don't think it has anything to do with the class but I knew it had everything to do with me. My brain is having trouble processing a new dance form, something that I found by class 3 that I was not passionate about. Indian and Nepalise dance doesn't move my soul like Celtic/Norse/Pagan/Folk style music does, or even how an Oriental Dance Song like Aziza or Zeina does. I began to notice that the music would take the other ladies of the class on an ecstatic journey through the movements. I noticed their connection, and I noticed their bodies adorn with jewelry, fabrics and tattoos that connected them to the culture. I still felt disconnected, and I felt it beginning to show.
For me, the dance became painful. Slowly the movements rejected my body, or I should say that my body rejected the movements. Combining the stress of the pain, with the stress of the class being on a difficult night for me despite the fact I had decided that I would make it work. My past injuries which I had learned to dance with were not only being aggravated but to stand in the correct posture for even a moment was painful, my hips felt like they are being torn apart, past injuries preventing me from moving or even enjoying the class. For me it was pain, and it hit me like a bag of bricks that I was struggling through these classes.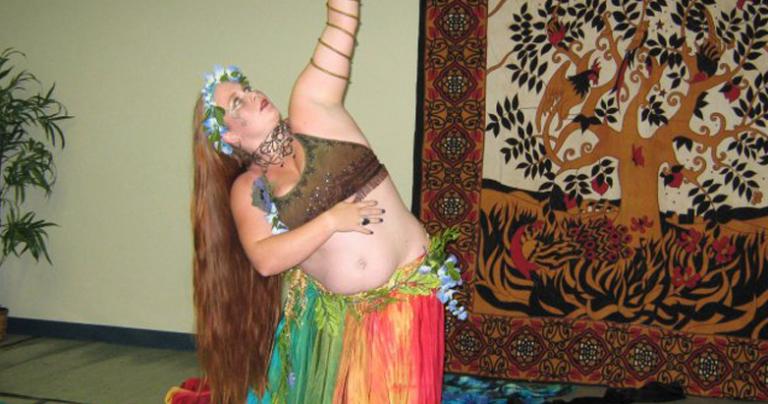 My ego took a nose dive off a long cliff and I had to sit with my own pain, embarrassment and frustration. The cards told me I wasn't ready and I did it anyways. I wanted to be ready, I wanted to get my dance to a place where it was in line with the other dancers, where I might be accepted and "part of the group" I had entered into this class series with an overlying subconscious thought, I wanted to be part of the group. It sounds so silly for a grown woman to want that, but I did. I wanted to dance with them, and be invited to their non-dance events. Oh how silly I was!
So after many hours of crying and agonizing about dropping out of the class, I did.  I was not ready, I may not ever be and I am ok with that. I gained so much clarity, so much understanding of myself, what I truly desired, and what I really was ready to be part of. I moved back to the Thursday class, where the ladies (who are different from the Sacred Dance class) were so happy to see me, as I had been away for the past 2 weeks from that class. They were welcoming and the teacher (who teaches both the sacred dance and my Thursday class) accepted my failure with grace and understanding. She even offered to just let me change classes! It really is true what they say… Worrying is just suffering twice! In this case, my worry was self-imposed suffering, for the moment that I made the change, I shifted. I had to hold tears of joy and bliss back as I moved through the Thursday Oriental Belly Dance movements. I knew exactly where I was supposed to be and I found the sacredness of understanding and acceptance in the class I was in, I knew I was home.
Learn more about Annwyn here