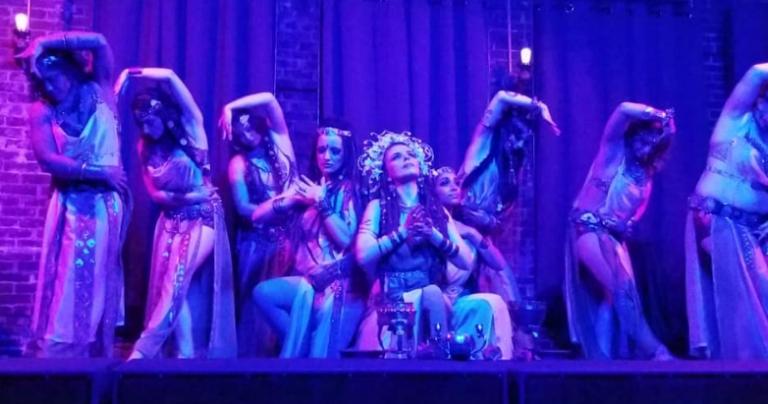 It's hard being the new kid in town, for me, it's not a new thing. I've been the new dance kid every few years, moving from the East Coast to Japan, and back to the East Coast, then to Arizona and finally here in Oregon. Each time I was the new dancer in town I rushed in and for the most part, I was welcomed with open arms. However, when I first relocated to Oregon I decided to take about a year off dance, not really doing anything other than resting and getting to know my area.
After some time I joined a class, but it still felt like it was a struggle. No matter how hard I tried I just didn't feel like I fit in. Perhaps it is because Portland already has such a wonderful and tight-knit community or perhaps because it seems that dancers move in and out every few months. I kept at it for a while, but I felt that I was alone in a state that I had never lived in before and had barely any friends. I was lost, I was stuck and it really sucked. I was also processing deep emotional trauma and loss so that wasn't working in my favor either. I tried to connect with the community and while there were no issues or slights, I was just failing to find my place.
For almost 2 years I went to the same class, at the same time on the same day week after week. I do love routine! Slowly so very slowly I began to recover in my heart. New issues arose as I danced, I had gotten over myself and felt less alone, but I was still focused on the fact I didn't really fit in. I had been in dance leadership position for so long, I had taught Bellydance classes for years, had a student troupe, even facilitated Sacred Dance Workshops and performed Sacred Dance pieces solo. Now all I wanted to do was be a student. So I hid and shrunk myself for a long time in the back of this class, eventually creeping my way to the front row and claiming my spot! (Inside joke for my dance sisters who know I always claim that top left corner as "My Spot!)
Things changed in the summer of 2018. I finally felt like not only did I fit in, but I had been working hard on healing the "sister" wound and found true sisterhood in two different places that summer. I first entered into a group performance piece, in a few short weeks I was training with 16 other dancers to perform a watery sacred dance piece at Jamballa 2018. This was a fabulous few weeks with costume making, practice and performance prep.
It was during this time that I stepped foot on a flight to the UK for a sacred pilgrimage with 20 strangers. It was the change of a lifetime. Though truth be told I did know 3 of the Women, they were the facilitators so it wasn't completely alone. My roommates were so kind and everyone on the journey treated me like we had known each other for years. It was a truly beautiful time and really showed me yet again what true unconditional love of a sister could be. There was no shame, backstabbing, gossip or slander. It was pure sisterly love, very much like what I was experiencing with my dance sisters at home.
Two weeks after I arrived home I stepped into the performance piece, most of the performers I had been dancing with for several months it was here I learned so much about community, sisterhood, and how to dance and push myself through healing. Healing isn't an easy thing, and it doesn't take a single dance class to heal deep emotional wounds, it takes a hundred, but I danced through pain, anger, body image issues, loss, grief, frustration, as well as many other feelings and emotions. It was the strength of my dance sisters who helped me through. When I first stepped foot in that dance class years before, I brought the very worst of me, By the time we performed together I was showing the very best of myself to the world. I was working so hard to keep myself in that place for my dance sisters, to be sure that I was pulling my own weight.
That Fall I decided to change things up and I changed dance studios, dance nights and dance teachers. I ended up in a Temple Tribal Bellydance Class with Tiare. This was such a wonderful class and it helped me to learn a few things about this style of dance that I had been struggling with. It was a wonderful time and the ladies were so welcoming, wonderful friends were made and deep connections continue to grow.
Then 2019 came and I was asked to be part of the  Sacred Dance Collective named Valôuria under the direction of Tiare and Pearl. This has taken me to a whole new level of Sacred Dance, being able to bring spirit through movement with other seasoned dancers is a dream come true and I have cherished every moment as we practiced to honor the Divine Mother. Just recently we performed a piece to embody the energies of Mary Magdalene as the Priestess of Isis facilitating the Ritual Initiation of Jesus. (Pictured above)
Not long after this very powerful piece I performed with my dance sisters of Valôuria. I entered into a Ritual Theater Initiation, again under the direction of Tiare. This was a day-long workshop including ritual, generous note taking, elemental postures and combinations. Finally ending with a group choreography embodying the 4 elements and spirit.
Now I find myself working as a Dance Priestess once again, this time with a different outlook, still in devotion to Spirit and to this dance, but this time with a group of sisters, who step into their power and honor this dance and their spirits with Ritual Theater and Ritual Dance. It is magnificent to dance with supportive loving women who are not only strong in spirit, but in their dance and magical practices as well.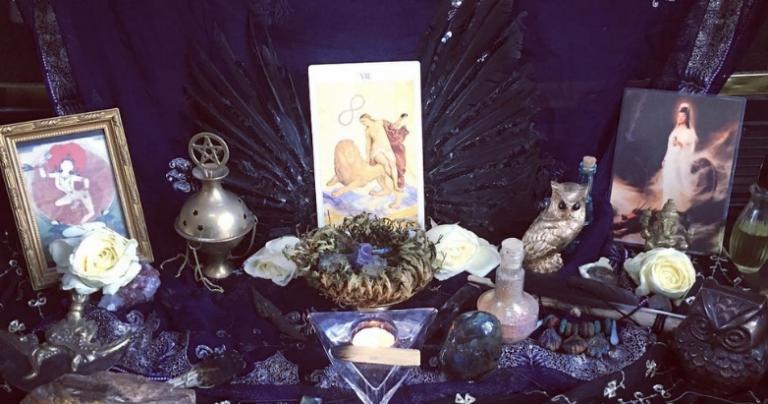 Altar from Ritual Theater Initiation 1 with Tiare- Image Credit- Annwyn Avalon