It has taken me quite a while to sit down and type out the rest of my pilgrimage. I have been experiencing intense personal challenges, causing a delay in writing here on this platform and in forthcoming blogs I will speak about those experiences and my profound healing experience in Bath with Sulis.  Thankfully I have moved past most of these personal challenges and have taken a moment to breath so now I feel ready and excited to continue to tell you more about my pilgrimage to Glastonbury and how I found Faery Women in a Church and the mysterious Black Well in Glastonbury. If you would like to hear about the start of my journey click HERE and read about Seeking the Sacred Pilgrimage.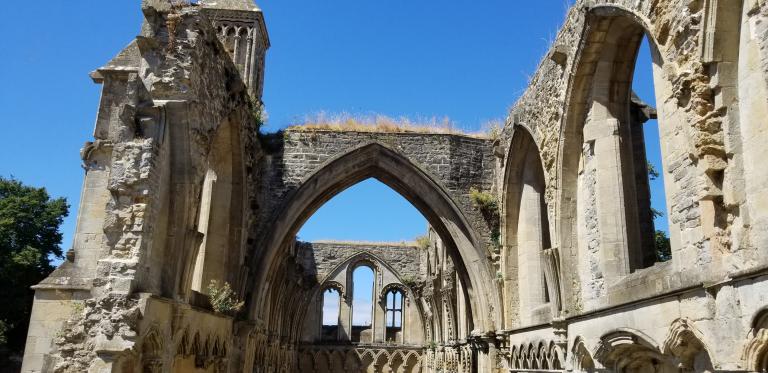 This was the 4th day of the journey and 2nd official day of the pilgrimage. I was very happy that our first scheduled event was not until 11:00 am. I don't travel well and with the packed day from the day before I was in desperate need of rest and so I enjoyed sleeping in! I met with the other sisters at a cute little tea house for cream tea and enjoyed chatting with everyone! I have a pretty strict diet, but was pleased that they provided me with a Gluten Free Scone and preserves! I was a little sad I couldn't enjoy the clotted cream, but it sure looked good! I was really happy with how accommodating the restaurants were in the UK to help meet dietary restrictions.
After Cream Tea I headed over to Glastonbury Abby. While this was not my first trip to Glastonbury, it was my first trip to the Glastonbury Abby. I had skipped visiting this place several years ago because there were much more important things I wanted to do that time and I only had one day in the magical little town. I was really glad that I visited! I was under the assumption that this was a very strongly associated site with Christianity and that the old gods were absent in this portion of the landscape. WOW was I wrong! It is quite clear this is not a Christian site, rather a thinly veiled Christian guise over an incredibly strong pagan landscape alive with the Old Gods and Faery Women.
From the moment I stepped foot on to the Abby Grounds I could feel the energy of the Divine Feminine and was pulled into a beautiful little chapel that had a triptych of three "Saintly Women" who were clearly not saints at all but faery women! To the right is Brigid holding a sacred vessel with a sacred bowl of flames over her shoulder a sacred cow peeks out. In the middle and the largest of the paintings is a figure with six dragons coming forth out of her belly. While it is states that this is Mary Magdalene portraying the 7 deadly sins, I can't help but see a powerful Faery women, birthing the sacred serpent power out on the land. In my mind there is no doubt these are serpents coming from the belly of a Faery woman or Goddess bestowing the wisdom of the sacred feminine upon the land. The final portion to the left was of a mysterious woman who I instantly knew was also Fae! She is dressed in the same as Brigid with a yellow dress, red cape and white veil. However her veil is opened showing an equal arm or Celtic cross, which is a pagan symbol not a Christian one. She is also holding a rose, symbol of the Divine Feminine and a string of beads, perhaps a rosary or coral. The information provided said she was called St. Aelswitha, but I see Faery women in triplicate here! Perhaps like most faery women their stories were slightly changes when they were turned into saints to meld the new and old religions.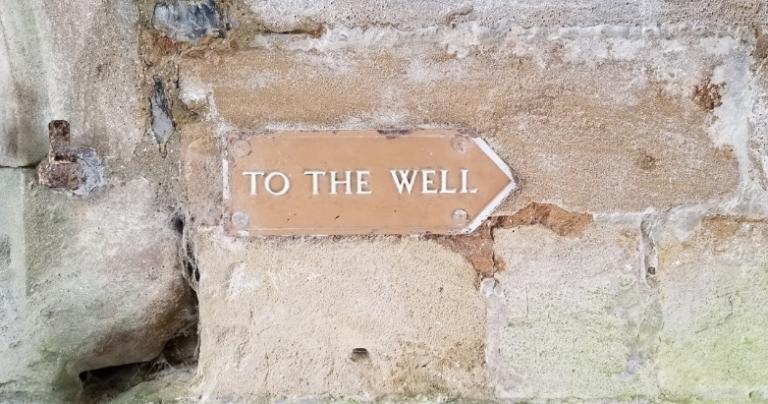 The Black Spring
I also visited some of the trees including the beautiful Yew tree that was near King Arthur's grave and the kitchen with a beautiful open cooking area that one can only dream of having in their own home! After strolling around the grounds, looking at plants and taking photos, I headed over to a ruined site that was called "Lady Chapel".  Here is where I found the Black Well. A while back I wrote a blog about the
Red, White and Black springs of Avalon
and how while the Red and White springs were physically present the Black well was more metaphorical, however not long after writing that I found that there was indeed a Black Water Well in Glastonbury as well! I found it rather interesting that while this well was called "St. Josephs Well" It is found in the crook of a staircase and narrow walk way leading from the top of Lady Chapel into the crypt. Yes, the third Glastonbury well is in Lady Chapel, no doubt this has a connection to the well known and more elusive Faery women from the functioning chapel not too far away!
After looking at the well and wandering through Lady Chapel ruins I headed over to the little museum where I found many carvings of the Tudor Rose, and a beautiful stone statue of mother and child that is similar to the one found in the chalice well gardens (no doubt the original). I finished up by visiting the gift shop and purchasing a beautiful hand painted stained glass of the Lady of the Lake. I spent the rest of the day in town doing a little shopping and enjoying a delicious lunch of egg plant  in tomato sauce with fresh goats cheese (YUM!) I found a little gem of a fossil in one of the shops called a Devils Toe Nail. It is a fossilized clam shell used in healing folk magic that I had been wanting to get my hands on for a while. I couldn't believe the price or that I even found one!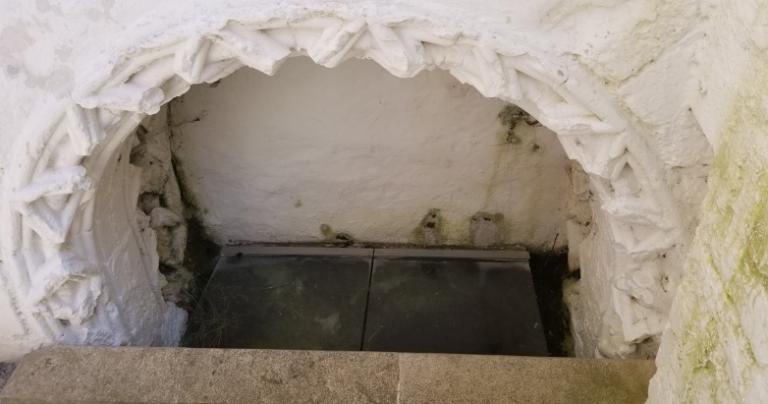 The day ended with a lovely ritual in the Chalice well Gardens. We had private access that night and our group was the only one there. We started by sitting at the bottom of the garden chanting. I really enjoyed these rituals as I am so often the one service and not filling my own cup. So I just sunk down into trance and went with the flow. One by one we processed through the different stations through out the garden meditating and working on both sovereignty and shadow, exploring how they manifest in our lives and how to find balance.
The next day we were headed to a Barrow and Bath and so I went to get some much needed sleep!
Learn more about Annwyn Avalon by clicking here