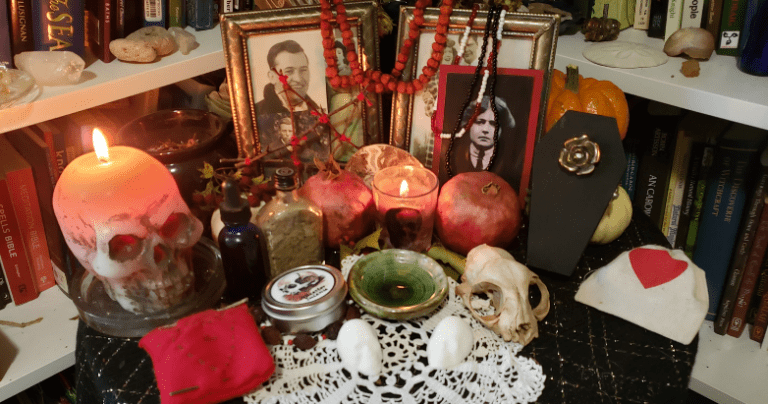 Ancestors of Land, Blood, and Spirit are three types of Ancestral Spirits you can work with this Samhain, or all year long if you wish! While Samhain marks the season when I celebrate and work with them the most. The truth is I honor them at each and every ritual. They are honored throughout the year and they have spaces on multiple altars dedicated to underworld deities and my tradition. In my practice they do not take a back seat, they take a central role in my practice and have helped me become the Witch I am today.
If you have been honoring your ancestors for a while, I hope you enjoy the way I work with them and perhaps it will inspire you in your practice. However, if you are just beginning or perhaps a little hesitant don't worry! They aren't as scary as they seem at first, and there are so many different ancestral spirits and a few different categories that you really can find a practice that suits you.
When we first think of ancestors immediately our relatives come to mind. However, Ancestors are more than just your family. There are so many types of Ancestor to work with including your family but not limited to them! Below I explore my practice of working with Ancestors of Land, Blood, and Spirit and hope it helps you develop your practice. It is important to know that these are not hard and fast categories. However, they can help you to understand the nature of Ancestors especially if you are just starting. Ancestors can also belong to multiple categories and multiple types of ancestors can be in these categories.
Ancestors of Land
Ancestors of Land are just that, the ancestral spirits that dwell within the physical landscape. These are spirits that once lived in a particular area and who's spirit is still connected to the landscape. This could be animal ancestors that have lived and died, as well as humans that are not necessarily related to you. They would usually have died or are buried in a nearby graveyard or somehow have their spirit bound to the physical place. It can also be general cultural groups. For example, in the UK the Celts would-be ancestors of that particular land.
Here in the U.S., you may encounter any number of ancestral land spirits. They could be Indigenous First Nation people, settlers, soldiers from the revolutionary or civil wars are just a few examples. The important defining factor is that they are bound to the physical landscape in some way. If an Ancestral Spirit of Land belongs to a culture that is not yours, it is ok to still honor them. One of the best ways to do this is to learn about their practices and culture so that you can give appropriate offerings. Be sure to stay true to your path while honoring the ancestral land spirits of another tradition. Appropriation is never a good idea and is counter-intuitive to honoring these spirits.
Ancestors of Blood
Ancestors of Blood are your relatives and family. If you are connected to your blood family and have access to information, photos, and stories. You can learn about these spirits, and find out what they like, what they were like, and who they were. Knowing what their favorite food and drink where in life is a great way to connect with them by offering these same things on the ancestor altar.
If you do not have a connection to your bloodline don't worry! You don't have to know who your parents or even your grandparent are to connect with ancestral spirits from your line. You can get a DNA test to find out where your ancestors came from. How you work with them can be informed by knowing this information. However, even if you don't do that you can still honor them. Over time you may get to know one or two and don't be surprised if ancestral spirits from many generations back get in contact with you.
Perhaps you knew someone in this life before they passed and you did not get along with them at all. The great news is that is ok, you do not have to work with them ever! You can word your invocations to exclude them or you can actively protect against them, so they do not show up in your sacred space or astral temple. If they do, set your boundary and make sure they respect it. You are the witch, you control the interactions. Be firm and put yourself first. Protect your mind, spirit, body, and heart. Don't let any spirits mess with you from the other side.
Ancestors of Spirit
Ancestors of Spirit are spirits that are somehow connected to us through a spirit group, lineage, or that we resonate with. In my practice, these include spirits of my Tradition(s) that have passed, Ancestral Priestess, and witches that have gone before me. There are many old texts, I have read that have inspired me in my work, and there are many witches who wrote work that deeply influenced my path. I choose to honor them in my ancestral practices. They have given me so much and I wish to return that in any way I can. There are still others though, that are nameless. I understand them as a "soul group" that I somehow belong to, Avalonian and Atlantian Priestess as well as the Oracle of Delphi and other priestesses from antiquity.
Don't forget to include your Animal and plant ancestors. These can fall into the realms of land and spirit ancestors and can be worked with accordingly or entirely different than described here. Pets that have passed are spirits that should not be forgotten when working with ancestral spirits. You can honor them during Samhain tide or throughout the year. It really is up to you and how you would like to work with them. Plants are also ancient and can be worked with as ancestral spirits, especially in fossilized form.
So how do you even begin to practice? Well, the first thing is figuring out who you want to work with and also who you don't want to work with. There will absolutely be spirits that are not nice and will bother you if you let them. Because of this I suggest setting up a sacred and protected space to work in. Cast a circle or ward in your usual way. You may find over time that this is not necessary. ¾ of my ancestral practice is done in sacred space but without a circle, as I feel now that it is unnecessary, but at one time I didn't. Once that is done you can set up an altar. You can add bones of your animal ancestors, trinkets, and images of your blood ancestors and pictures, books, or any other taglock that connects you to these ancestors.
Now, being that my practice is centralized around Celtic and Avalonian egregore I connect with the colors of the Celtic otherworld and of Avalon; Black, Red, and White. So naturally, I include these colors in my décor, candles, and other objects. In Avalonian lore we see this mirrored in the apple, and the White, Black, and Red springs found in Glastonbury the modern-day Avalon. As well as in the colors traditionally found in the Celtic otherworld. There is no coincidence that Gwyn ap Nudd the Faery King and resident God of Avalon who is worshiped in the White spring shrine rides through the sky on Samhain leading the wild hunt. Glastonbury truly is a liminal place!
My ancestor altar is decorated with bones and candle skulls. I always add a small cauldron for incense, skull-shaped candles and candles that are red, black, and white, apples, pomegranates, my ancestral beads, photos, ancestral items, homemade mead, foods they may have liked, and as a water witch, you know I had to add a little water in there!
Gifting water to your ancestors is a great daily practice. It is not only affordable, but this liminal element connects us to the spirit world, we are 80% water after all! Water is also an ancestral element as it has been here before we were and will be hereafter. It is a life force element as well, it is the giver and taker of life. We are born of water and in many traditions, we are returned to the water when we leave this place. Blessed or holy water can be used. So can spring water or water from a sacred well. Moon waters, flower essences, and carefully selected gem waters can also be used. They can also be a base to hold oils, flowers, tinctures, and other lifeforce items. Water can be returned to the earth and refreshed each day. It is also a wonderful way to work with them in a simple daily ritual. You may wish to visit their altar each day. Here you can connect with them by giving offerings, pulling a few cards, or scrying the water you just poured onto their altar. These types of practices will surely help you deepen your connection to them and hopefully inspire you to work with them through and beyond Samhain!