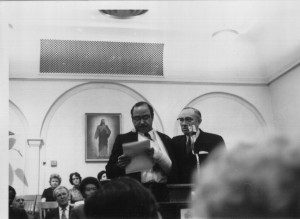 June 8, 1971—an important day. Three black men, Ruffin Bridgeforth, Darius Gray, and Eugene Orr met with three junior apostles: Gordon B. Hinckley, Thomas S. Monson, and Boyd K. Packer. This was all under the direction of Joseph Fielding Smith, the president of the LDS church. The issue for Gene Orr was priesthood. "These were negotiating meetings," Gene says in the documentary Nobody Knows: The Untold Story of Black Mormons. "We wanted the priesthood." Darius Gray did not believe that he would be ordained to the priesthood in his life, but wanted respect in the religion of his choice. He had been called a N–ger on his first Sunday as a Mormon, and had seen deacons manipulate the sacrament tray so as to avoid touching him in any way. Ruffin Bridgeforth had sons headed for trouble, and wanted support for them.
These meetings were held twice monthly. In October 1971, the three black brethren were invited to attend the General Priesthood Session of General Conference. However, this did not go smoothly.
As Gene Orr approached the entryway to the priesthood meeting, the usher drew the red rope across the doorway and hooked it. Gene looked at it for a moment. He reported to me, "I did the only thing I could do—the right thing. I stepped over the rope." He went directly up to Elder Packer on the stand and reported what had happened. Elder Packer talked to a security guard and had him send an intercom message to all ushers: "There will be two more." Yes, three "Negroes" attended the Priesthood Session before 1978.

The priesthood restriction was very much on the Church's radar then, and had nearly been overturned in 1969. President David O. McKay systematically undid the restriction for various groups including Phillipino Negritos and many South Africans. In his 1954 visit to South Africa, President McKay saw firsthand the complications of the restriction. Converts were required to trace their ancestry to prove that there were no black Africans in their genealogy. Many, knowing they would indeed discover black progenitors, simply refused. This lineage trace was a problem worldwide, where even people in Scandinavia discovered Black roots in their lines and were either told to not exercise their priesthood or to say nothing about that lineage. President McKay said, "If they look white, ordain them." In Brazil, with so many converts of mixed race, the complications continued. Clearly, the enforcement of the restriction was a tangle as missionary work expanded throughout the world. Only recently did Professor W. Paul Reeve point out that the basis of the restriction (never canonized) was almost certainly mis-transcribed. Brigham Young as governor of the state made his famous speech to the Territorial Legislature declaring the restriction, as written verbatim by his scribe, George Watt: "If there never was a prophet or apostle of Jesus Christ [that] spoke it before, I tell you, this people that are commonly called Negroes are the children of old Cain. I know they are; I know that they cannot bear rule in the Priesthood." When Wilford Woodruff summarized Young's speech, however, he added a phrase, which has survived in many if not most historical accounts: "Any man having one drop of the seed of Cain in him cannot hold the Priesthood, and if no other prophet ever spake it before, I will say it now, in the name of Jesus Christ, I know it is true, and others know it!" This version of Young's words, including the "one drop" rule founded the policy of restricting priesthood from anyone with the slightest indication of African features/ancestry until President David O. McKay started making exceptions.
In 1973, Lester Bush's article on the priesthood restriction was published in Dialogue: A Journal of Mormon Thought, and read by President Kimball, who soon asked others in the Quorum of the Twelve to study the issue in their minds, to research it, and to come to the temple prepared on June 1, 1978. Did they receive revelation on that day? Absolutely. They had prepared themselves to receive it—even those who had defended the restriction boldly. The end of the restriction was made public on June 8, 1978–seven years to the day after that first meeting of the three black men and the three junior apostles.
Many of us long ago concluded that the restriction was simply wrong. It certainly did not come from Joseph Smith. Some have left the church over this issue, concluding that if the leaders could be wrong on something so significant, then they could be wrong on anything. Others of us have remained. These others include the three who met with those junior apostles in 1971. Ruffin Bridgeforth died in 1997, and his funeral was attended by then church president Gordon B. Hinckley and senior apostles Monson and Packer. Gene Orr moved to Canada and remained faithful. His son has served in various church leadership positions. Darius Gray remains actively LDS on the strength of his testimony, which he freely shares—that he had personal revelation telling him "This is the restored gospel and you are to join." We all remain because the core of our faith is not in Brigham Young's words or in church policies, but in the atonement of Jesus Christ. We remain because our world view accommodates fallibility in church leaders.
The experiences of these three black men who comprised the Genesis Group presidency, established on October 19th, 1971 as a support to Latter-day Saints of African lineage, should provide instruction for those seeking women's priesthood ordination.
1) Bridgeforth, Gray and Orr met directly with those who had the power to change things. They scrupulously avoided protests or public confrontations.
2) The black men and the church leaders educated themselves on the history of the issue, not relying on the institutional memory but returning to actual records, which indicated that several black men had been ordained to the priesthood during Joseph Smith's time, one reportedly by Joseph Smith himself.
3) The leaders had personal relationships with Genesis group members. In fact, President Kimball and his wife attended a Genesis group picnic. They were returning to their car when President Kimball said, "Wait. I forgot to kiss the children." He returned to kiss them. Later, he personally delivered Christmas baskets to each member of the Genesis presidency. Thus, he was contemplating the issue in his heart as he reached out to these members of color, and in his mind as he considered the research on the issue. (See D&C section 9.)
4) All relationships were founded in love, not in coercion.
The parallels with the women's issue are present, but not as deep as one might think. Blacks were deemed cursed because such was simply the thought of the 19th century, and was part of the justification for slavery. In the LDS faith, Eve, the representative of all women, is heroic, a huge leap from how she is perceived in other faiths. In Moses 5, we find these verses:
10 And in that day Adam blessed God and was filled, and began to prophesy concerning all the families of the earth, saying: Blessed be the name of God, for because of my transgression my eyes are opened, and in this life I shall have joy, and again in the flesh I shall see God.
11 And Eve, his wife, heard all these things and was glad, saying: Were it not for our transgression we never should have had seed, and never should have known good and evil, and the joy of our redemption, and the eternal life which God giveth unto all the obedient.
12 And Adam and Eve blessed the name of God, and they made all things known unto their sons and their daughters.
However, it is true that women in 2013 do not have some of the privileges they once had. Rather than detail the change in policies regarding women, I refer the reader to this abstract, which includes a downloadable paper by Jonathan Stapley and Kristine Wright on women's ritual healing ordinances in the early Mormon church.
I personally recognize my own priesthood as I officiate in the temple and as I participate as a patron. I recall a sealer telling the couple at the altar after their marriage: "We have just given [the bride] the priesthood. She holds it with her husband."
I won't be surprised to see more priesthood privileges extended to women in the near future, but this will not happen through press conferences.
Finally, let me warn any who give this easy answer to the question of female ordination: "Women don't need the priesthood. They are better than men. Also, that's why there will be polygamy."
Be careful. Don't be tempted by the pedestal. Strangely, the pedestal is not far-removed from the slave block. It gives a message of inequality. Refer back to Moses 5 and note that Adam and Eve labor together. This paradigm, then, becomes the challenge to all male leaders. How are women being included in ward/stake leadership? Why do many Mormon women feel dismissed or ignored? The question demands long contemplation before any quick answer is uttered.
For all who seek change of any kind in the church, I urge patience and faith. Cling to the things you value and don't forget them as you seek positive change. We are not the Church of the Infallible Prophet, nor the Church of Your Particular Issue, but the Church of Jesus Christ of Latter-day Saints. We are a community, still learning lessons in loving one another and providing support for each other in our various journeys.
As for me, I'm here for the duration, unashamed.