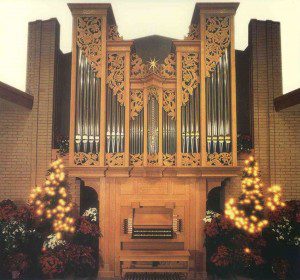 I once learned how to play several stanzas of Liszt's Hungarian Rhapsody. I played them over and over. But then the music got hard. It would require work to get the next part, and I wasn't willing to practice THAT much. I gave up. I am able to play hymns now, but not much more.
I thought about my regrettable unwillingness to learn the "hard parts" as I attended Douglas Bush's funeral in the Provo Central stake center, which houses the most glorious organ in Provo.
I was in the stake when the Organ Plan was announced. The old organ needed to be replaced, and a member of our stake presidency (Douglas E. Bush) happened to be a world renowned organist, someone who traveled to Bavaria, Vienna, Germany to do organ concerts. He wanted the new organ to be not merely a replacement, but something magnificent. A few called our stake "Organ Drive" a tribute to a golden calf. It was certainly a fancy instrument, and included a gold star which twirled and added a high, twinkly sound. I recall that my bishop assigned specific amounts which each member of our ward should contribute towards Doug's dream. One man said that he had barely enough money to get through the month, but that he would give what the bishop had asked. There was some bitterness about what we were doing, but I doubt anyone recalls that now. We have had that organ for twenty years. I can't even remember what the old one looked like. We were all a part of Doug's consecrated offering.
Doug himself had worked on the organ's carvings, and as a finishing touch had carved "Glory to God in the Highest," one word on each pillar.

I remember working as a choir director under Doug Bush and asking what he thought of our ward performing Brahms' "How Lovely is thy Dwelling Place." He shook his head in that gentle but no-nonsense way. "You could try, but it's a very difficult piece. I wouldn't recommend it." I didn't try.
But Doug–oh Doug would try anything. With his dream organ paid for and glorious, he directed Christmas programs featuring Bach and Rutter–and let each ward contribute its musical pittance.
Then the stake was divided. Doug became the bishop of his ward–which was outside the stake boundaries. His organ was no longer in his stake. That didn't mean, of course, that he couldn't invite organists from around the world to do recitals there. Our stake center was internationally famous, and the organ, with Doug's carvings, remains a part of his legacy.
We knew Doug was sick, but were unprepared for how quickly his passing came. Six weeks from diagnosis to death. He died on October 4, 2013. He was sixty-six. The funeral, of course, was held in OUR stake center, with Andrew Unsworth at the organ.
As the funeral procession began, Unsworth played the simple hymn "I Am A Child of God." How similar and how dissimilar this processional was to those which opened Doug's Christmas programs! Clearly influenced by the Anglican tradition, Doug would have his choir members enter from the rear doors and move up the aisles, singing a carol. Oh, this was a sad reminder of those days!
After the family was seated, Unsworth played Bach's Fantasy in G Major.
Doug's daughter, Christa, remembered her father's musical discipline, summarized as "Pay attention to the text and breathe only after the punctuation."
Doug's breaths, in the last days of his life, were labored. His friend Gordon Gunnell spoke of helping him climb downstairs–Doug behind him with his hands on Gordon's shoulders–so that they could label photographs, those little mementos to the "I was here" moments. They made it to the basement, each of Doug's breaths punctuated by a mere comma, not a period.
But oh, those hard parts of life–those excruciating stretches of time when we are asked to step beyond our capacity; the days when we scale emotional mountains without so much as a semi-colon to give us time for a drink. We never realize that our little childhood hikes up hills were, like scales on a piano, mere practice for the later unimaginably difficult climbs. For Doug, perhaps the hardest part of his life was a divorce–something so real and intimate and soul-jarring that it can't be ignored or brushed off. For a minute, all hopeful music becomes impossible cacophony. And we must learn it and then learn from it. We can, of course, choose not to learn from it, but the music before us with all of its key changes and sixteenth notes is OUR music. If we give up on it, we have given up on ourselves. We can approximate the music, but if we fail to learn it well, chances are that we will find a "repeat" sign later on. ("Go back to refrain.")
I believe that in that "too hard" part, Doug took a breath and waited on the Lord's direction for the next punctuation–a period, a question mark, an exclamation point. The text told of suffering and isolation, of prayer and grief. Others had left their own texts as possible scripts, but no one script matches another. Doug had to learn his version note by note, step by step. Did he let Bach soothe him as he traveled that forbidding distance away from his marriage and all that it had meant to him? Or did he listen to Corelli? It was a Corelli piece, on violin, played midway through his service–which his ex-wife attended. Though they did not reclaim their marriage, they did find friendship.
As a congregation, we sang Liebster Jesu Wir Sind Hier:
"Dearest Jesus, are we here to listen to you and your word; direct our minds and desires to the sweet teachings of heaven, that our hearts be drawn from earth wholly towards you."
The lyrics describe Doug's life, and the music shows the yearnings of his complex yet simple soul–a boy from Montana who became a great organist, sitting in cathedrals all over he world. His daughter, Rebecca, described him as paradoxical, "rustic and refined" and showing "grit and grace." She spoke of him carving the organ pieces by hand in his laundry room, and she dwelt on the importance of silence–those long fermatas where we either draw out the music or wait upon it. She quoted Psalms 45:10: "Be still and know that I am God."
How hard were those last weeks of Doug's life? Only he knows. But he finished his earthly music, claiming every note, and seemed to urge us all to follow his example through the closing hymn, which I can only assume he chose: "Come Let Us Anew."
Oh that each in the day
of His coming may say
"I have fought my way through;
I have finished the work
Thou didst give me to do."
Oh that each from his Lord
May receive the glad word:
Well and faithfully done!
Enter in to my joy
And sit down on my throne!
Enter in to my joy
And sit down on my throne!