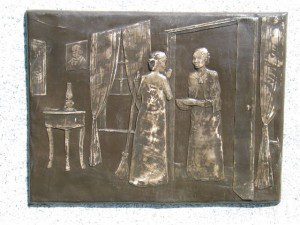 This is my invitation to everyone in Utah Valley to help us produce I am Jane at BYU during Black History Month. Below is the music script. To read the actual script, purchase Saints on Stage, edited by Mahonri Stewart. I am working on getting support from the theatre and music departments so that participants can get credit. Those in my Mormon Lit class can also meet requirements by helping with the production. If you don't know Jane's story, you NEED to help with this!

MUSIC SCRIPT
I Am Jane
ACT I
SCENE 1
Either the angels begin singing, or actors enter (preferably up aisles) singing:
This little light of mine,
I'm gonna let it shine;
This little light of mine
I'm gonna let it shine;
This little light of mine
I'm gonna let it shine
Let it shine, let it shine, let it shine.
ELIJAH ABEL (climbing onto the stage)
You all ready for some play acting? You'll have to use your imagination some, but this ought to be a good time. Good story too. You all get to take part, if you want–even if it's just singin' or clappin'.
(He puts on a pioneer hat.)
I'm Elijah Abel. I'm the welding link between the past and the present, the black and the white. Right now, you all just let your minds settle into the past, and listen.
JANE (stepping forward)
I am Jane Elizabeth Manning James. One year after I was baptized, I started for Nauvoo with my mother and brothers and sisters.
MUSIC CUE: #1: I Want Jesus to Walk with Me
Level: (comes behind monologue and can't overpower it.)
There were nine of us, including my son, Sylvester. We started from Wilton Conn, and traveled by canal to Buffalo New York. We were to go to Columbus, Ohio before our fares were to be collected, but they insisted on having the money at Buffalo and would not take us farther. So we left the boat, and started on foot to travel a distance of over eight hundred miles.
(Her family joins her. )
We walked until our shoes were worn out, and our feet became sore and cracked open and bled until you could see the whole print of our feet with blood on the ground. We knelt and prayed.
(JANE kneels.)
We asked God the eternal Father to heal our feet, and our prayers were answered forthwith.
SARAH
Jane, would you get up?
JANE (combing her hair)
Wait just a minute.
SARAH
"Wait just a minute!" I've heard that so many times from you. You always have to look perfect even if you slogging through the mud. What–you combing your hair so it look good when the branches grab it?
JANE (fingering her hair)
I do what I can.
SARAH
Well this here is your baby, and he's getting too heavy for me. I'd say it's your turn to tote him.
(JANE takes SYL on her hip.)
ANGELINE
I'd give up all my hair for a good pair of shoe or leggin'.
ANTHONY
We ain't need no shoe. Our feets done turn leather.
ANGELINE
I'd rather use cow leather than Angeline leather. I'm tired to death!
JANE
And all you carryin' is yourself. You want to try carrying Sylvester? Might make you appreciate your lot.
ANGELINE
Thank you, no. I wish Lew had treated that steamship porter better.
LEW
You think if I done my role different, we'd be steamin' down the Mississipp 'stead of walking barefoot?
ANGELINE
Who say?
LEW
You blamin' me?
ANGELINE
Who say?
LEW
Ain't my fault!
JANE
'Course 'tain't!
LEW
This whole trip was Jane's idea anyways.
JANE
This whole trip was the Lord's idea! I just let you all in on it out of the goodness of my heart.
LEW
Well thank you so much. I might've liked it more if the Lord had provided you a map and a boat along with his idea.
JANE
Lew, don't you go wonderin' about your tribulations. Whoever the Lord love best, He give that person the most trials.
LEW
Oh then. He must love me lots.
JANE
And don't you get saucy towards the Lord, Mr. Manning.
LEW
Oh no. Thank you Lord, for these good signs of how much you love me. And I won't be needing no more signs, Lord.
ENTER: SHERIFF
SHERIFF
Stop right there. Show me your free papers. You heard me.
LEW
Lord, I swear you proved your point!
JANE
Sir, we ain't never been slaves. We Connecticut Negroes.
PHYLLIS
I once been a slave. Up Connecticut, all us been freed some time back. My children, they never know the bond.
JANE (handing over the church certificate of membership.)
These the only free paper we got. Our membership records for the Church of Jesus Christ of Latter-Day Saints.
SHERIFF
Mormons! Worse still. Lawless, thieving, rifle-toting, cannibalizing Mormons. Good luck, girl. The last Negroes went to Nauvoo was never heard from again. Mormons look for black flesh so's they can boil it in oil, clean it off the bones. I could be the last soul you see who wants to do you some good.
JANE (innocently)
By putting us in jail?
SHERIFF
You might wish I'da done it, once they light a blaze under you.
JANE
Ain't no cannibals amongst the Mormon folk, Sir. Which way Nauvoo?
SHERIFF
You don't believe a word I've said, do you.
JANE
No sir.
SHERIFF
Straight ahead, about a hundred mile.
SHERIFF EXITS.
PHYLLIS (to Sarah)
Set your mind at ease, Sarah.
SARAH
That was too close.
PHYLLIS
You ain't no slave, you never been a slave, and you never will be one. And you ain't goin' to jail. You free! I doubt you know the full meaning of that word. But I know it.
Oh Freedom! Oh freedom!
Oh freedom over me!
And before I'll be a slave,
I'll be buried in my grave
And go home to my Lord
and be free!
(Others join her–tempo picks up, and by the end of the song, tambourines and full choir are involved.)
No mo' weepin…
There'll be singin'…
ANGELINE
That song make me feel like I could skip all the way to Nauvoo! Sarah–what's troubling you? You look set to bust open and cry!
SARAH
Well what if that Sheriff be right?
ANGELINE
That Mormons be cannibals?
JANE
And what if yo' eyeballs fall out this second because you believe such rabbit droppings as that?
SARAH
My eyeballs ain't fallin' out.
JANE
They lookin' unstable to me. Lookin' unstable to you, Anthony?
ANTHONY
A little wobbly, yes indeed.
JANE
Wobbly and bulgy, I say. Oh, they goin' pop certain. We goin' be walking our path, and Sarah's eyes goin' pop out like eggs.
SARAH (touching her eyes)
My eyeballs is fine! Anthony, you support my sister in making a mock of me, I's liable to do something drastic at you.
ANTHONY
You just too fun to tease, that's all.
SARAH
Resist temptation! What we know about the Mormons–really?
JANE
You a cannibal, Sarah?
SARAH
Oh now! Stop it!
JANE
Cause I know you be Mormon. I seen you come out the waters myself. You come out hankerin' after human flesh?
SARAH
Not at first. Only recent.
JANE
When?
SARAH
A minute ago. I's lookin' at you, Jane, and I's thinkin'–my my, you'd make fine eatin'. A little cucumber and you taste just right. Don' you think so, Anthony?
ANTHONY
Cucumber? Naw. Peppers. Make the spice to match the flesh.
SARAH
You right. Cucumber way too cool for Mizz Jane flesh.
JANE
Sarah, you think I'd lead you to trouble? What would I do if something bad happen to you?
SARAH
I guess then you'd marry my Anthony.
JANE
Hah! You don't suppose I can do better than him?
SARAH
And what's so wrong about my Anthony?
JANE
Girl, he a Southern Negro. He a used-ta-be slave!
SARAH
Not no more. He mine now. I laid claim on him.
JANE
Looks to me like he the one laid claim on you.
SARAH
Jane!
PHYLLIS (sings under the dialogue to pacify her children.)
Children!
(Begins humming "O Freedom" but ANGELINE and LEW start fighting. Song continues quietly under dialogue until Phyllis kneels in prayer.)
ANGELINE
You the one brought on this trek anyways, Lew–with your mean mouth.
LEW
I coulda been a lot meaner than I was.
ANGELINE
If the devil was helpin', you coulda been meaner. Maybe.
LUCINDA
Husband, treat your sister right.
LEW
What's this? You ain't got no words for her? You hear what she–
JANE (kneeling)
Thank you, Lord, for making our feet hard as mule hooves!
ANTHONY
Thank you, Lord, for giving that sheriff such bad spit aim so's none of us got it in the eye!
SARAH
Thank you, Lord, for waking us up with that icy water, lest we fall asleep on the path!
ANGELINE
Thank you, Lord, for inspiring Lew's rude tongue so's we could all enjoy this good family togetherness.
LEW
Thank you, Lord, for giving me such fine control over my emotions that I ain't kill Angeline to this day.
LUCINDA
Thank you, Lord, for rosebuds.
LEW (after a stunned moment)
Rosebuds? Where you seein' rosebuds?
LUCINDA
In my memory. Pink ones.
PHYLLIS (Kneeling, with tremendous dignity. There is an important pause while she prepares to speak.)
Thank you, Lord, for keeping us safe in your shadow, for bringing us peace in every moment of our trial, just like you always done, Lord, in all your tender mercy.
SCENE 2
ELIJAH
You'll have to imagine the Nauvoo temple. If we was to be realistic, we wouldn't have room for a audience. Picture it–a big, white building, soon to have a gold angel for a weathervane! And right over here, you'll have to imagine Joseph and Emma Smith's Mansion House.
(THE MANNINGS APPROACH MANSION HOUSE.)
EMMA (taking in the sight)
Oh my! Walk in! Come in!
JANE
Ma'am?
EMMA
All of you!
JANE
Oh Ma'am! We awful dirty.
JOSEPH SMITH (from upstairs)
The world looks on the outward appearance, but God sees the heart.
JOSEPH ENTERS. THE MANNINGS STEP INSIDE.
JANE (to LEW)
That's Joseph Smith!
LEW
How you know that?
JANE
I told you! I seen him in a dream back in Connecticut!
JOSEPH
My, my, what have we here? Hello, I'm Joseph Smith.
JANE
I'm Jane Manning. This my family.
EMMA
Let me get them blankets. And let me feed them something.
JOSEPH
My wife always thinks of the important things. Yes, set on soup, Emma. I want to hear about their journey.
THEY ALL ENTER THE PARLOUR.
JANE
We awful wet, Sir.
JOSEPH
Please, call me 'Brother Joseph'.
JANE (curtsying)
We come thirty miles in the rain.
JOSEPH
Thirty miles? I had thought it was a longer journey than that.
EMMA APPEARS WITH BLANKETS FOR ALL.
JANE
Thirty miles from La Harpe. From beginning to end, we come, oh–
ANTHONY
Eight hundred mile, Sir.
JOSEPH
And you are?
ANTHONY
Anthony Stebbins, Sir.
JOSEPH
Eight hundred miles! On foot?
JANE
Yessir. And we awful wet.
JOSEPH
(To JANE)
You've been the head of this little band, haven't you.
JANE
Yes sir, Brother Joseph.
JOSEPH
God bless you. Now tell me all about your trials.
JANE
Oh not much to tell.
ANGELINE
Not much to tell!? Where you been?
JOSEPH
I suspect there may be some stories here.
ANGELINE
We was set to go to Columbus, Ohio before our fares was to get collected, but they wanted the money right there at Buffalo. And then Lew was so rude to the steamship porter–
LEW
Pardon me, Sir. My sister tends to exaggerate. You see, it's somewhat difficult for colored folk to find passage from one place to the other. The porter up and decided not take us. So we left the boat, and started on foot.
JOSEPH
To travel eight hundred miles. Bless you.
ANGELINE
Then Lew decided he'd take the lead.
JANE
Angeline, you don't have to give him every detail.
JOSEPH
Please. I want to hear it all.
ANGELINE
So he led us straight to a river with no bridge.
LEW
I didn't plan it havin' no bridge.
ANGELINE
So he says if it has no bridge, it must be shallow, follow him, and we walked right on in. If you want details, Brother Joseph, I tell you the water was up to our necks and near drowned us.
JANE
But, praise the Lord, we got safely across.
MUSIC CUE: #2 – Precious Lord
LEVEL: Under dialogue, must be very soft
JOSEPH
Praise the Lord indeed.
SARAH
Next day, we walked a considerable distance. We stayed that night in a forest. The frost fell on us like snow.
JANE
Oh it was beautiful, Sir.
ANGELINE
Cold enough to freeze our toes and noses off! And Lew–
LEW
I swear, one more—
LUCINDA
Husband?
SARAH
We rose early, and started on our way walking through that frost with our bare feet, until the sun melted it away.
JANE
But we went on our way rejoicing, singing hymns–.
SARAH (under Jane's words)
Yes we did.
JANE
–and thanking God for his goodness and mercy, in blessing us the way he had.
JOSEPH (emotionally to Emma)
What do you think of that, Emma? Is that faith?
EMMA
Oh Joseph, if it were me, I fear I'd have backed out and returned to my home.
JOSEPH (To all the MANNINGS)
Well. You are among friends now.
SCENE 3
(Enter: ISAAC, accompanied by ANGUS CANNON. Isaac is clearly aware that other Blacks have come to Nauvoo. He goes to the MANSION HOUSE and peeks inside a window.)
ANGUS CANNON:
What did I tell you! A whole pack of them. And black as you!
ISAAC
What do I say?
ANGUS:
Oh, come out with it. "Hello ladies! Anyone want a husband?"
ISAAC
You must think I be stupid. I ain't saying no such thing.
ANGUS:
Then how about, "Ladies, this Nauvoo moonlight is worth a view! Come on outside and take a gander!"
JOSEPH SMITH OPENS THE DOOR.
ISAAC (to Joseph Smith)
Why Brother Joseph! Oh my! I didn't know you had company!
JOSEPH
Why Brother Isaac, I didn't know you were so good at telling a lie.
ISAAC
Now Brother–
JOSEPH
Telling a good lie is like wearing a lightning rod on your head–to test God's aim.
ISAAC (stepping inside)
I mean, I heard you had company. But I didn't know they was such good-lookin' company. Too bad you all can't see the moon from in here. It's a good moon tonight. Makes the branches all silver. I wonder–anyone want to take a look at the moon?
LEW (rising)
Why yes. That sounds pleasant. If you ladies will excuse me.
ISAAC (taken aback—having expected one of the women to join him—leading LEW outside)
Well, there it is behind those clouds.
LEW
Yep. That's one good moon.
ISAAC
Pretty good one. My name's Isaac James.
LEW
Well that's my name too!
ISAAC (not about to be fooled)
No it ain't.
LEW
The Isaac part. I'm Isaac Lewis Manning. Call me Lew.
ISAAC
So Lew, which one of them women is your wife? Or is it all of them together?
LEW
All of them together? Lawd, what sort of crime you think I been committing to get that kind of punishment? Most of them's my sisters!
ISAAC
Some of 'em pretty young.
LEW
And some of 'em's married already. Like the pretty li'l one what's married to me. You after a wife?
ISAAC
Me? No! But any you might recommend?
LEW
Well, you'd be doing me a favor taking Angeline. Naw, you seem like a nice fellow. I couldn't do that to you. I'd recommend Jane. She's got her a child already, but no husband. And she the best of the lot. Providin' you treat her right.
ISAAC
I treat everything right! Go tell Jane come on out here. I teach her how to braid hats.
LEW (calling inside)
Janey! There's a man out here wants to teach you to braid cats.
ISAAC
Hats! I said hats!
JANE (from window)
Thank you, but I won't be meetin' anyone until I'm dried off and cleaned up.
ISAAC
Tell her I'll come back later then.
LEW (yelling)
He'll come back later then.
ISAAC
Pleased to make your acquaintance, Lew.
LEW
Thanks for showin' me the moon, Mr. James. That's one nice moon.
SCENE 4
Sometimes I feel like a motherless child…
A long ways from home…
Sometimes I feel like I'm almost gone…
A long ways from home…
ELIJAH
Didn't take long for most the Mannings to find places and work. But Jane didn't have her a place for awhile. Stretch your imagination some, and let this be Jane's bed in the Mansion House.
(JANE collapses on her bed.)
JOSEPH
Why, not crying?
JANE
Only a little, Sir. The folks have all gone and got themselves homes and I have got none.
JOSEPH
You have a home right here, if you want it. Now, you mustn't cry. We dry up all tears here.
Emma? Come in here, would you?
(EMMA enters)
Here's a girl says she has no home. Haven't you a home for her?
EMMA
Why yes, if she wants one.
JOSEPH
I believe she does.
(JOSEPH pats Jane's shoulder and exits.)
EMMA
We're quite accustomed to opening this place up to all sorts of folks. Well Jane, what can you do?
JANE (standing)
Ma'am, I can iron. Laundry. I been a household servant since my sixth year.
EMMA
I should warn you–living with us might not be the safest choice. Mobs of late have been–
JANE
I know. I heard the mobs.
EMMA
When you're rested, you may do the wash.
JANE
Ain't tired. Not one bit.
EMMA
Why don't you commence your work in the morning. To be truthful, I'm too tired to supervise you just now. Meanwhile, let's send Eliza Partridge to buy you a bolt of cloth and do you up some dresses.
SCENE 5
ENTER: LEW–downstage–dancing as the singers sing:
I'm going to lay down my burdens
Down by the river side;
Down by the river side;
Down by the river side;
Goin' to lay down my burdens
Down by the river side
Ain't goin' to study war no mo'
Ain't goin' to study war no mo'
Study war no mo', study war no mo',
Ain't goin' to study war no mo',
Study war no mo', study war no mo'
(Song should be done entirely, with as much energy as possible, involving the audience in clapping)
JANE joins LEW downstage.
LEW
Guess what work I got, Janey!
JANE
With them fast feet–Lew, is you the Official Cockroach Smasher of Nauvoo? Congratulations!
LEW
I's the official Dance TEACHER–in the Masonic Hall. And I'm the Smith family cook too! Life turned pretty for me, didn't it!
JANE
Pretty scary, if you ask me. You hear the noise them mobs be makin' at nighttime?
LEW
Aw, they just playing.
JANE
With blood, they be playin'. Or wantin' to.
(Enter: Emma)
EMMA
Hello Lew.
LEW
Ma'am.
EMMA
Jane, I'm glad you're here. Joseph wanted me to ask you a question.
(LEW leans in to hear.)
(To LEW, awkwardly) I'm sure he'll have questions for you too in the future, Brother Manning. This one is for Jane, though. Would you excuse us?
(LEW straightens up, embarrassed.)
LEW (regaining his dignity)
Oh. If you'll pardon me, I got something in the oven for Brother Joseph.
(He exits.)
EMMA (leading JANE inside)
It feels natural to have you here, Jane. It's just like you're one of the family.
JANE
I feel I am.
EMMA
I'm so glad.
JANE
So what is it Brother Joseph be wantin' to ask of me?
EMMA
He and I both want to ask it. We've adopted many dear souls into our family over the years. We wonder if you would you like to be adopted to us too.
JANE
Adopted? But I got me a mama. A daddy too, though he's dead.
EMMA
This is somewhat different, Jane. Wouldn't you like to be part of our family in the eternities?
JANE
Oh. That's a long time, ain't it. That's a lot of laundry.
EMMA
Not adopted as our servant, Jane. As our child.
JANE
Eternity.
EMMA
You consider it. I'll ask you again later.
JANE (quickly)
No, I don't think I want it. I'm not sure. I–
(LEW appears, moving past the door holding a small cake on a plate. JANE takes the opportunity to change the subject.)
Lew! What you doin' sneakin' around here with sugar cake?
LEW
Ain't for me. I told you I had something in the oven for Brother Joseph. I hope I ain't interruptin' you two in your conversation.
(JOSEPH SMITH calls)
JOSEPH (offstage)
What's this I hear about sugar cake for Brother Joseph?
LEW
Ain't much. Just a morsel.
JOSEPH (entering)
Why it's a sure answer to prayer. I was feeling worn out.
(He takes a bite)
Now I feel renewed.
LEW
That's the eggs in it. Only, if you tired, Brother Joseph Sir, you oughta sleep.
JOSEPH
I am so inclined.
JANE
Mobs been keeping you up too?
LEW
Then you sleep!
JOSEPH
If I napped now, this cake would surely send me sweet dreams. Would anyone else care for some?
EMMA
Sweet dreams? Yes, a year's worth, if you please.
JOSEPH (smiling)
Oh, I wish I could dispense sugared dreams the way Lew dispenses sugar cake. Would you care for some of this cake, Emma?
EMMA
No, I'm fine. You go ahead.
LEW
I'm sorry I only made that small one, Brother Joseph. I made it for you. I wanted to do something to say–. Sir? I been listening at the door where you do law-making, if you forgive me. Couldn't help myself. I think you one great law man.
JOSEPH
You know what my brother Hyrum says about lawyers? 'Lawyers were created in gizzard making time, when it was cheaper to get gizzards than souls. If a soul cost five dollars, a gizzard would cost nothing.'
LEW
You ain't one of those sort. You one of the great ones. I heard that man brought up for whipping his slave. Heard you say–
(Singers begin humming "Oh Freedom")
JOSEPH
"Lynch law will not do here!" And I believe it with all my heart. Those who engage in it must expect to be visited by the wrath of an indignant people–not according to the rule of Judge Lynch, but according to law and equity!
LEW
Like I say, you a great lawyer. But I apologize for not making more of that cake.
EMMA
You needn't feel bad. Joseph is a great man. He might become president of the United States. .
JANE
President?!
EMMA
Why Joseph, it appears these folks don't know your plans.
JOSEPH
I thought the whole world knew. Why, when I get hold of one of those papers and see how popular I am, I'm afraid myself I'll actually be elected!
LEW
Well what if you get it? What would you do–
JANE
About slavery, Sir.
JOSEPH (very seriously)
You should know I don't believe in bondage for any human soul. My platform calls on these United States to give liberty to the captive, to break off the shackles from the poor black man.
SINGERS (under the dialogue)
And before I'll be a slave
I'll be buried in my grave
And go home to my Lord
And be free!
LEW
I knew it!
JOSEPH
Freedom has always been God's will. And many will suffer if we don't do His will in this. Wars worse than have ever visited this land.
JANE (to JOSEPH)
Sir, we still safe here, ain't we?
JOSEPH
I wish I could promise that.
JANE
Last night, I heard the mobs outside my window, squealing and shouting like the devil's babies.
JOSEPH
Jane, if you feel unsafe–.
JANE
What if I moved to Burlington with Angeline?
JOSEPH
You go with my blessing.
JANE
I wouldn't want to–.
JOSEPH
The Lord will bless you. The Lord will bless you.
SCENE 6
ELIJAH
There was all sorts of mobbin' at this time in Nauvoo. Eventually, for safety's sake, Jane did move to Burlington. And Isaac James started his courtship like one serious–no, one desperate man!
(JANE IRONS. ISAAC KNOCKS.)
ISAAC
Can I come in?
JANE
Ain't locked.
ISAAC (carrying a kerchief full of dripping blackberries)
Guess what I got in here!
JANE
Don't tell me. You been to Lima.
ISAAC
Blackberry capital of the world! Y' ever taste Lima berries?
JANE
A bit early in the season, ain't it? These lookin' more pinkish than blackish.
ISAAC
Maybe a little pink, but–go on, taste one.
(He holds a berry to her mouth. She takes it in her fingers)
JANE
I been able to feed myself many a year, Mr. James.
ISAAC
Sometimes, you ought to let a man do for you, Mizz.
JANE (puckering)
Sour! Wouldn't set right in a pie without five cups of sugar.
ISAAC
Which I would love.
JANE
Well you just might at that.
ISAAC (awkward, trying for conversation)
You one lucky lady being in Burlington 'stead of Nauvoo just now.
JANE
Oh I miss Nauvoo.
ISAAC
Gettin' scary there, Mizz. Not just the mobs. They's a mess of death threats against Brother Joseph. He's declare Martial Law.
JANE
What's that mean? 'March Law'?
ISAAC
Oh–it refer to that marsh around Nauvoo. Marsh Law say anyone comin' across it looking meanly is like to get shot at. (Pause) You so pretty when you smile, Mizz Jane.
JANE
And you touched in the head.
ISAAC
You know what I like about you? I hardly ever sees you dirty. Of course, when you first come to Nauvoo, you looked like something the dog drag in off the street.
JANE
Thank you kindly.
ISAAC
I don't mean no disrespect. Wasn't your fault. You couldn't look bright and new after such a journey. But since that day, you sure keep yourself clean.
JANE
I do what I can.
ISAAC
You clean as a new-shaved lamb. 'Cept for that bit of berry juice on your apron–
JANE
Your fault–
ISAAC
And I full accepts the blame–
JANE
I just washed the apron!
ISAAC
You clean as a newborn pig!
JANE (stops ironing)
Now is that really the best you can do, Isaac?
ISAAC
No. How's this? Marry me, Jane.
JANE (stunned, then amused)
That's pretty bold. Well, right this moment, I'm a bit busy and a bit sweaty to be a bride.
ISAAC
Now you know I don't mean right this moment.
JANE
No, I guess I should wash my apron first.
ISAAC
So. That be a yes or a no, or a 'let's us wait and see'?
JANE
One of 'em, sure 'nuff.
ISAAC
I keep bringin' berries til you gets your answer, then. I make you one good husband. Never had me a wife. Kept the Mormon faith many years now. Me and Elijah Abel, we was like brothers!
JANE
You and who? Abel?
ISAAC
Elijah Abel–one of the first Negro Mormons in this world! Sheesh, woman, ain't you never heard of him? He held the Melchizedek priesthood, ordained by Brother Joseph himself! Got washed and anointed in the Kirtland temple, and he was a missionary too! And we was like brothers!
JANE
Sound like maybe he's the one I ought to be meetin' up with.
ISAAC
Except he's moved to Cincinnati. Sorry. But I'm still here. And you might want to face facts.
JANE
What facts?
ISAAC
Mizz Jane, I jus' don't think you'll do better than me.
JANE
Because I got me a son without his having a proper daddy?
ISAAC
His daddy white, ain't he.
JANE
Good and white. A minister.
ISAAC
Oh. Best kind o' white. If that's what you want.
JANE
Wasn't what I wanted. I got took. But Sylvester Manning is surely my boy, and I won't have you bad-mouth him.
ISAAC
What you gettin' your jaws so tight about? Ain't you seen me with Sylvester? We friends!
JANE
Well that's good, then. Now, this Law of Marshes–
ISAAC (relieved at the subject change)
I seed it myself, Mizz Jane. Brother Joseph, he all dressed up in his finest. Lieutenent General of the Nauvoo Legion! Then he lift his sword high and he say, 'I calls God and angels to witness'–and other words like them. Saying we goin' stay free.
JANE
We colored folk?
ISAAC
We Latter-day Saint folk.
JANE
Wish I'da seen it.
ISAAC
Course, you must know things is bad for Brother Joseph now. Last I hear, they taking him to Carthage jail. I don't know if he goin' be wearing them shirts you pressin'. Some folk say he won't be coming back alive.
JANE
Stop that! God wouldn't let his prophet get killed!
ISAAC
Them 'postates is sayin' he's a fell-down prophet. They callin' for his blood.
JANE (looking at her stained apron)
Brother Joseph's blood?
ISAAC
Aw marry me, Jane.
JANE
I'll make you my answer later. You just gave me a lot to think on. I need me some good time.
ISAAC
Well I need me some good times too! (Pause) Next time I come, the berries be black as night, ripe and sweet as you please. I hope your answer be that ripe too.
JANE
Whatever that answer, Mr. James, it's sure to be a good, ripe one.
ISAAC exits. JANE freezes.
SCENE 7
Offstage Song—male solo (as LEW does some chore onstage. He stops to listen, sensing something amiss):
SOLO
A poor wayfaring man of grief
Hath often crossed me on his way
Who sued so humbly for relief
That I could never answer nay…
I had not power to ask his name,
whereto he went, or whence he came
Yet there was something in his eye
That won my love, I know not why.
ANGUS CANNON (entering)
We could use some help.
LEW (suddenly fully aware of what's happened)
Brother Joseph dead, ain't he.
ANGUS CANNON
Yes.
LEW
Hyrum too?
ANGUS CANNON
Yes. We're heading to Carthage for the bodies. We could use some help.
LEW
I'da laid down my own life for him, Sir. If I coulda.
ANGUS CANNON
I know that. Me too.
SCENE 8
LIGHTS UP ON JANE AND ISAAC
JANE (sitting, weary)
How could God let his prophet get shot dead? I'd like to die myself!
ISAAC
Now you got you a son to take care of. And you shouldn't want to die just 'cause Brother Joseph did. We all gots to live and do every good thing we can.
JANE
I could just lay down and die like–
ISAAC
And one of the best things we can do is–
JANE (quickly)
Now Isaac–
ISAAC (taking her arms)
Start families!
JANE
Even at a sad time like this, you ain't goin' give up on this matter, is you.
ISAAC
No ma'am. I think Brother Joseph would approve of my not giving up on it.
JANE
He say something to you about that?
ISAAC
Not exactly. There was just a look in his eye. I think he knew–you and me is the best we got.
JANE
With such a compliment as that, a woman might not know how to respond.
ISAAC
Jane Manning, I love you.
JANE (undoing herself from his arms)
Mr. James, don't you be sayin' me lies.
ISAAC
Anyone ever tell you you're somewhat difficult? You ask me for a compliment and when I give it to you, you say to quit lyin'!
JANE
Go on then. Keep talkin'.
ISAAC
You want to see how much deeper I can dig my foot into this trap, do you? All right then. I don't exactly love you–yet–but you looks to me like a woman who could bring forth a good many children. And I be a man who know something about harvest. And God say we was meant to multiply and punish this earth.
JANE (concealing a smile)
How you plan on punishing this earth?
ISAAC
Don't you know about me? I'm one of the best farmers in Nauvoo! I punish this earth like it never been punished before!
JANE
Them the best courtin' words you can find?
ISAAC
Ain't used to courtin' women much. I court the fruit of the vine, and it don't usually answer back.
JANE
Maybe because you punish it too much.
ISAAC
But that's what God say to do! That's his will! So I figure if I can grow fat, juicy grapes, I can grow fat, juicy babies.
JANE
The word, Mr. James, is "replenish. Multiply and replenish."
ISAAC
Listen to you! You so good with words! I ain't. Ain't much for this courtin' business either.
JANE
You doin' fine with this courtin' business. Problem is, I'm still mourning Brother Joseph. I ain't ready to think on getting multiplied and punished.
ISAAC
Well, will you let me know when you is ready?
JANE
You will be the very first to know, Mr. James. I promise.
SCENE 9
MUSIC CUE #3 – "Wade in the Water"
Level: Loud until Angeline starts speaking. Then soft under dialogue. Loud again as soon as Lew and Angeline leave, but fade out as Jane approaches Isaac.
:LIGHTS UP ON LEW AND ANGELINE as JANE hums the rest of the song.
ANGELINE
No sir, I ain't goin'–even in Jane is. Over the Rockies? No sir! I got me a good life selling palm hats to steamships. Singin' for 'em too.
LEW
Don't know what more you could ask than that.
ANGELINE
And I got me a beau. One that toot the ship's horn like God makin' thunder.
LEW
Sound like about the right man for you, Angeline. Someone who can drown out your words by just pulling a rope.
ANGELINE
I know you thinks you funny, but you ain't.
(ANGELINE and LEW exit.)
SCENE 10
ISAAC is gathering grapes. JANE approaches him, carrying a tray with a glass of water.
JANE
Thought you might be thirsty, Brother Isaac.
ISAAC (very loudly)
Well will you lookee here!
JANE
Ow! You one noisy man! Maybe you'd best watch your mouth and quiet it down some.
ISAAC
There's another mouth I prefer to watch. That'd be your mouth. I'd prefer to watch it all day and all night long.
JANE
What you better watch is your whole self, Mr. James. Don't you try to spark with me.
ISAAC
Did I imagine it, or was it you brung me this water and cornbread?
JANE
Don't take it for more than it is. I'm just doin' my Christian duty, that's all.
ISAAC
You know what the Good Book say about Christian duty. "Better to marry than to burn." My, my, it is hot today, ain't it!
JANE
Do you believe in the Church?
ISAAC
Do I–. Would I be in Nauvoo if I didn't?
JANE
Maybe you just lookin' for a place where you don't get hurt. Well? Do you believe?
ISAAC
Nobody ever asked me so straight before. I believe in God. Pretty sure I do. And I's content to follow this people wherever they go to find Him.
JANE
Now tell me true, how you feel about my son?
ISAAC
I told you, we great friends. I'd be pleased to be his daddy. And he needs a daddy.
JANE
You have a point there, Mr. James.
ISAAC
Mr. James?
JANE
You prefer 'Brother Isaac'?
ISAAC
What I prefers is 'Honey doll' and 'Sugar Pie'.
JANE
Then you'd best check out a sweets market.
ISAAC
Wherever you be, Jane, there's enough sweets for me, Honey.
JANE
I warn you, Brother Isaac–you'd best watch yourself.
ISAAC
I's watching myself in your pretty little eyes. And I think your eyes is getting 'customed to me. Maybe to like me a little?
JANE
You'd likely get the same impression from a lookin' glass, Isaac.
ISAAC
Aw, say me that again.
JANE
I say you likely get–
ISAAC
My name. Say me my name. I want to watch your mouth say me my name. Come on, now, Honey. Say it.
JANE
Isaac.
ISAAC
Good. Now you just set down that tray. Let's make us a bargain and seal it up like we ought to.
(SHE SETS THE TRAY DOWN. ISAAC KISSES HER.)
ELIJAH (coming onstage)
It wasn't a fancy wedding, but it was a nice one, on a peaceful day. And since Nauvoo days were getting less peaceful all the time, everyone was glad to celebrate something. But the peace didn't last. These Mormons in Nauvoo were bound to leave their beautiful city and head west.
SCENE 11
MUSIC CUE #4: Deep River
Level: Very soft, under dialogue
JANE (sadly as her brother approaches)
Hello Lew.
LEW
Hello.
JANE
I heard you ain't going West with us. I knew the others wouldn't. Mama's too old, and the rest got other lives. But I thought you'd come!
LEW
I thought I would too. For awhile. My heart got buried with Brother Joseph. I ain't goin' far. Maybe back Missouri ways.
JANE
Slave state? Where they treat you like–.
LEW
Ain't ready for another journey.
JANE
Don't you know? This people is the only ones treat you right!
LEW
They ain't always treat me right.
JANE
But they WILL. We just at the start of Zion. Lew, it's like dawn. The sun don't get itself up in two seconds! First a leaf get lit up, then a branch, then a tree, then part of a hill. It's gradual, but it happen every morning.
LEW
Wish I had your faith. I don't, though. Leastways, not enough to set out across the prairie again. Jane, you sure you goin' find God over the Rockies?
JANE
Ain't sure where I'll find him. Only sure He's callin' me.
LEW
It's like to be another hard journey.
JANE
I just take it a step at a time. How many good-byes you figure we said to each other in our life?
LEW
A hundred?
JANE
You was jus' a baby the first time–when I went to work for the Fitches. Now look at you. My, my, you one oak of a man!
LEW
A skinny oak.
JANE
So many good-byes, you'd think I'd be 'customed. Why ain't I?
LEW
Ain't you? Come to think on it, me neither.
JANE
I can't help wonder if this time, I might never–.
LEW
You got you a good man. I trust him to look after you same as I would. And if he don't, you find some way to get me word. I'll come 'cross the prairie and beat the tar outa him.
JANE
Aw, you couldn't beat the tar out of nothin' but a blackbird–less you dance a fellow to death.
LEW (embracing her)
That much trust! Don't let nothin' happen to you, Janey. We'll meet again. I feel that in my soul.
ANGELINE, LUCINDA, SARAH and ANTHONY enter
ANTHONY
I don't know why you so fixed on another trek, Janey!
JANE
Must be all them good memories from the first one.
ANGELINE
I made this special for you. Keep the sun from your eyes.
(She presents a palm hat.)
JANE
Thank you, Angeline. I keep it forever.
SARAH (kissing JANE)
Go with God, Sis.
JANE
You too.
ISAAC (carrying SYLVESTER as the Nauvoo Bell sounds)
That's the Nauvoo bell. We ready, folks.
JANE
Pray for us.
LEW
Every day!
LIGHTS FADE BRIEFLY
ELIJAH
This is Winter Quarters now, where the Mormon pioneers first stopped. And Jane just had her a baby boy.
(ENTER: AGNES THOMAS.)
AGNES
Hello there. I heard there was a new little nigger-baby here. Can I see it?
ISAAC
My wife's in the wagon with our baby, but he was born real recent. I don't–
AGNES (ignoring Isaac and calling into the wagon)
Hello in there! You got company!
JANE (peeking out of the wagon, straightening her hair)
My, I did not expect visitors. I'm afraid I'm not at my best.
AGNES
You must be Black Jane. Of course, I'da knowed that first sight. You mind I look at the pickaninny?
JANE
My baby's name is Silas. He's sleepin over there.
AGNES (Peeking inside. She becomes mournfully nostalgic)
Oh look! Cutest little nigger-baby I ever did see! I owned me a pickaninny once. Four years old and black as a crow. I inherited it for my sixteenth birthday, but my husband made me give it up once we joined the Saints. I supported him, of course, did my duty–but it was hard. So when I heard you'd had you one, why, I came to see! Oh, makes me miss my own. I left so much behind–my good clock, all my china, and my pickaninny. Well, are you recovering all right, Black Jane?
JANE
A little tired yet. The birth wasn't easy.
AGNES
Childbirth–that's a pleasure I'm still waiting on. I've only took my husband eight months ago. Why, I hardly know how to–
JANE (interrupting fast)
I'm glad you could visit.
AGNES
When it's not sleeping, I want to hold it.
JANE
I don't–.
AGNES
I guess I'd better get back to my own wagon. I'll come back later. Bye now!
(AGNES exits.)
ISAAC
Thank you for callin'!
JANE
Yes indeed! Excuse my appearance!
ELIJAH
Now you'll just have to imagine the weeks and months of walking that come now. We wouldn't finish this story until next year if we showed you every trial they suffered–buffalo stampedes, folks dying of pneumonia or black canker. But mostly just the walkin, day after day. Long journey. Longer than you understand.
JANE
Isaac, I am so weary.
ISAAC
I know.
JANE
And I'm in the family way again.
ISAAC
Aw Janey!
JANE
And you know when.
ISAAC (remembering fondly)
That night when the stars was so pretty and the moon–. So you jus' barely in that way, then.
JANE
Mister James, you either there or you not there. You is or you isn't. And I is.
ISAAC
I guess I's payin' for the starlight, then. Starlight's come collectin'!
JANE
It is pretty starlight, ain't it. I wish I could enjoy it more. Wish I didn't feel so sick.
ISAAC
That's the sickness God give you to make the baby a better reward because you went through so much to have it.
JANE
If you was a woman, your words might hold a bit more weight.
ISAAC
Can't nobody full understand nobody else's pain. You just keep on. We'll find the place.
SCENE 12
(ELIJAH comes forward)
ELIJAH (gesturing to set pieces)
And they did find it, of course. These is cabins now. Poor, small cabins–but they home to these folk. Jane birthed a daughter, just after they arrived in the Salt Lake valley. They all got along fine. Until grasshoppers and crickets come carrying destruction wherever they hop to. Some folks started starving.
ISAAC (to JANE)
Where you goin' with that flour?
JANE
We don't have much, but we do have more than the Lymans. I'm taking this portion to Eliza Partridge Lyman. She's been my friend longer than you have, Isaac.
ISAAC
Well she didn't marry you!
(JANE goes to Eliza's house. ELIZA APPEARS)
ELIZA
Why Jane! What's this?
JANE
Not much. Two pounds of flour, that's all.
ELIZA (hardly able to speak)
You'd do this for me? You know–there is good in this poverty.
JANE
Ma'am?
ELIZA
I do not think our enemies need envy us.
JANE
No ma'am!
ELIZA
I do not think they'll disturb us here.
JANE
Not unless they stupid.
ELIZA
Like us?
JANE
Now, we ain't stupid. We devoted. We see past the uglies to the possibilities of this place.
ELIZA
As do the crickets.
JANE
With them bugly eyes, I expect so.
ELIZA
I think we're safe from human harm here. Well, how is your son?
JANE
Which one?
ELIZA
You and I both gave birth to healthy sons in Winter Quarters–within a few weeks of each other.
JANE
Yes, I remember. My Silas is a handful! Runs faster than I can.
ELIZA
My baby died at five months.
JANE
I heard about that, Ma'am.
ELIZA
I thought I'd die myself. Took the childbed fever after his birth. Lost all my hair.
JANE
But it's growed back fine!
ELIZA
And I have another son now. Platte.
JANE
God gives and–.
ELIZA
Jane, were you surprised?
JANE
Ma'am?
ELIZA
By the barrenness here! When I first saw it, I thought, "If this God's reward for our faith, I don't care to see His punishment!" After that journey! All we suffered! Then we get a desert, crickets, poverty. I have not said this to anyone but you. Oh Jane, I expected better! Weren't you surprised?
JANE
Why, there's surprises at every turn, Ma'am. Good and bad.
ELIZA (looking long at the flour.)
This flour might save our lives, you know. I have nothing.
JANE (beginning to leave)
I'm pleased to help out.
ELIZA (calling her back)
I never imagined a colored woman would be bringing me her own flour to keep me from starving.
JANE
Me, I never imagined such crickets.
ELIZA
That's how this life goes, isn't it. Surprises at every turn.
(LIGHTS DOWN ON ELIZA and JANE)
ACT II
SCENE 1
SONG: O Happy Day! (Sung in its entirety)
ELIJAH (stepping forward)
Well now it's my turn to be one of them surprises! The year is 1852. Me and my wife, Mary Ann–we set to enter the valley.
ISAAC (running onstage)
He's here! Jane, Elijah Abel is here! Oh, things is goin' get good for us now!
ELIJAH
Why, Isaac James! And who might this be?
ISAAC
The wife, Brother Elijah. This is Jane.
Elijah
And this is Mary Ann.
MARY ANN (nervously to ELIJAH)
Elijah, I don't know these folks. I feel timid! Pardon me. I must look a sight.
ELIJAH
We brought three little ones across the plains.
ISAAC
Well we brought three too–only one of 'em, we kept in Jane's belly until we got to the valley. And guess what we named her? Mary Ann! Same name as the wife you got!
ELIJAH
Ain't that something! You gave my wife a namesake before you even met her!
JANE
Sister Abel, you come on inside with me. Rest your bones a spell.
MARY ANN
Elijah?
ELIJAH
You go on inside with Jane. Make friends, honey.
MARY ANN
You know how I am!
ELIJAH
That's why I'm tellin' you to go inside and make friends!
JANE
I'm so happy to see you, Sister Abel. Please don't be shy.
(JANE and MARY ANN go inside.)
ELIJAH
So how's things, Brother Isaac?
ISAAC
Good. I been workin' for Brother Brigham. Coachman.
ELIJAH
And how is Brigham Young?
ISAAC
Well, he's got him a good many women to keep him company and spread his reputation.
ELIJAH
Oh yes, I heard about that. Whole world heard.
ISAAC
He quite a leader, ain't he.
ELIJAH
Hard to imagine most anyone else gettin' all these folks to follow them to this here desert.
ISAAC
Speaks his mind no matter who's listenin'. Only sometimes he say–
ELIJAH
Don't think I'm going to be surprised by what Brigham Young say. That's a man with a strong will and a strong tongue. He say whatever come to mind even if someone's takin' notes!
ISAAC
He say things about colored folk. About us being cursed because of Cain and Ham and whatever else they put in that recipe.
ELIJAH
Ain't nothin' new in that. Why, you've heard that lineage talk before! All us heard it before.
ISAAC
I didn't think I'd hear it quite so much out here. Thought there'd be better turns to conversation. Thought we'd be–
ELIJAH
You poor?
ISAAC
We got along splendid for a time–had horses, cows, oxen, sheep, chickens–you name it.
ELIJAH
You poor now?
ISAAC
No! … Shoot, Elijah. You give me them eyes and I know you seein' straight through me.
ELIJAH
How poor?
ISAAC
Not intolerable. And things is lookin' up, now you're here! You was always the link between us and them. You was one of Joseph Smith's most best friends in the world.
ELIJAH
That is a fact. I'll see what I can do for you.
ISAAC
How about I see what I can do for you first? Like fill your gullet full of johnny cakes and potato soup!
ELIJAH
Now that sounds like a fine beginning!
(ISAAC goes inside, and ELIJAH begins to follow, then faces the audience, chuckling.)
I have to laugh remembering how big a fool I was back then. As though I could do a thing for Isaac! Oh, times had changed. I may have been one of Joseph Smith's best friends, but Brother Brigham hardly knew me! And when I asked if I could be sealed to my wife Mormon style, Brigham Young said such was a privilege he could not grant. Oh, he tried to comfort me. He told me the time would come when us blacks would have all the blessings we desired. He got me and other colored folks front seats in General Conference. I thought that was considerate of him. But still, we could not partake of opportunities white folks had. I'd watch them go into the endowment house, stepping inside the door like it was the easiest thing on God's green earth.
(He shakes his head.)
Then other events began.
SCENE 2
(JANE and ISAAC enter. ELIJAH observes )
ISAAC
Tom Colbourn's dead. Throat slit. And he got a nice, big sign stuck on his body. "Warning to all niggers: Stay Away from White Women."
JANE
Oh Isaac! No! The Book of Mormon say–
ISAAC
Now don't you go quoting me scripture, Mizz! Between you and Brigham Young, I heard so much scripture I can't spit without dropping Bible words on the ground.
JANE
All are alike unto God!
ISAAC
I told you, no scriptures! All my Mormon days, I waited for things to turn better. Ain't happened. Fact is, things is turning the other direction. I don't see–.
JANE
Stop it. I don't want to hear this. Been through enough today.
ISAAC
You still alive. That's more than Tom Colbourn can say. I've heard some of the folks around here talk about us like we was–
JANE
That's enough!
ISAAC
Animals!
JANE
Isaac, I said–
ISAAC (exiting)
Fine. Then I'll go talk to the trees. I expect they know what it's like to get chopped up and burned. What it's like to have a knife cut through their flesh. Hello trees!
(ELIJAH approaches JANE)
ELIJAH
Problems, Sister?
JANE
Just the common ones. Husband goin' crazy is all.
ELIJAH
Oh. Well, 'long as it ain't nothing serious.
JANE
Brother Elijah, now you tell me straight. I heard so much about curses: Cain, Canaan, black skin. But I've felt Jesus touch my heart and soul. I never have felt cursed by Him, only loved so deep seemed my bones might melt. Still, folks say–
ELIJAH
I took that question to God one time.
JANE
Did He answer?
ELIJAH
He might have. I feel, sister Jane,
MUSIC CUE #5: "Were You There when they Crucified my Lord?"
Level: Since it's hummed, it can be louder than others, but not overpowering. As the words begin, lower the level and fade out.
that ours is:
(BACKGROUND SONG–under the ELIJAH's words—hummed as the poem is recited, then sung afterwards):
"Were You There When they Crucified my Lord?"
Not a curse but a gift t'us,
The best path we could seek
A place where God can lift us
We kneel; our knees is weak
And when one of us is kneelin',
We understand his fears.
We know what all us is feelin'
We cry each other's tears.
That's just what Jesus done
For all us human folk.
He agreed to come get born
To feel ever' pain and poke.
So's he could understand us,
What it is to be a slave.
So's he could get beneath us
And push us outa the grave
Would you rather be the massa
Or the Roman with his whip?
Would you rather nail the Savior–
Put vinegar to his lip?
Or learn the lessons of sufferin'–
How we nothin' without grace.
Jesus, He give us a callin'
He gifted us our race.
JANE
I like that answer, Brother. At least better than other answers I get. I wish my husband could get a good answer too.
(JANE exits.)
FADE OUT MUSIC
SCENE 3
ELIJAH (going for a small, wood box)
I'm a carpenter. Just like Jesus was. I consider that an honor. In Nauvoo, I was one of the first undertakers. Carpenters always did make the prettiest coffins. Joseph Smith himself gave me the calling to make the best death boxes the world would see. I did my utmost. I could carve grapevines around a coffin so good seemed they'd bear fruit once they got planted underground! But it's a sad job, making death-boxes. This here box is for Jane's and Isaac's baby. Stillborn.
ISAAC (entering where Jane lies)
How you doin'?
JANE
Did you see him?
ISAAC
Yes.
JANE
I knew he'd be born dead.
ISAAC
You didn't say nothin' about that.
JANE
I stopped feeling life weeks ago. I waited. I hoped. That's why I didn't say anything.
ISAAC
You should've spoke up.
JANE
You'd think the Lord would let the goin' down pains ease up when the baby won't even be movin'. I screamed so hard, my voice is near gone, and I am aching everywhere down my soul..
ISAAC
Aw, don' cry, Janey. I know you done the best you could, and I want our baby to carry my name, just like we talked about.
JANE
Isaac, he never even took air!
ISAAC
Honey, listen to me. Now, I don't mean for you to pity me, not when you–. Only I can't keep my own feelin' inside no longer. You let that dead baby out–that little Isaac–and every dead part of me is begging to get out too.
JANE (sitting up)
What you sayin'?
ISAAC
You know.
JANE
Today of all days, you talkin' about–?
ISAAC
California, Jane. You–our whole family–we all go together.
JANE
No! I told God I would let Him guide me, plant my feet where He wanted them. This is where God chose!
ISAAC
Don't be no fool! Losin' this baby is one ripple in a whole river of sorry luck. Nothin' will change here. Folks got their hearts set.
JANE
I got my heart set too! And my feet! And my house! And now the first grave our property has knowed. Here!
ISAAC
Then you be doin' exactly what they want! Oh, they'll come fawnin' over you because you be grief-struck. But these folks WANT you set and planted, so's they can walk over you. Every time you look like you goin' become something important, I swear they will mow you down.
JANE
Well, every time you look like you goin' become something important, you turn heel and run!
ISAAC (quieter)
Janey–honey–calm down. You shouldn't start a fight when you don't even got a voice to finish it.
JANE
I didn't start it.
ISAAC
Well then, you shouldn't encourage me.
JANE
You never cared about this people or this place!
ISAAC (losing temper)
I cared too long and too much–and you know it! They tell you there's some sort of reward waitin' for you just beyond them clouds. You know why they say such things? So you won't fuss when they step on your head on their way to California!
JANE
Isaac, stop it!
ISAAC
I'm sorry. Oh Janey, I didn't mean to upset you. Not today. I would never want to hurt you. But you got to know–there is nothing for me here. Nor for you either. Let's try California.
JANE (falling back, exhausted)
If you goin' try California, you goin' try it alone.
ISAAC
Aw, this ain't the time for a fight. I'll go get the box for little Isaac.
JANE
And then you'll leave us?
ISAAC
I didn't say that.
JANE
You think I don't know what you plannin'?
ISAAC (realizing how well she knows him)
Honey, I'll be back. Probably before Christmas.
JANE (weakly, weeping)
I have never begged you for anything in my life, but I am begging you now. Please don't go.
ISAAC
You watch for me. I'll be the one driving a gold surrey.
JANE
So this is how you comfort me after I birth a gone baby.
ISAAC
You're forgettin' something. It was my baby too. Jane, it was me!
(ISAAC EXITS, MURMURING "I love you.")
MUSIC CUE #6: Nobody Knows the Troubles I've Seen
LEVEL: Loud as Jane is aged.
JANE stands, puts a shawl on and ages herself to imply the passage of years. Her shoulders slope. Either ELIJAH or PHYLLIS (as an angel descending from Heaven) comes to her and paints white streaks in her hair. Jane, aged now, sings, or the angelic chorus sings for her:
Nobody knows the troubles I've seen
Nobody knows but Jesus.
Nobody knows the trouble I've seen,
Glory halelujah!
Sometimes I'm up; sometimes I'm down
Oh yes, Lord;
Sometimes I'm almost to the ground
Oh yes Lord;
Nobody knows the troubles I've seen
Nobody knows but Jesus.
SCENE 4
JANE picks up a letter. MARY ANN Abel joins her husband, who is standing near JANE, observing.
ELIJAH
You go see if you can offer that woman some comfort. Husband's left her some time back. And now her children dyin' off. I ain't seen her in awhile, and I get worried.
MARY ANN
Elijah, you know how I am! I never know what to say in these times. I can come off such a fool!
ELIJAH
Do your Christian duty anyway.
MARY ANN
Can't you come with me?
ELIJAH
No. This is women talk.
(ELIJAH waits as MARY ANN approaches JANE.)
MARY ANN
Sister James? Hello?
JANE (squeezing her blankets tightly)
Hello Mary Ann.
MARY ANN
You doin' all right?
JANE
I got news yesterday that my daughter, Miriam, died. In childbirth.
MARY ANN
Oh! Did she? I remember Miriam. She was a pretty one.
JANE
My prettiest. And sweetest. She took after me.
MARY ANN
That's three of your children gone in two years. My! And you bearin' it all alone.
JANE
Not alone. I don't have me a husband no more, but I ain't alone.
MARY ANN
Can I do anything for you?
JANE
Only Jesus can do anything for me.
MARY ANN
I can do what you did for me when I lost my son. I can pray alongside you. You feel to pray?
JANE (falling to her knees at once, weeping)
Oh Jesus, please don't take no more of my children! Please, Lord! I know you got a reward of some sort waitin' for me, but my children was all my joy in this life. Let me keep the ones I got left!
MARY ANN (awkwardly)
Amen. You feel better?
JANE (returning to her chair)
No.
MARY ANN
Would–would chicken soup help?
JANE (smiling grimly)
I would prefer the resurrection, Sister.
MARY ANN
Well…how about corn bread, then! Fresh from the oven!
JANE (relenting)
Corn bread sounds fine. You're a good woman, Sister Mary Ann. You've had to wait on your own blessings, just like me. You set the example. I want to be like you.
MARY ANN (tearing up)
Oh no ma'am! Oh Jane! You the bravest woman I know! If I could just get behind your wings when you be made a angel, I think my feet will fly!
(ELIJAH enters)
ELIJAH
You ladies doin' all right?
JANE
Just planning how to arrange things when we be made angels.
ELIJAH
I always do admire you women for plannin' ahead.
MARY ANN
We prayed together, Elijah. I felt we should.
JANE
Not a prayer which was likely to get heard. We should pray for something easy. For good luck to come knockin' on the door.
(There's a knock at the door. JANE, MARY ANN AND ELIJAH answer. AGNES STANDS IN THE PORTAL.)
AGNES
Hello Jane.
JANE (quickly regaining herself)
Why Mizz Agnes Thomas. I hope there wasn't no problem with the laundry. Come in!
AGNES
No, I don't need to enter your house. And I didn't realize you had company.
ELIJAH
We was just leavin'. Pleasure!
(ELIJAH AND MARY ANN exit.)
AGNES
The laundry is fine, Jane. I'm here because–.
JANE
I know you don't like your collars over-starched. But nobody likes to feel like they wearing a piece of bark either. Is–
AGNES
The collars are fine. You are the most gifted washer woman in the valley. I hope that doesn't arouse your pride.
JANE
Mizz Agnes, my pride could use a little wakin' up. I thank you for those kind words. I was fearful you'd–
AGNES
But I'm afraid what I must say today will not make you proud in any degree.
JANE
No, I didn't think you'd come out here to talk about the wash, Ma'am.
AGNES
My husband claims your son–Sylvester–has been making eyes at our daughter.
JANE
No. Syl's got a woman. A Colored one.
AGNES
But you know as well as I, the ways of your–. You know–.
JANE
Ma'am, I know my son.
AGNES (fidgeting)
Of course, it could be my husband was mistaken. No, he would not concoct such a tale. You must talk to your boy.
JANE
Of course I will.
AGNES
I'll look for you on Thursday, then. May I wish you a fine morning?
JANE
Yes ma'am, you may..
(AGNES exits as SYLVESTER enters.)
AGNES (exiting)
That's the one!
SYLVESTER
They makin' up all sorts of excuses for not givin' me work, Mama. How can I support a family if I can't work? And I would tell you what one particular Mormon man said to me, but I know you don't wanna hear me say such words.
JANE
If he said something mean, then he wasn't a GOOD Mormon.
SYLVESTER
You show me a GOOD Mormon, then!
JANE (slapping him)
Stop it now.
SYLVESTER
Mama, I'm a grown man. I don't want you touchin' my face with a open hand anymore.
JANE
I'm sorry you didn't find work, but you have got to own up to being colored.
SYLVESTER (sullenly)
Half colored.
JANE
You the onlyest one talkin' percentage. Don't you make no danger. And don't you dare be makin' eyes at any white girl.
SYLVESTER
What?
JANE (calmer)
Sit down. Honey, you must understand things. I have worked–Lawd, how I've worked!–to keep us fed and housed. All on my own. And now you could go ruin it all. Not on purpose. But you make eyes at a white girl and–innocent as your eyes be–.
SYLVESTER (angry)
I don't have to listen to this. Been through enough today.
MUSIC CUE #7: GIVE ME JESUS
Level: Soft, under Jane's prayer
JANE
Sylvester, now don't you dare–
(SYLVESTER EXITS ANGRILY. JANE LOOKS AROUND, DESPERATE, THEN KNEELS AGAIN.)
All right, Lord–it's me again. Prayin' to you, because I ain't got nobody else to talk to this moment, and I need to talk! We've had us more conversation this day than we had all last week. Lord, I felt your Spirit when I was a child and so many times since. Brother Joseph said–the last words I ever heard him say–that I'd be blessed. And you know, Lord, I have tried to keep my feet where you set them. But I am so alone and so poor. And sometimes, I wonder. What is it you want from me? I am banging on the walls of Jericho and they still standing. And Lord, it is one thing for these folks to keep me outside their gates–I can live with that. But my children! Lord, I am losing my children! Mary Ann. Silas. And now Miriam. And my Sylvester, he either walkin' straight up to trouble, or trouble knockin' on his door. Now I know I shouldn't have slapped him. I didn't mean to. I didn't even get a chance to tell him his sister's dead. Lord, Lord!
(LIGHTS DIM ON JANE. LIGHTS UP ON ELIJAH, who picks up a rope.)
SCENE 5
ELIJAH
This is a rope. I'll just bet you could've guessed that. Many uses for a rope. Out west, folks can lasso unruly calves and even wild stallions. But some folks think they ought to use ropes for other means. Never expected the likes of them here.
ELIJAH drops the rope.
LIGHTS UP ON SYLVESTER.
My, my–look at Sylvester! He appears almost drunk, don't he. But he ain't. I'll need to help him now. He's a grown and married man, but I think he needs his mama at this moment.
(ELIJAH helps him, takes him to JANE's house.)
JANE (coming to the door)
Brother Elijah! Wha–what's wrong with my boy?
ELIJAH
He seen something.
SYLVESTER (clutching his stomach)
Oh I'm goin' be sick. Let me catch my breath.
ELIJAH (seating SYLVESTER)
Sister Jane, Judge Lynch has arrived in Utah.
JANE
Judge–. Someone–No!–who got lynched?
SYLVESTER (fighting tears)
That ex-soldier–one of us–Sam Joe Harvey. I brought him here two months ago. You gave him supper.
JANE (sitting down hard)
Lynched? No, no!
SYLVESTER
The Grices promised him a job. Then Sam Joe learned that job was twelve miles outside the city. He went to cuss Grice, and–oh Mama–.
ELIJAH
Take your time, Son.
SYLVESTER
A ruckus broke out.
JANE
Lord Jesus have mercy.
SYLVESTER
Mrs. Grice, she call Marshall Burt.
JANE
Andrew Burt?
SYLVESTER
Then everything–it got dizzy. Shots fired off and–before the smoke cleared–Sam Joe aimed his gun right at Andrew Burt and–
JANE
Andrew Burt got killed?
SYLVESTER
Shot through the heart.
JANE
Sweet Lord take pity!
SYLVESTER
Blood everywhere. Brother Abel was there. He wrestled the gun from Harvey's hands.
ELIJAH
Old as I be, I was strong enough for that. Just not soon enough.
SYLVESTER
Then Harvey got carted off to jail–lookin' at Brother Elijah and me the whole time, like we could do somethin' for him. Then others start lookin' our direction too–the devil in their eyes.
ELIJAH
Take it easy, Son.
SYLVESTER
Didn't you see the devil in their eyes, Elder Abel?
ELIJAH (bowing his head painfully)
Yes I did.
SYLVESTER
Then the mob start yelling for the guard to 'Let him out! Let him out!'
ELIJAH
And the guard let him out. I did not think–did not imagine–.
SYLVESTER
The guard steps out with his gun in his hand and he tells the people, "Back off!" Then Sam Joe gets pushed outside, and in two seconds he's getting stomped and kicked like a dog. Then the rope, it gets passed forward, hand over hand.
ELIJAH
Where I was standin', it got drawn over my arm. I felt it. My whole body shivered.
SYLVESTER
It gets noosed around Sam Joe's neck and a bunch of folks, must've been a thousand–folks we know!–they hoist him up. They throw the rope over a beam and they hoist him, yellin' the whole time: "Get him up there! Stretch his neck!" His hands was free. He try to get the rope off his neck and–oh Mama–two boys climb some benches and hit his arms until he lose his grip.
JANE
Lord, NO!
SYLVESTER
Then he struggle some, and then he just swingin' there, eyes stuck up in his head like they lookin' for God. They takes him down, then the whole mob drag his body through the streets, cheering all the way. Oh, my stomach's comin' up.
ELIJAH
Sister Jane, where's your bucket?
JANE
There. In the corner.
SYLVESTER
Cheerin' the whole way. Like Fourth of July. I don't need no bucket.
JANE
If Lynch Law is touchin' Utah, Syl, you stay here.
AGNES KNOCKS. A TENSE MOMENT.
JANE (very nervous)
Who is it?
AGNES
Jane, it's Sister Agnes Thomas.
JANE
You alone?
AGNES
By all that's holy, I know and swear I am completely alone. Oh–I did not realize you had company. Pardon me.
JANE (opening the door part way, then wider)
This is my son and Brother Elijah Abel. I believe you know–.
AGNES (staying at the door, curtsying)
I hope I'm not interrupting.
JANE
Won't you step inside? You come all this ways on such a hot afternoon.
AGNES
Thank you, no. Jane, because of what happened–
JANE
I know you had nothin' to do with that.
AGNES
I just–. I wanted to say something, and I didn't know where else I could say it. I suppose you know Tom was with that mob.
ELIJAH
Yes, we know.
SYLVESTOR (quietly to JANE)
Tom was leadin' it..
AGNES
Myself, I think the mob was on par with that murderer! I cannot imagine Tom would have participated in any way except for the mob fever. But it hasn't benefitted Andrew Burt or his family to do this–this thing. And for it to happen in our city–in the shadow of the temple–it don't show a Christian feeling.
JANE
I agree with you, Ma'am.
AGNES
Every man should have the recourse of law.
JANE
Mizz Agnes, it's so hot outside. Won't you come in? I'd be honored to pour you a glass of water.
AGNES
I'm sorry, but I can't enter your home or partake of your hospitality. I should pick up my laundry. I'm hoping you've had a chance to finish it.
JANE
I was fixing to take it to you tomorrow, Mizz Agnes.
AGNES
I'm afraid–Jane, you understand. I can't accept your services as our laundress any longer. Tom won't allow it. Now, I haven't changed my mind about your talent. I doubt I'll find your match anywhere, but Tom will not permit a Negra–
JANE (smiling the best she can)
No need to explain things. I only wish I'da knowed you was comin'. I'da ironed everything.
AGNES
I'll find someone else to finish it. Tom has someone in mind already. I have my buggy set to take the load now. Maybe, since you won't be washin' our clothes now, you'll have more time to do things you've been wanting to. Maybe you could write poetry. Wouldn't that be something?
JANE
Let me get the basket.
AGNES
We'd have you and Sister Eliza Snow both. Two kinds of Mormon poets.
JANE (getting the basket)
I'm afraid I never got schoolin' in how to write.
AGNES
Why I could teach you! (She stops herself.)
Not yet, of course. The mood around here must change first. I know you understand that..
JANE
Of course. I thank you for the privilege of doing your wash these many years, Mizz Agnes.
AGNES (breaking down)
This isn't what I wanted.
JANE
Mizz Agnes, why you cryin'?
AGNES
Times will get back to normal. I just know it!
ELIJAH
Let me take that basket to your buggy, Sister Thomas.
AGNES
I'd be obliged. Good-bye, Jane.
(Jane watches AGNES and ELIJAH leave.)
SYLVESTER
Mama, you so scared. You too timid around them. Always tryin' to show your good side. They don't care about your good side or your bad one. All they see is 'Black Jane.'
ELIJAH (re-entering)
Boy, don't you go diminishin' your mama. Now, you saw a terrible thing this mornin'–a thing with the devil in it. But you got to understand that your mama got a life worth of experience, and you honor that! Hear me?
SYLVESTER
I didn't mean no disrespect.
JANE
Go on home to your wife, Syl. She got to be worried about where you are.
SYLVESTER
Yes ma'am.
(He exits. Lights dim.)
SCENE 6
ELIJAH (picking up the rope again and looking at it.)
Well, no surprise that Tom Thomas got acquitted for his part in bringing about Sam Joe Harvey's demise. That's jus' the way things was in these times, all over America. Lynch Law was everywhere. Night Riders was fearsome, and the devil was ridin' his chariot so fast and so loud, you could almost hear the wheels rattle. Wasn't no state in this union escaped that ugly long chain of Judge Lynch. And I'm sad to say that Sylvester James got excommunicated. I don't know the reasons, but I know he was bitter. As for me, well Mary Ann had passed on by this time, and–
(JANE enters)
JANE
Elder Abel? How are you going to answer Judge Lynch?
ELIJAH
The only way to answer mob violence is through preaching the gospel of peace. I'd say it's time for me to be a missionary.
JANE
Here?
ELIJAH
Back east, maybe.
JANE
Good time to get away.
ELIJAH
No ma'am. I ain't runnin'.
JANE
This be your third mission for the Church.
ELIJAH
That's right.
JANE
You know, everybody colored thinks of you like the best we got.
ELIJAH
That's sad news indeed.
JANE
I think you might be our best. If you undertake another mission, I know it's out of true desire, not just to prove yourself.
ELIJAH
The Lord will prove me. Now before I leave, I must ask you: Do you understand your position?
JANE
Pardon me?
ELIJAH
You and me, Jane James, we the only colored folks in this whole valley who knowed Brother Joseph Smith.
JANE
Best man I ever knew. That lovely hand–he'd reach it out to me just like I was his child.
ELIJAH
We the only colored folks here who got us Patriarchal blessin's from the Smiths themselves. Father Smith blessed me, and said I was like his own son.
JANE
Joseph's brother—Hyrum—blessed me.
ELIJAH
We the only colored folks here with such memories and such position. We got a little voice. Now, you know I've asked time and again for my blesssin's in the temple. I doubt I'll even be alive to see the temple when it's finished, but you likely will be. Ask for your blessings, Sister. Don't let the petitions stop just because I'm gone. Go visit President Taylor, and keep askin'.
JANE
I will do that. Elder Abel, you'll be missed. Wherever your mission takes you, I hope you find yourself among friends.
ELIJAH
I hope the same for you. I been prayin' for you since all your troubles began.
JANE
My troubles began before you ever met me.
ELIJAH
But the worst ones, they come late in life, ain't that so? I prayed many a prayer for you.
JANE
It may surprise you to know it, but I have always been aware of your prayers. There was days I felt your prayers right in my house. Days I heard your voice, the very words you was speakin', though you was miles away. There was days when I was most alone that the angels carried your blessin's to me. And I thank you. I ask the Good Lord to bless you.
(ELIJAH STEPS BACK AS JANE EXITS.)
MUSIC CUE #8: Swing Low, Sweet Chariot
Level: Loud until Mary Ann speaks, then low, under the dialogue.
MARY ANN (entering in angelic robes as chorus sings)
Swing low, sweet chariot
Coming for to carry me home
Swing low, sweet chariot,
Coming for to carry me home. (Humming continues)
ELIJAH
It's Christmas morning, ain't it.
MARY ANN
Hello, my dear.
ELIJAH
Suddenly, I am sick as a dog.
MARY ANN
Oh Elijah, I ain't accustomed to this.
ELIJAH
To what? You never see me sick, or you never took to hauntin' your own husband?
MARY ANN
Never took to hauntin' nobody.
ELIJAH
You doin' fine! And Lawd, Lawd, I'm seeing my first angel! Hope I ain't dreamin'.
MARY ANN
No sir, you ain't dreamin'. You dyin'.
ELIJAH
Oh. That was a pretty bold message.
MARY ANN
Too bold? I'm never sure what to say.
ELIJAH
No, not too bold. Just the right amount of bold for a hauntin' angel such as yourself. So I'm dyin'. You know, I never thought those words would sound so good! Hold my hand, would you? Just lead me home.
(Looking back towards JANE)
Now Jane, you take care of yourself! It's time! Get up your courage, woman! There's work for you to do yet–and you promised me you'd do it!
(JANE stands resolutely)
(LIGHTS UP ON AGNES THOMAS at a table.)
SCENE 7
JANE (crossing to AGNES)
Sister Agnes?
AGNES (rushes to her and embraces her like a true friend)
Oh Jane! I can't tell you how good it is to see you. I must say, the laundress Tom found is nothing like you. Look at my dress!
JANE
It could use a bit more scrubbing on the washboard.
AGNES
Nothing's been the same since you left us.
JANE
Well, Ma'am, if you recall, it wasn't entirely my desire–
AGNES (near tears and surprised at her own joy)
I've missed you, Jane! Now tell me why you're here.
JANE
It's what you said before about teaching me to write. Or maybe you could write something for me. You see, I need to send a letter of great import. To the president of the church.
AGNES
To President Taylor? Oh my.
(She takes out a quill and paper)
Go on, then. You say the words and I'll write them. That's the least one friend can do for another.
JANE (pacing)
What I want
MUSIC CUE #9: Balm in Gilead
Level: Low, under Jane's letters and dialogue
to say is:
Dear Brother–
(Singers begin "Balm in Gilead"under dialogue)
There is a balm in Gilead
To make the wounded whole.
There is a balm in Gilead
To heal the sin-sick soul
Sometimes I feel discouraged,
And think my work's in vain,
But then the Holy Spirit
Revives my soul again
I called at your house last Thursday to have conversation with you concerning my future salvation. I did not explain my feelings or wishes to you. I realize my race and color and can't expect my endowments as others who are white.
(ANGUS CANNON COMES ONSTAGE as AGNES CONTINUES WRITING.)
My race was handed down through the flood. And God promised Abraham that in his seed all the nations of the earth should be blessed. As this is the fullness of all dispensations–is there no blessing for me? I, with my father's family, came from Connecticut 42 years ago. I am the only one of my Father's family that kept the faith. You know my history! According to the best of my ability, I have lived to all the requirements of the gospel.
(Lights fade out on AGNES and focus in two spots on JANE JAMES and ANGUS CANNON)
ANGUS CANNON (tenderly)
Sister Jane, You must be content with what you have!
JANE
Emma Smith came to me and asked me how I would like to be adopted to them as a child. I was so green I did not give her a decided answer, and then Joseph died. If I could be adopted to him as a child, my soul would be satisfied!
ANGUS CANNON
I am your servant and brother in the gospel.
JANE
Please excuse me taking the liberty of writing to you–but be a brother! Show me kindness! I think you are somewhat acquainted with me. I lived in the prophet's family!
ANGUS CANNON
I enclose you your recommend properly signed, which will entitle you to enter the temple to be baptized and confirmed for your dead kindred. You must be content with this privilege, awaiting further instructions from the Lord to his servants. Angus M. Cannon–Stake President, speaking for John Taylor.
JANE (taking the recommend with joy, then becoming more serious.)
I remain your sister in the gospel–Jane E. James. I am colored.
(ELIJAH ABEL—in angelic robes–enters)
ELIJAH
Good effort, Sister. I didn't think you'd get everything you wanted, but you got something, didn't you! Don't give up, now. Keep up that petition!
JANE
Excuse me, Sir?
ELIJAH
Oh, I haven't even introduced myself. I'm just a messenger. Come to tell you, you got company.
SCENE 8
(ISAAC comes onstage, aged and hunched down.)
JANE
Do I know you–ISAAC! Is that really you?
ISAAC (looking himself over)
I'm pretty sure it is.
JANE
Y' ain't lookin' so good.
ISAAC
Ain't feelin' so good either. And I know I don't deserve a thing.
JANE
I might have to agree with you there. Now you come inside. You need to warm up and clean up. Let me draw you some warm water for a bath. Stove's already hot. I got me a good stove. It has a water bin.
ISAAC (entering)
I'm glad you got a good stove. (Awkward pause) So, how's the children?
JANE
They growed up.
ISAAC
Oh. That makes sense.
JANE
Where's that gold surrey you told me you'd be drivin'?
ISAAC
I lost it. Janey, I been wanderin' in the wilderness. Decided it was my time to die.
JANE
You decided?
ISAAC
Been persuaded. I think God's infected my body with something or other goin' kill me.
JANE
Sorry to hear that. You in a lot of pain, then?
ISAAC
Quite a bit. I decided I didn't want to die alone.
JANE
You claimin' company for that trip?
ISAAC
Jane, you all I got in this world.
JANE
Are you askin' me to take you back, Mr. James?
ISAAC
Askin' for your mercy is all. You always had a strong tongue and a soft heart. I told myself you was probably like that still. You'd give me a sermon first, but maybe a bed afterwards.
JANE
Not my bed! We divorced, Sir!
ISAAC
I ain't strong enough to take you on in bed anyway–even if we was married. Just a place by the fire'd suit me fine. I only–I want to be with you before I pass.
JANE
We didn't part on the best terms.
MUSIC CUE #10: Amazing Grace
Level: Low, under dialogue
ISAAC
I been movin' from moment to moment and dream to dream–like a ship that's tossed and driven.
JANE
I am sorry for you, Isaac.
ISAAC
I don't imagine you can ever forgive me.
JANE
It does seem a tall order. But there's a way for most everything.
ISAAC
Why Janey, you done got old.
JANE
Well, with such a compliment as that, a woman may not know how to respond.
ISAAC
You are beautiful with them wrinkles.
JANE
Glad you think so. You brought on a good many of them.
ISAAC
I did fine work, then. I see all our years together. They etched right there into your forehead.
And here you are–spry and fiesty!
JANE
And here you are.
ISAAC
After I left you–oh Janey, how have you survived?
JANE
I don't know. I just keep putting one foot in front of the other. My feet get to bleeding sometimes, Jesus heals them sometimes, and sometimes He lets them build scars. Most times, He just helps me endure. He has blessed me in ways I can't even explain. If I listed everything I've suffered, you'd think God was keeping his distance out of spite. But He's here. I feel Him here.
ISAAC
Me too. Maybe because I'm with you again. Jane, I tell you with all the truth one sinful old man can muster: I love you more than I have ever loved another human being. I know I've hurt you–
JANE
Hush now. I don't believe I'd like to dwell on sorrow. Let me draw you that bath, and when you're clean and rested, I can feed you some cornbread and water.
ANGUS CANNON comes onstage as ISAAC exits.
JANE (stepping forward)
Excuse me for bothering you. I had the privilege of being baptized for my dead in October last, yet I must ask again: Could I get adopted to Brother Joseph and Sister Emma as their child? And could my dear husband, Isaac James, get adopted too?
ANGUS CANNON (tenderly)
You have been told before to be content with what you've already been given.
JANE
I am anxious for my welfare for the future!
ANGUS CANNON (firmly but compassionately)
Jane James, you must wait.
(ANGUS exits. JANE GOES INSIDE. ELIJAH KNOCKS.)
SCENE 9
ELIJAH
I've come for Isaac.
JANE
Pardon me?
ELIJAH
He's been here long enough. His time's up now.
JANE
May I tell him who's calling?
ELIJAH
He knows.
JANE
Isaac, you have a caller.
(ISAAC appears.)
ELIJAH
Just up these stairs, Brother James. You'll be feeling better presently.
(ISAAC exits.)
So you ready for another visitor, Sister?
JANE
I do know you, don't I?
ELIJAH
If you'll look down the street, you'll see your brother.
(ELIJAH and ISAAC go up the stairs. JANE sees LEW.)
SCENE 10
LEW (as JANE embraces him)
Careful, woman! You must think I'm one oak of a man!
JANE
Lew! I knew you'd come to me!
LEW
Thought you could use some help.
JANE
I certainly could! I've been meaning to take up dance all these years and I never did get the chance.
SCENE 11
ELIJAH (carrying two doilies)
Now, I didn't embroider these myself. Wish I had, though. Ain't they pretty? This represents the seat in the tabernacle where Lew and Jane sat every Sunday for the next many years. Jane embroidered the seat covers. Her sight failed her after awhile. Old age does bring its difficulties. She called that the hardest trial she had ever been called to bear.
(Jane's bed set up. She is lying down, Lew and two young
women sit near her)
So, since Jane could no longer read, young women came to her home and read to her–scriptures mostly. Now this particular young woman (he gestures to YOUNG ELIZA) is a descendant of Eliza Partridge Lyman, who you've met before. The other is Jane's own great grand-daughter, Malvina. Jane's already requested the story of Joseph and the Coat of Many Colors for today's reading.
ELIZA (reading; MALVINA looks bored)
"For indeed I was stolen away out of the land of my fathers, and here also have I done nothing that they should put me into the dungeon."
LEW (always loud–apparently deaf.)
I know this part. The baker forgets Old Joseph entire.
JANE
Don't yell, Lew. Just because you can't hear your own self don't mean you ain't shoutin'.
LEW (to ELIZA)
Speak up, would you?
ELIZA (quite loudly)
"Yet did not the chief butler remember Joseph, but forgat him."
MALVINA
Ain't that just the way?
LEW
What did I tell you? That dumb baker forgets Old Joseph entire–after all Joseph done for him!
JANE
Hush, Lew! (To ELIZA) Read when Joseph reveals himself to his brothers. I love that.
LEW
There's Joseph all dressed up Egyptian, speaking Egyptian too, pretending–and his brothers, they got no idea, no idea at all!
JANE
Lew!
MALVINA
Haven't we been here long enough?
ELIZA (handing MALVINA the Bible)
Malvina, would you like to read it?
MALVINA (bitter–but taking the book)
I would not!
ELIZA
Here, I'll read.
MALVINA
No. I can do it. (She struggles) "And there stood no man with him"
ELIJAH (standing over her shoulder, whispering the words–MALVINA is somehow aware of him.)
"While Joseph made himself known unto his brethren."
ELIZA (condescending)
You read that just fine!
JANE
Eliza, your voice is so much like your grandmother's. I wonder if you look like her too. I can't see you well.
ELIZA
I'm told I do resemble her.
JANE
Then you're lucky. Lew, does Malvina look like me?
LEW
No. She's lots prettier than you was.
JANE
Your memory is abandoning you, Mr. Manning.
LEW
And your imagination is gettin' better by the minute.
JANE
My descendant and Eliza Lyman's–right here with me! What if I hadn't taken Sister Lyman my flour that day, and her baby had died? Perhaps the baby who grew up to be your papa, Eliza! Then you wouldn't be here reading me scriptures!
ELIZA
You took my great grandmother flour?
JANE
She was starving.
ELIJAH
And so was her baby. No food nor any way to get it.
JANE (looking at ELIJAH)
I do know you!
(MALVINA looks up at ELIJAH–apparently seeing him.)
ELIZA (startled–to LEW)
Who's she talking to?
LEW
Oh, she just having visions. She gets 'em. I'm used to it. She spoke in tongues once. 'Bout scared me out of my skin.
ELIJAH
Of course you know me!
(SARAH, ANGELINE and appear. If the two-tier stage is set up, they descend from the upper tier.)
JANE
Sarah? Angeline?
SARAH
You know what you should do, Jane? Let go of that old body!
ANGELINE
Hardly worth a thing by now! Honey, let it go!
Music cue #11: Precious Lord (reprise)
Level: Low, under dialogue
JANE (seeing PHYLLIS)
Is that Mama?
SARAH
'Course it's Mama! You think she'd miss your arrival?
JANE
Why Mama, you younger than I am! My, my–how beautiful you are!
ANGELINE
Well what you expect? Them's the Manning good looks!
JANE (to ELIZA and MALVINA)
I'm over eighty years old.
LEW (also to ELIZA and MALVINA)
You ain't read her what she wanted yet!
JANE
Not the first time I didn't get what I wanted. But I wait. Still waiting.
SARAH
We waitin' too!
JANE
Well wait just a minute more!
SARAH
I heard that so many times! You always had to look perfect before you'd leave the house. Honey, you can't wear your velvet hat up here. Ain't nobody wearin' velvet.
JANE
Now that's a shame.
LEW
Read her what she wanted. Let her have her wish.
JANE
Oh yes! Lord Jesus, let me have my wish!
MALVINA (reading. ELIJAH prompts her.) "And there stood no man with him, while Joseph made himself known unto his brethren–"
ELIJAH and MALVINA together
"And he wept aloud, and the Egyptians and the house of Pharoah heard. And Joseph said unto his brethren–"
JANE (with all her strength)
"Brothers, I am Joseph, whom you cast into a pit and sold as a slave."
ELIJAH
That's right.
JANE
I know who you are.
ELIJAH
I am Elijah.
JANE
And I am Jane. Come near to me–both of you young women. Listen. God sent me before you to preserve you. I want to say something and I want you all to hear it: My faith in the Gospel of Jesus Christ of Latter-day Saints is as strong today–nay it is if possible stronger than it was the day I was first baptized. I pay my tithes and offerings, keep the word of wisdom, I go to bed early and rise early. I try in my feeble way to set a good example to all.
SARAH
Come on now, Jane. It's your time.
(JANE sits up, stretching her hands to the girls)
JANE
Receive my gift.
SARAH
You've waited long enough, Sister.
(JANE rises and joins her family–including ISAAC.)
ELIJAH
Now you all know that many things have changed for us since the days of this story. There's still struggles, don't get me wrong. But I haven't wearied of the struggles. Have you, Jane?
JANE
Wearied? Why, I'm stronger than I been in years! Besides which, I can see like my eyes was new! All these folks are remembering me–I feel near resurrected!
ELIJAH
Me too. In fact– (singing)
I don't feel no ways tired
I've come too far
From where I started from
Nobody told me that the road would be easy
I don't believe He bought me this far
To leave me.
I don't feel no ways tired (Repeat)
Chorus and full cast( finale): I don't believe he brought me this far
I don't believe he brought me this far
I don't believe he brought me this far…
Just to leave me.