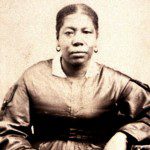 A few years before her death, Black pioneer Jane Manning James dictated her life story to Elizabeth J. D. Roundy, concluding it with these words:
[M]y faith in the gospel of Jesus Christ of Latter‑day Saints is as strong today–nay it is if possible stronger–than it was the day I was first baptized. I pay my tithes and offerings, keep the Word of Wisdom. I go to bed early and arise early. I try in my feeble way to set a good example to all.
Those of us who have come to love Jane James know that her example has nothing feeble in it. Jane's life was simply remarkable.
Born free in Connecticut in 1822, Jane Elizabeth Manning heard the gospel preached by Charles Wandell. Being "fully convinced that it was the true gospel," she was baptized the following Sunday. Ultimately, her entire family joined the Church. Jane tells of the Mannings' 1843 trek to Nauvoo in these words:

We started from Wilton, Connecticut, and traveled by canal to Buffalo, New York. We were to go to Columbus, Ohio before our fares were to be collected, but they insisted on having the money at Buffalo and would not take us farther. So we left the boat and started on foot to travel a distance of over eight hundred miles. We walked until our shoes were worn out, and our feet became sore and cracked open and bled until you could see the whole print of our feet with blood on the ground. We stopped and united in prayer to the Lord; we asked God the Eternal Father to heal our feet. Our prayers were answered and our feet were healed forthwith.
When the Genesis Group commissioned Leroy Transfield to sculpt a monument to Jane, he initially wanted to portray the Mannings making that heroic journey. Whenever he began sketching the scene, however, he got a headache. Finally, he felt he should depict another event from Jane's life–one we would not know of without another pioneer journal.
In 1850, Eliza Partridge Lyman wrote:
April 13: Brother Lyman [Eliza's husband] started on a mission to California with O. P Rockwell and others. May the Lord bless and prosper them and return them in safety. He left us . . . without anything to make bread, it not being in his power to get any.

April 25: Jane James, a colored woman, let me have two pounds of flour, it being about half she had.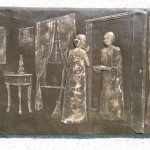 This was the scene the sculptor chose: Jane James offering a bowl of flour to her fellow pioneer, possibly saving her life through the gift.
To me, the image was perfect, symbolic not only of Jane's strong example but quietly echoing the deliverance Joseph of Old offered his brothers, and even the Great Deliverance offered by Him who was "despised the rejected of men" (Isaiah 53:3).
Jane was well acquainted with rejection and prejudice, even among the Saints. Before finding welcome in the Joseph and Emma Smith household, the Manning family encountered "all kinds of hardship, trial and rebuff" in Nauvoo–almost certainly because they were Black. But Jane gives few details of the difficulties they faced during their first days in Nauvoo. Instead, she focuses on meeting Joseph Smith, who she recognized from a dream she had had in Connecticut. She reports the words he later spoke to her when he found her weeping. "Why, not crying?" he asked. "We dry up tears here."
Jane's offering to Eliza was a tremendous sacrifice, for her own family was poverty-stricken as well, but her life story never mentions her afflictions without praising God. "Oh how I suffered of cold and hunger," it says, "and the keenest of all was to hear my little ones crying for bread, and I had none to give them; but in all, the Lord was with us and gave us grace and faith to stand at all."
For the monument, Darius Gray, my co-author and then the president of the Genesis Group, had secured some granite from the same quarry the Salt Lake Temple builders had used. How appropriate to set Jane's monument onto that temple stone! Jane had longed to receive her full temple blessings, but because of her race was permitted to do only baptisms for the dead. She speaks of her love for the temple in these words:
I have had the privilege of going into the temple and being baptized for some of my dead. I am now over eighty years old and am nearly blind, which is a great trial to me. It is the greatest trial I have ever been called upon to bear, but I hope my eyesight will be spared to me–poor as it is–that I may be able to go to meeting, and to the temple to do more work for my dead.
On June 3, 1999, two days before the dedication of the "Jane Monument," I went to a Utah foundry to pick up the completed bronze relief. Leroy was waiting for me in the parking lot. When I asked how sculpture had turned out, he hesitated. "Why don't you come inside," he said.
"Is everything all right?"
As we entered the foundry doors, he suggested I sit down.
Now I knew. Something was wrong. Leroy took a breath and let the words drop. "It exploded." He explained that one in fifty times, a casting will burst in the kiln's fires.
The dedication could not be re-scheduled. Elder David B. Haight would be present, as would Elders Alexander B. Morrison and John H. Groberg.
Leroy had one option for us: He would coat the ceramic prototype with bronze paint and then glue it to the granite. Only a few of us would know that the monument we were dedicating was not permanent. The real thing would be erected after the firing process was completed again–successfully.
I drove to Salt Lake City, where Darius was waiting at Hansen Stone.
He asked the same question I had asked Leroy–"How did it turn out?"
I smiled. "Before I say anything else, let me just tell you that everything is going to be all right."
His eyes narrowed. "What happened?"
"It exploded."
"It what?"
"It exploded." I then explained our option.
Darius laughed–which was exactly what Jane would've done, I think. I have imagined her laughing as she faced her small tribulations, and kneeling when she faced her bigger ones. Joy was her theme, and gratitude her pattern. "I have seen my husband and all my children but two laid away in the silent tomb," she says–and then immediately follows with "but the Lord protects me and takes good care of me in my helpless condition."
We had had only a minor explosion. Surely the Lord would take "good care" of us.
The morning of June 5 dawned cloudy. Leroy went to the Salt Lake Cemetery, where the monument was to be dedicated. The granite was already in place, next to Jane's headstone, but rain was falling and the stone was wet. He could not glue ceramic to a wet surface. So, true to Jane's example, he knelt and prayed for the rains to stop, which they did. He then smathered his work with glue and pressed it onto the stone.
An hour later, I was on my way to the cemetery with my husband and various Genesis members. It was raining again, and I prayed for a clear sky. Just as we arrived, I saw a patch of blue begin to stretch over the cemetery.
We sang "Amazing Grace" as the opening hymn and then listened to Elder Morrison talk about the grace of Jane James, who had known much of prejudice in her lifetime, yet had chosen to walk in faith. Elder David B. Haight, whose ancestors had come west with Jane in the Ira Eldridge Company, said he was certain she had helped care for his family, because "that's the kind of person she was." Members of our Genesis Group singers offered a medley of hymns, including "Lead Kindly Light," "Come, Come Ye Saints" and "I Am A Child of God."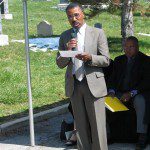 The rain began again just as we finished the dedication. I took my dear friend Susie, in a wheelchair because of a stroke, to see the monument close up. She wept. I could only imagine what life experiences were behind her tears. Susie was a pioneer herself, having joined the Church a decade earlier with several family members. Sadly, she too had met mistreatment even among the Saints, but she never surrendered her testimony. Like Jane, Susie had the habit of praising God in her deepest need and most desperate hours. Though the stroke had stolen her speech, somehow she could sing, and we often sang together. She loved Fanny Crosby's "Blessed Assurance," which described her own devotion.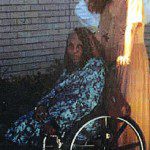 Perfect submission, all is at rest.
I in my Savior am happy and blessed,
Watching and waiting, looking above,
Filled with His goodness, lost in His love.
This is my story; this is my song,
Praising my Savior all the day long.
This is my story; this is my song,
Praising my Savior all the day long.
We gazed at the unfinished monument, which was a poignant reminder that there was yet work to do, and fires waiting to prove our strength. This painted ceramic only hinted at the brilliance which was to come.
Three months later, the permanent sculpture was ready, having come through the kiln with brazen strength. I told LeRoy it'd be wonderful to donate the substitute to the Church Museum. He was certain that wouldn't be possible, since he'd have to chip it off because of all the glue he had used. I was hardly even surprised, though, when he called to tell me he had been able to pry it from the stone intact. We did donate it to the Church Museum and later displayed it in the Washington DC Temple Visitors' Center as part of a Black History exhibit.
Jane's example continues to gleam through the fires of my own life. I think of her walking those many miles, and cannot focus on her bloodied feet without acknowledging God's mercy as she did. These are her words:
But we went on our way rejoicing, singing hymns, and thanking God for his infinite goodness and mercy to us–in blessing us as he had, protecting us from all harm, answering our prayers, and healing our feet.
I think of her entering the Mansion House in her ragged, dirty clothes and hearing Joseph Smith say, "God bless you. You are among friends." I think of her welcoming her husband home, after he had abandoned her for twenty years. I think of her approaching one Church president after another, pleading for temple blessings, only to be told she must wait. She becomes Joseph in the pit, waiting to be remembered and set free–and ultimately revealing the glory of who she really is. She becomes the Canaanite woman of Matthew 15, begging mercy of the Lord and showing her faith even when it seems she will not be blessed. She becomes every man or woman who has passed through the Refiner's fire. She becomes the radiant Daughter of Zion, rising from the dust and from the flame. She speaks her name, and shines.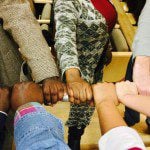 To all my readers: We will be presenting I Am Jane, the story of Jane Manning James, a play with spirituals, from February 25th to March 1 at BYU's Education in Zion Theater, B192-JFSB. Tickets are available at the Wilkinson Student Center Information Center: (801) 422-4313. The show tends to sell out. We invite all, but are aware that we can seat only six hundred people during the entire run.