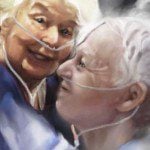 I am writing this at 6:35 p.m. on February 18, 2017.  A year ago at this time, I was preparing to do a presentation at the Church History Museum in Salt Lake City with my co-author, Darius Gray.  My brother, Dell, was going to film it.  We had great artifacts for our audience to view, and we had our power points ready.  Darius, whose health has been terrible for several years, told me that he was particularly weak and asked that I carry the program.  We had done this many times before, and it was no problem.  I told him I'd bring him in when we were at an episode that he knew particularly well.
I had left my dad, whose health was in serious decline and who had had unusual pain in his femur  that day.  I instructed my husband to send me texts letting me know how Dad was doing, but added that I wouldn't get them until after the program, as (of course), my phone would be off.  I received one text before I turned my phone off.  Bruce said, "We're taking Dad to the Utah Valley Hospital."  Not too worrisome, as we had had many visits to the Provo hospital–an increasing number over the past few weeks.
In Salt Lake, Darius and I started our presentation.  We usually start with the story of Jane Manning James, who never failed to add praises to God after detailing a trial she had endured.  "The keenest [pain] of all was to hear my children's cries and I had nothing to give them.  But the Lord gave us grace to stand it all."  She was like Dad in many ways.  Dad would endure the pain of dialysis and say afterwards, "I am so grateful for these machines, and for these people.  They keep me alive."  He had projects to do, he told us.  In fact, when a fistula failed–the one we were told could not be replaced–Dad said, "These doctors have got to understand.  I am not finished!  I have projects I need to do."  Somehow, through suturing exhausted veins, the doctor created a space for the final fistula.
At the Church History Museum, I was telling the story I knew well, and Darius was comfortably beside me, letting me run with it, exactly as we had planned.
And then I heard a text from my phone.  I thought I had turned it off.
I couldn't quit the presentation with the words, "Excuse me.  I'm getting a text."  Of course, I continued speaking, only slightly distracted.
Jane spoke of her age.  "I am over eighty years old and am nearly blind, which is the greatest trial I have had."  Those words had always struck me as odd.  I suspect that our current trial always seems worse than any we have gone through heretofore.  But Jane, I have thought, don't you remember the 800 miles of your barefoot trek?  The marks of your feet in blood on the snow? Don't you remember the deaths of your children and your grandchildren?  Two of your daughters died in childbirth–with you likely at their sides–and then their babies died also. Surely, those losses were greater than the loss of eyesight! But to Jane, when she dictated her words to Elizabeth J.D. Roundy, the blindness she was suffering at the moment was the hardest trial.
Dad had hurt my feelings a year earlier when I suggested that we use a wheelchair for all transportation.  He was simply not strong enough to use the walker.  He spoke sharply.  "Margaret, I do NOT need a wheelchair.  Don't say that again!"  At the time, some hard things were happening in my own life, and the sharpness of his reply brought me to tears, which I hid. I asked my brother to get Dad home, and I left the dialysis center, holding back my tears until I was in the car.
Another time,  when Dad and I were in a swimming pool, Dad said he'd like to see me do butterfly.  He had never seen me do that stroke, since I quit the swim team right after I got the "most improved swimmer" award.  I did a full-armed butterfly, and Dad cheered. But then I teased him.  Dad was walking in the pool (swimming was not an option by then) and I yelled, "Slow poke!" and swam past him fast.  When I reached the pool's end, I was ready to tease him again, but he stopped me.  "Don't make me feel bad, Margaret."  He was serious.
He was old.  This was something he resisted.  He would say to one of us as we wheeled him out of dialysis, "This isn't me.  I'm not an old man."  Or, as the wheelchair became a necessity, "I will walk again!"  I never challenged that statement. Once, I said, "Of course you will, Dad."  "And I don't mean just in the next life!" he answered.
Another text sounded from my phone.  I glanced at Darius as I wrapped up the Jane story. "And I want to say right here that my testimony of the gospel of Jesus Christ is as strong today–nay, it is if possible stronger than it was the day I was baptized." Jane had endured more than any of us will know.  Her words and the other records are only hints of what she went through. None of us can imagine the depth of sorrow and suffering which others go through, nor should we pretend we can.
I don't remember when Darius took over. Maybe it was right then, after I told Jane's story.  I don't know if he could see the concern in my face as more texts sounded from my phone.  I know that he joined me at the podium and began speaking ENERGETICALLY.  He was miraculously empowered, and I was able to step away from the spotlight. He spoke as powerfully as I have ever heard him speak.
What I did no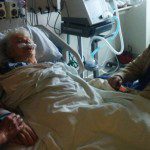 t know at that moment was that my mother was in the hospital comforting my dad.  That might seem like a simple, obvious statement. But it is perhaps the most profound thing I can write.  Mom had died briefly on October 14th–just four months earlier–as a doctor put a pacemaker into her heart.  She was gone for fifteen minutes, and all of her organs also died.  She recovered slowly over the next four months, though she remembers little of that recovery, which is a mercy.  But her hospital time made her hate hospitals.  Several times when we had gone to the hospital to be with Dad, Mom had said that she'd wait.  She just couldn't bear entering a place that had frightened her so completely.
Normally, I was with Dad.  I felt called to minister to him.  I anointed his feet with oil and rubbed them, something which brought him comfort.  I always knew that I was standing in for my mother, that this was actually her place, but given her fears and her health, I was glad to serve as her proxy.
My sister-in-law, Tracy, called Mom to see if she'd like to go to the hospital with her.  Mom said yes.
Meanwhile, in the Church History Museum, I recognized the mercy and the miracle.  Darius had taken over magnificently.
We concluded our presentation and audience members came up to talk with us.  I was probably rude as I told them that I needed to check my phone.  The last text from Bruce said that they were bringing Dad home.  His pain had been excruciating, but a heavy dose of a narcotic had finally eased it.
Darius told me to get home.  My brother got into his own car and I into mine, and we made it back to Provo just as my husband, my brother, and my mom were carrying Dad into the house.
Mom said to me, "I rubbed his feet." Oh yes, a night of grace.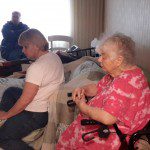 Dad asked how the presentation had gone.  I said, "It was miraculous.  Darius was magnified.  It was one of the best we've done."  And I told him one other thing.  Earlier that day, my daughter, who had bought a commercial doplar, had spent two hours trying to hear her baby's in utero heartbeat–even though I had told her  she wouldn't hear anything until she was three months along.  Wonder of wonders, she finally heard it.  Dad was thrilled.  Another grandbaby on the way!
We had initiated full-time parent care when Mom had her brief death.  Dad insisted that she be brought home, as he was certain that a care center would kill her.  So we traded off.  One brother (Dell) was there during the day, I was there during the weeknights, and one sister (Jen) was there on weekends.  As Dad's health declined, we maintained the schedule.  It was a Thursday,  so I slept there that night.  After getting Dad into bed (a much more difficult task than it had ever been) with the help my my brothers and Bruce, I went to "my" bed.  Dad went to sleep quickly.
Mom came to me in the middle of the night to tell me that Daddy was calling me.  When I got to his bedside, he had gone back to sleep.  I told mom that I wouldn't be able to get him up anyway. It was no longer a one-person job.
Mom came in a few hours later and mentioned that Daddy was breathing heavily; he was surely exhausted.  I had a fleeting thought that maybe this was the death signal–the changed breaths.  But I didn't get up.  That remains my one regret.
Dad's nurse came at 7:30 on the morning of February 19th.  She and I chatted and then she went into Dad's room, rushing back out immediately and telling me to come in, and to hurry.  I knew.
"There is no pulse," she said.  "What do you want me to do?"
I knew the answer.  "We have a DNR."
I looked at my father's body, completely peaceful, with just a thin line of foam on his upper lip.  The nurse cleaned him up, and we went to tell Mom, who was working on her computer.
Dad's final project was never what he thought it was. When I looked over his linguistics projects (the ones he thought he had to finish), I realized that they were outdated. Dad's final project was Mom.  He had regrets about how he had used his time and whether or not she forgave him for–whatever.  We can all punish ourselves with lists of what we didn't get right. The fact that Mom was there with him in those last hours, rubbing his feet, was a heavenly mercy.
I am finishing this post at 8:05 p.m. February 18th.  At this time and on this date last year, I was listening to Darius Gray speak with power I hadn't heard from him in a long time; I was listening to the texts coming in from my husband; my mother was at my father's side, rubbing his feet.  And angels were gathering to greet Robert W. Blair and welcome him home after a full, faithful, glorious life.