Oh little one—here you are. You are ready to learn anything and everything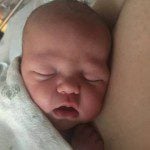 , though your first and most important learning will be your connection with your mother. You rely on the milk from her breasts, and the softness of her flesh tells you that you are safe and you are loved. This is her first nurturing, though she will nurture you in many ways as you grow. She will hold you when you feel rejected or betrayed, she will embrace you on your wedding day, comfort you on the day you do what she has just done–the day you give birth. Her body will be that same body you are learning to know now—changed only a little. Will she have the privilege I am having of seeing her great great granddaughter born, cleaned up, put to the nipple? I have been blessed with years. And finally (Oh, how I have waited!) the time has come for me to speak of sacred things—things I was told to keep in my heart until this moment, until I saw my first great great granddaughter emerge from the womb. I was also told that I would die soon after telling this story. Death will be sweet to me, and I will die praising God.
I am speaking to your great grandmother now, and she is writing this for me. (Yes, she knows how to write, and you will learn that skill as well.) It will be the first time she'll hear me speak of this, for I kept my promise.
I was a child, just shy of my seventh birthday. Sometimes, voices have come to me, doubtful voices, mocking voices from beings who know what I saw, and want me to deny it. They have challenged me relentlessly. "Surely it was a dream," they have interjected into my thoughts. In fact, I have always been a dreamer. But no dream could be so blindingly real. When you read these words, you may choose to believe that I dreamed it all, but I tell you now, as though you could hear my voice, it was real. You will not know my voice, but in the same ways that I heard wordless messages from those I saw, you may feel the truth of what I'm saying—should you nurture faith rather than indulging in the habit of doubt and meeting with others who will say words similar to "Surely it was a dream."
I had run away, and I knew that punishment awaited me when I returned. Mother was angry with me—with cause. I wasn't helping her. In fact (and this will not surprise you), I was daydreaming. I was imagining that I was in a pretend home, but that my real home was a mansion, and I was a princess. It was the Sabbath, in the evening, and I violated the Day of Rest by disobeying my mother. She said harsh words: "You have ruined the day for everyone."
I was ashamed, and I was hurt. I fled, hearing her call after me: "Rachel! Come back this instant!" It was not the first time I had run away, but it was the first time I had broken my mother's heart in running so far and staying away for so long.
Convinced that I was a wicked child, my steps were hot and fast, energized by my hateful rebellion. I hated myself and I hated my rebellion, and therefore I made them worse. You will understand that irony soon enough. To prove my wickedness to myself, I went to a place forbidden to children. I went to a graveyard. There was one particular grave by a grove of trees which drew my attention. There I saw Roman guards before a tomb. A huge, round stone blocked the entrance, and they were apparently guarding the dead one—though that seemed strange. Why guard the resting place of a corpse? They had lanterns, so I could see their faces—which were more frightened and perhaps more hateful than mine. I also thought that odd, for the Romans had great power. Why should they fear a grave so well covered?
It had been terribly dark two days earlier, and the cloud cover had stayed dense–until this night. On this night, the stars were out. (Yes, I remained in the cemetery even as night fell. You should know how serious a sin that was, and how much grief and uncertainty it put on my mother, bless her bones.)
And then it started. How can I describe it? The stars began to stretch. I noticed two at first. The light lengthened and brightened just above an olive tree. Five other stars to the east began stretching—not only lengthening but widening. Then hundreds, all around me and above me. It was a grand blossoming throughout the sky and reflected splendidly in every puddle. I became aware of music, but not like any music I had heard or even imagined. Every leaf of a tall olive tree was twinkling with dancing light, and the leaves' music was like bells—small bells and finger cymbals. The tree trunks made a sound like soft drums, and the grasses were like the strumming of lyres or harps, though unlike anything we know here.
I was not afraid, not even when I realized that all of the stars had become angels (or were they always angels?). They were singing a wordless song with many parts and strange, ethereal harmonies and descants. An angel sounded a long note which came into every tree and leaf and grass blade, and into me as well. Though it was more sound than word, I could understand. It said, "Hallelujah. It is time." And when the millions of angels answered that sound, it was sweet thunder—something I remember in my cells, but cannot possibly describe. It was that thunder which filled the round stone before the tomb door.
The Romans were still there, but I do not know whether or not they saw what I saw. Surely, they saw something. They dropped their lanterns, whose flame had become paltry, and ran.
You might wonder if I was frightened. No. With every unfolding of light, I was filled with greater and greater love, deeper wonder, gratitude surpassing anything I had ever known. When I remember it now, I cannot replicate it, but I am renewed by fresh gratitude. How I longed to share it with my mother! I was in the midst of a miracle and I knew that somehow I had been invited. How I could have been invited as a result of my wickedness, I could not understand, but then I realized that it was not my wickedness but another's love, including my mother's, which had brought me here. Again, more irony which you will someday encounter.
Someone said to me, "Look."
I did. There was dazzling light coming from the grave itself. It eclipsed the stone. Then the stone joined the song. Yes! Stones can sing! I would have never guessed it had I not seen it myself. At a point where the music paused, the stone exploded–but not with a loud noise. It simply disintegrated into thousands of sparkling sand grains, each one flying and singing Hallelujah. The angels came lower and surrounded the tomb. It was—again, words fail. Brilliant. All consuming. Every plant alight. Every ant and flea luminous.
The song ended and there was a wave of awe. Something was about to happen, and I believe the angels were kneeling. I can say only that I believe it, because I did not see it. I was also kneeling, and my head was bowed. I think all of nature was kneeling. In this second, two of the angels, higher than the hosts around the tomb, descended.
I lifted my head and saw. The two angels stood just inches from the ground. One was a man and the other a woman, both more dazzling than the hosts around them. I knew that some miracle, or some lost knowledge, had allowed me to behold them. I could see the long strands of the woman's hair, strings of clouds lit by a noonday sun. I use these words only to give you a hint of it, for I cannot give you the experience. She wore a veil, but it did not cover her face.
This next part, you may not understand or even believe. This glorious woman lowered her veil so that it covered her face, and she turned to me. I think the veil spared me from a glory I could not withstand. She beckoned me to her. I understood instantly that she was my other mother, my Mother—the perfection of Motherhood, what my own mother yearned to be. She let me know that I was to be a witness. The man turned to me as well, and, though he was all light, I recognized him as the one who had held me on his lap months ago and had blessed me. He, too, veiled his face as he gazed at me. I recalled his words: "You shall see great things." He had whispered them to me. Now, he smiled slightly and nodded.
They walked towards the tomb, the dust of that undone stone glittering all around them.
His body was inside the door, and I could see what they were doing. They unwrapped the shroud. The woman took the flask of oil at the body's feet, and poured some into her hands. The oil was sunset gold.
The body, and you understand that it was Jesus, don't you, was bloody from his crucifixion. There was dried blood on the forehead and around his hands. It had dried into rivulets around his stomach and down his side. His feet had large scabs. Had they washed the body before burial? If so, it must have been a hasty washing, for there was much left to do. I knew that when the morning broke, others would surely come to complete the task.
The Mother put her palms onto her Son's forehead, and said (or thought) some words, and the blood was gone. She anointed his ears and said more words. Again, all remnants of blood disappeared. She went reverently down his body, anointing his closed eyes, his nose, his mouth, neck, shoulders, etc. I recognized the scripture she said at this time, which I know she wanted me to hear, as it was more than a thought:

The Spirit of the Lord God is upon me; because the Lord hath anointed me to preach good tidings unto the meek; he hath sent me to bind up the brokenhearted, to proclaim liberty to the captives, and the opening of the prison to them that are bound;

To proclaim the acceptable year of the Lord, and the day of vengeance of our God; to comfort all that mourn;

To appoint unto them that mourn in Zion, to give unto them beauty for ashes, the oil of joy for mourning, the garment of praise for the spirit of heaviness; that they might be called trees of righteousness, the planting of the Lord, that he might be glorified.
The body gleamed in The Mother's light, and from the gold oil. Then other angels came and helped Jesus—the glorious Jesus—out of his robes. I could not see that, but I saw the newly-anointed body of Jesus stir. The eyes opened, and he sat up. The Mother presented him with new robes, and angels assisted him in dressing. She kissed his cheek.
The Mother nodded to me, and I understood that it was time for me to seek forgiveness from my earthly mother. As I started towards home, I saw a woman—Jesus' wife, I think—approaching the tomb. I glanced back. The angels were all gone, and Jesus was waiting for her.