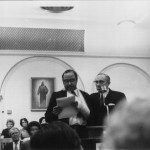 The Genesis Branch of the Church of Jesus Christ of Latter-day Saints was organized on October 17, 1971. The presidency comprised Ruffin Bridgeforth (president), Darius Aidan Gray (first counselor) and Eugene Orr, second counselor. This photo shows Gordon B. Hinckley with Ruffin Bridgeforth at the organization of Genesis.
It was not an easy time.
It was Gene Orr's suggestIon that Genesis organize a basketball team. This would be the path to victory. Here was how we'd reclaim our sons. Certainly, white folks would feel com- fortable with us playing ball. They all expected we'd love sports.
And our young men did enjoy competition.
The presidency began its search. They went to school gyms, out- side courts—anywhere the missing members of the Genesis family might be. Sometimes, the three of them looked a little silly, for they usually wore their Sunday suits as they beckoned a sweating athlete off the hardwood.
Still, the search was fruitful. They found their basic team, and they continued looking for more members.
Straightaway, they met a roadblock—which was no surprise. The rules of Church sports competition said all players must be active Mormons. Well, not a one on the Genesis team met that qualification. So Ruffin approached the Apostles requesting an exemption, explaining that sports might be the tool for activating the teenagers.
He spoke with all the earnestness of a father whose own son was in jail.
The exemption was granted. The Genesis team would compete with others from the Liberty stake, and if they won those competitions, they could advance to the regional level.
Their first game had to be forfeited for lack of players. By the second game, though, they had enough to fill the team—though Aidan himself had to participate. Maybe that's why they lost. By the third game, a change had come. The Genesis Team was united and had a vision of what they could do together. During the warm-up for that game, there was uneasy awe on every white player's face. They watched our sons sail a basketball through the net time after time. The short players was dunking, and the tall ones seemed to just drop the ball in.
There was no going back now. The Genesis team had come to compete, full of pride and skill and hope. They won easy over the com- petition—including the very team expected to represent the stake at Regionals.
Of course, the bells of hell were clanging all over the place. Nobody should've been surprised that as the season progressed, so did the problems. Certain referees were less than colorblind. During one game, Aidan could see ire primed to fire, and he knew why: a particular ref made no attempt to hide his agenda. One unfair call followed another. Finally, when our point guard was cited for traveling, the lid burst off that boiling pot. The player's mouth was already forming a foul response to those foul calls, setting up words we don't generally use inside a church.
That moment called Aidan into action. He leapt from the bleachers, grabbed the point guard by his jersey scruff, and yanked him backwards before he could finish one especially strong phrase. With his arm around the young man's shoulders, Aidan hauled him downstairs to the showers. They stood face to face.
"I didn't travel!" The player's teeth and jaws were clenched.
Aidan used his gentling voice. "I know. I saw it. We all saw. It wasn't even close. But you can't let them win. The easiest way to beat us is to get us out of the game. They want to get you thrown out."
"I started my dribble before I took a single step, and everybody—"
"I know. Nobody's arguing with you. But I don't care how bad the calls are. The point is, you are playing Church ball, and you represent the Genesis Group and every black man and woman who's ever been a Mormon."
"So we have to take their—"
The next word set to come out his mouth wasn't church-fit either, and Aidan stopped him. "Son, listen to me. I'm telling you that you cannot and you will not use certain language, no matter how unfair this gets. Understand? We will not play into their hands. Let 'em cheat. We'll kick their butts so hard they'll never catch up. All right? Now take a good breath."
That young man calmed down. "All right, Brother Gray."
Aidan hugged him quick, and they went back upstairs, where the game was still going.
The calls may have been bad, but Genesis still won by ten solid points. And they remained undefeated. Not every referee was unfair, and not every game got played on an unlevel court. The Genesis team won its right to advance to the Regional competition. It was an honor and an overdue reward, and those young men were stoked, making ready to get a trophy and even a little fame. Aidan had promised that if they won at Regionals, he would get them a men- tion on the Paul James Sports show at KSL.
But the most unfair call, the worst cheat, was yet to come. It didn't happen on the court. It happened on the phone, on the Friday evening before Saturday's Regional Competition.
Aidan answered. It was the stake athletic director, announcing that the Genesis team would be excluded from representing Liberty stake. The players, he said, didn't meet minimum Church atten- dance standards.
Aidan used his most diplomatic tones, though he couldn't hide his shock or his own anger. "Wait a minute. You know we have an exemption. Our players don't have to meet the normal standards. That was decided at the beginning of the season. Before this, they had zero attendance at Church. Now these kids are starting to come out to meetings. We're using the team and the game to get them active, and it's working. You've known that plan. It's been approved, and we told you early on. So why is there an issue?"
The athletic director sighed and repeated his tired refrain: the Genesis Team didn't meet the standard for Church activity. The second-place team would represent the stake, and that was all there was to it.
That second place team was the one that had been favored to win from the get-go. The Genesis team had already thrashed them.
Now the only hope was to contact one of the three Apostles assigned to the group. Ruffin called the Church switchboard operator. He tried to get the Apostles' home phone numbers. But this was Friday, and the three men who could make a difference were all out of town on Church business.
The Genesis team lost, but not on the court. The presidency had no choice but to call each player and tell them their Saturday had just got freed up.
Every one of those young men was more than defeated; he was gutted. Each left Genesis and left the Church, and they never came back. It was the final blow.
What nobody could've suspected was how hard it would hit Aidan.
How could he continue telling his conversion story to those white members? How could he comfort them while they were so busy crossing the road to avoid seeing a need up close? How could he speak to crowds who refused to acknowledge the afflictions his people still endured? How could he bear to hear one more white Mormon say, "If only more of your people were like you!"? And how many more times could he tolerate a fellow Saint telling him if he only remained faithful, he would find himself getting lighter and lighter?
Years ago, he had said out loud, "I've got broad shoulders. I can take anything. Bring it on." Now he was begging God for some relief. He was Atlas with the flu. In the pit of his soul, he felt he could not carry the weight any longer. He could not tolerate one more hit, or one more disappointment. All he wanted was to be left alone. No more repeating the sacred story of his conversion. No more stand- ing in front of a camera at KSL. He wanted out of everything.