Small and Simple Things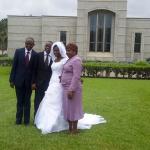 A decade ago, I was writing to LDS missionaries in the DR-Congo. I had met these missionaries because my husband and I had served with them in the Missionary Training Center in Provo, Utah. One of them, Henry Lisowski, asked me to write to his Congolese companion, Aime Mbuyi, whose family could not access the internet. While the other missionies perused and wrote emails to their families, Aime would simply wait.
Of course, I did write him, and found his story compelling. He had once belonged to a revolutionary group but had converted to the Church of Jesus Christ of Latter-day Saints and was now serving as a full-time missionary in the Republic of Congo–across the river from his home country.  Aime and I became good friends, and I attended his wedding to Steffy Katakumbani in August, 2014, where I acted as his godmother.
I thought that Aime's story would make a fascinating film, and started imagining it. In 2018, after several attempts, we finally made the film–though not with an American team. Aime himself had introduced me to Tshoper Kabambi, a self-taught filmmaker in the Congo. We turned the film over to Tshoper in 2017, with all involved bringing needed equipment. I brought lighting. My brother brought cameras. Actors brought computers. The film was released in the USA on March 11, 2020–five days before all theaters closed due to COVID19. So, we didn't make money from the film, but we had long since realized that money was not the objective of our work. The relationships we had established were far more important.
Had we gone with the American team, the film would have been shot in South Africa. It would have had excellent production quality and may have been a box office success (who knows?). But when everything fell apart, we ended up doing something far more important: establishing and furnishing the cinema industry in a country devastated by conflict and war.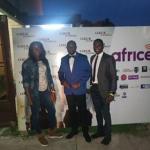 In the process of turning the film over to the Congolese, I had surrendered control. Tshoper was the director, and he made changes to the script which fit the culture. In fact, the movie itself was ultimately in Lingala–the common dialect of the DRC–not French, and certainly not English (though my initial drafts had all focused on the American missionary). We had managed to produced a foreign film!
On January 2, my husband Bruce and I were set apart as missionaries to Mbuji Mayi, DRC. We arrived in Kinshasa on January 20, and will go to Mbuji Mayi on Friday, January 28..
We met with Aime and Steffy yesterday. They are expecting their fourth child. Aime is the Facilities Manager at the LDS temple and a respected businessman. He and his wife travel extensively as Aime fulfills his calling.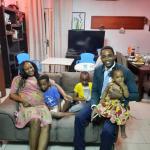 As I think of the unexpectly complicated journey we've made with Aime and others in the DR-Congo, I see three themes:
By small and simple things are great things brought to pass (Alma 37:6). Henry Lisowski did not realize what he was starting when he suggested that I write to Aime. He was simply acting out of friendship and concern. He recognized that Aime should be included in the internet cafe sessions with the other missionaries, and saw a way to serve him through me. I was always an eager letter-writer.
The Lord will check us on cultural appropriation–if we allow it. As I look back at the challenges and failures of our early attempts to make the film, I recognize that I had an assumption that we would need an American team to do it. Early writings about my efforts talk of where we'd film–usually naming either Zambia or South Africa. I believed that the Congo was too dangerous, and I knew that infrastructure was missing. (Indeed, several Americans and one South African let me know that it wasn't realistic to film in the Congo because of bad or non-existant roads and the intermittent or absent electricity. I knew no better than to accept that assessment, though when our efforts failed, I made a leap into the unknown and decided that we'd just make a movie–guerilla style–whether or not the infrastructure was present.) The success of our films has not been monetary, but far more significant than anything which can be deposited in a bank.
There is a divine design to everything we do, whether or not we realize it. As a fulltime missionary, I recognize that every trip I made to the Congo–whether for film or for humanitarian endeavors–was preparation. The ultimate goal was simply to deepen my capacity and propensity to love. With every trip, I learned to love the Congo and its people. I learned names and life stories (and in fact gathered oral histories) and found myself in awe of the people I am now serving. It is the friendships, not my own personal goals, which have prepared my husband and me. At this point, we have witnessed family reunions, heard of visions and inspired dreams, and seen the goodness in people of all faiths. We have a particularly good relationship with the Catholics in Lodja, where we anticipate we'll serve. Thus united in love and faith–even though the points of our doctrine might be at varience–we are prepared to build "a beloved community," even a little Zion.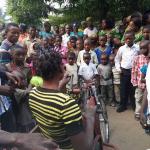 We are servants here, and we recognize that great stories can be told in the lowliest of settings. We will simply document the stories and write down the names.