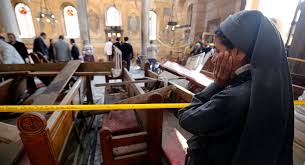 From this morning's Wall Street Journal:
Unknown gunmen opened fire Friday on a bus carrying Coptic Christians to a monastery in southern Egypt, local media reports said, killing at least 20 people, in the latest attack on the minority Christian community.

The bus was headed to the monastery in the city of Minya, some 190 miles south of the capital Cairo, Al Ahram newspaper quoted unnamed security officials as saying.

There was no immediate claim of responsibility for the attack, which follows suicide bombings at two Coptic churches on Palm Sunday in which at least 45 worshipers were killed.

The extremist group Islamic State, which vowed last year to step up attacks on Coptic Christians, said it carried out those bombings.
We are rightly distressed when this sort of thing happens in Europe or North America. But we are not mobilized by this violence or even seem to notice the steady stream of it elsewhere in the world.
The story out of Minya was not first in the newsfeed or at the top of the page. The report cited above is not an excerpt. It is the whole article and this will likely be the only report, until someone takes credit for the attack or more people in the Coptic community are killed.
But we won't be riveted to stories from Minya for days on end the way in which we have followed the news from Manchester.
Why is that the case? What does this pattern of care-lessness and obsession say about us?
Does it betray unexamined racism and callousness that affects all of us?

Does it reflect the narrow world of partisan politics, which dictates moral fashions — making (or using) the misery of some a rallying cry and condemning others to the margins of our compassion?

Is it one more illustration of how much we know about our world and how narrow our capacity for compassion remains?

Does it arise from an unexamined sense of helplessness that unconsciously draws the line — somewhere?

Does it reflect differing geo-political realities of one kind or another?
To one degree or another, it is probably all of those things and more.
That is why – for Christians – the moral values that we hold dear should leave us ever restless and discontent with human definitions of compassion, mercy, and justice. Those values are not grounded in our politics or systems, but in the nature of God who, alone, is perfect justice and compassion.
Which is why we should be as obsessed with Minya as we are with Manchester…