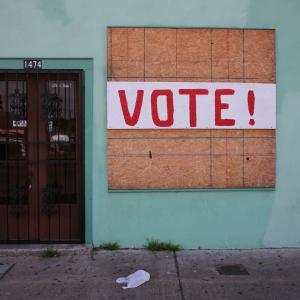 This Tuesday, you cannot vote for Republicans AND vote "for Life."
Republican policies and rhetoric and appointments actively and expressly and deliberately harm and endanger and dehumanize
Black lives
and Indigenous lives
and Immigrant lives
and Refugee lives
and Muslim lives
and Jewish lives
and LGBTQIA+ lives
and Women's lives
and Student's Lives
and Elderly lives
and Disabled lives
and Children's lives
and Inmates' lives
and Assault survivors' lives
and Poor peoples' lives
and Sick peoples' lives
and Foreigners' lives
and The Earth's life.
Even Republican policies and rhetoric and appointments that supposedly "protect" unborn lives don't actually protect unborn lives because they don't protect or preserve the lives of the mothers carrying the unborn, and, as noted above, they have exactly zero F's to give for the unborn minus the "un."
So I just think we should all be absolutely crystal clear here:
You cannot vote for Republicans and vote for Life.
You have to choose one.
Choose Life already.