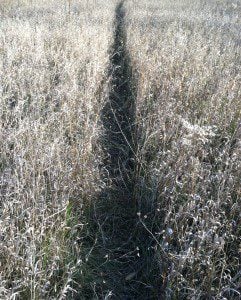 For an introductory class we're teaching, T dug up a list of suggestions I had put together years ago aimed at helping people get going on the Zen path.
It could be also titled, "Walking Straightly on a Crooked Path."
I thought it'd make for a quick and easy blog post so I could get the dog out for his morning walk (he's still laying nearby looking at me expectantly), but then I found that I wanted to trim the list and rewrite what was left so this one turned out to be quite different than it's fore bearer.
1. Sit regularly, upright and still. Surrender to the zazen pose.
2. Sit comfortably. It isn't about creating more suffering.
3. Drop the time game, judging your self, your practice and your chances for unsurpassed, complete, perfect enlightenment based on how short or long you sit upright and still. It takes as long as it takes.
4. Apply yourself to the fierce urgency of the now (Martin Luther King Jr. coined that phrase) with uncommon diligence. You are not as small as you think.
5. Drop attachments to meditation states and outcomes. You are not as big as you think.
6. Mindfulness is nice but practicing enlightenment is about wholeheartedeness. Katagiri Roshi said that.
7. Love and have fun. Live a creative life of wholeheartedness in work, home life, and play. Even sleep.
8. Laugh with wild abandon as frequently as you can and still maintain your source of livelihood and independent living status.
9. Allow your interest in what's true guide you rather than what others tell you or what you think you should be or do to be a "real" Zen practitioner.
10. Find a teacher and a community. Stand on your own two feet taking full responsibility for your practice.
11. Discover what you are (both mu-koan and earnest-vivid sitting [aka, shikantaza] are nice for this) and practice awakening to benefit everyone and everything both far and wide and up close and personal.
12. Know that using Zen to master arcane rituals, inflating the self and separating from others, is to abuse the buddhadharma.
13. Read Zen books and blogs in moderation lest you become alienated from yourself and drive away your friends.