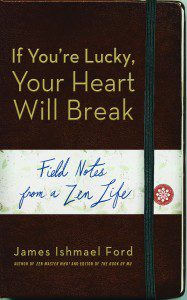 "Sparklingly refeshing," says one of the blurbs on the back cover.
And also, "Ford's mature, playful, multifaceted Zen has been slow-cooking for forty years and is now ready. Read and delight!"
That was some guy named "Dosho" and I really can't beat  his blurb this morning.
Now I confess that when it comes to James Myoun Ford, I'm really biased. Frankly, I love the guy and am deeply indebted to him.
Through working with him in the koan way – and getting to know those near and dear to him as well – among other things, a bit of my negativity about Zen in the west has melted away.
I first read If You're Lucky one winter day, when I was suffering with a miserable cold and was home from work. James zipped me his manuscript and I spent the rest of the day laying on the couch and reading. Moaning now and then to be sure, but also smiling, laughing, and crying along with James' warmheartedly sharing his life. A wonderful companion in the midst of suffering.
Here's a bit of that about his relationship with John Tarrant, his main teacher:
"John was able to push me on my own personal, truly intimate way into the depths of who I really am. Within my relationship with him as a Zen student he had absolutely no judgments about me as a person – an amazing capacity, although it presents its own difficulties. Accordingly, I never really knew whether he really liked me or not. However, I learned relatively quickly that this didn't matter. All he wanted from me was for me to see into the great matter and out of that to find my own way. And thanks to him I did. I owe him endless bows."
Back at ya, buddy.
Wisdom, by the way, did an especially lovely job with the cover and form of the book.
If you're looking for an example of engaged, moving, eye-opening and contemporary Zen, lived deeply in the world, then just click here.