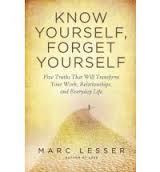 Marc Lesser, a business consultant, former CEO of Brush Dance, and Zen teacher in the San Francisco line, has written a comforting book, making me re-think what a mature person is all about.
And that's just from reading the book because I've hardly even met the man. I think that Marc might have been director of Tassajara when I visited there 30 years ago and I may have had a brief conversation with him.
So in this case, I'm innocent of the charge, "Ah, you're just trying to sell books for your friends."
Yes, Marc spent ten years as a young man in the San Francisco system as a resident, including five years at Tassajara. So he's done some Zen work. He then went to business school and eventually started Brush Dance and was its CEO for years until he got fired.
And in some of our lives, out of crisis, failure and disappointment our underlying gifts can arise, and our inner-most request for this great life can become clear.
Let's hope the same for all of us.
Marc's tone is steady and clear, displaying an engaging openness to all of the wild vicissitudes of this wild life. The five truths in Know Yourself, Forget Yourself: Five Truths to Transform Your Work, Relationships, and Everyday Life are these:
1. Know yourself, forget yourself
2. Be confident, question everything
3. Fight for change, accept what is
4. Embrace emotion, embody equanimity
5. Benefit others, benefit yourself
I especially benefited from Marc's "fight for change, question everything" section. He lays out a process for setting your intention, envisioning success that includes looking at resistance and measuring the gap, including making a financial snapshot that flows into writing a business plan – all contextualized within the Zen narrative – that makes the process of getting clear about our great dream and digging deeply into present realities much more palatable.
Marc tells a story (and there are a lot of good ones here) about teaching at Esalen on accomplishing more by doing less (see his previous book
Less
– now on my reading list). He asked the group, "How do you respond to a particular need or challenge in growing and managing a business?"
Most responses were in the new-age think category of pseudo-dharma: "whatever the universe may bring me."
Marc responded, "When it comes to growing or managing a business, I'm not a whatever the Universe brings me kind of guy. I'm a write the f*#%ing business plan kind of guy."
That nudged me over the edge from thinking Marc would be a fun guy to have a beer with, sharng our old Zen war stories, to putting the exercises in this chapter on my to-do list.
Some of my readers – those with a purist Zen impulse that's yet been unchecked by reality – may find the book mostly about translating Zen teachings in a way that can help people in the relative world rather than presenting the real fundamental deal.
Kind of an odd paradox, no? Is there something wrong with being helpful?
There has been a lot learned in the past century in the worlds of psychology and business, so to cut that off is to make dharma practitioners poor. On the other hand – the one that I'm often writing with here – to miss the Zen truth in the midst of all that, also leaves us as "one chopstick" kind of guys.
So, sure, Know Yourself, Forget Yourself is a self-help Zen book with a business-background tilt. And I could drop into my "Zen bitch" mode and quibble about Marc's presentation of koan work and koans, as well as the deepest meaning of Dogen, but that would miss the point.
What is the point?
Hey, Marc, thanks to your work of getting to know yourself, I feel as though we've met.