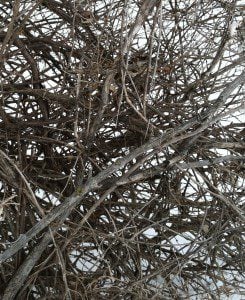 "Practice intimately, working within, like a fool, like an idiot. If you can achieve continuity, this is called the host within the host." – Cave Mountain Virtuous Servant
Overview
This post-traditional Zen training is designed for practitioners living at home who yearn to realize and actualize the great matter of birth and death. "Vine of Obstacles" acknowledges the difficulty of following through with our practice aspirations in the midst of daily life and the truth that this very bind can be a dharma gate.
This program is intended to support you in this very entanglement.
Vine of Obstacles Zen requires commitment to ongoing awakening and the capacity to carry out daily practice alone and regularly engage with Dosho via Skype and email.
Our primary basis for practicing enlightenment is daily zazen (integrating just-sitting and koan Zen), study, and engagement in the world. Dosho (see below for bio) serves as Zen teacher and coach.
Intended outcomes
§      Practitioners will learn to embody the Buddha way, developing fluency in actualizing awakening in daily life.
§       Practitioners will become happy, powerful, and positive influences at home, work, and in the community, "making manifest the great earth's goldenness."
§       We will have a fun, lively, edgy time together.
Process
§       Just-sitting/koan zazen
§       Practice meetings with Dosho: two thirty-minute sessions via Skype each month, focusing on koan presentation and issues in your practicing-enlightenment project and study
§       Study selected works of Dogen, beginning with "Points to Watch in Buddhist Practice" and "The Issue at Hand"
§      Listening to monthly dharma talks by Dosho, Katagiri Roshi, and others accessed through Sweeping Zen (or other venues) and follow up exercises with Dosho via email
Initial consultation to explore whether Vine of Obstacles is right for you
As well as application, fees, sample study assignment, or more information, contact Dosho at wildfoxzen@gmail.com
About the teacher
Dosho Port is a Zen teacher, practitioner and successor of Dainin Katagiri-roshi, currently involved in koan introspection with James Ford and Melissa Blacker of Boundless Way Zen. Dosho began studying Zen with Katagiri-roshi in 1977 and trained with him until his death in 1990. He did shukke tokudo (home leaving) in 1984 and received shiho (dharma transmission) in 1989. He is fond of "hammering nails into empty space" so has also studied with Thich Nhat Hanh, Tangen Harada, Shodo Harada, and Daido Loori. Dosho has been actively teaching since the early 1990's and his in-the-flesh teaching project is Wild Fox Zen, Transforming Through Play Temple in White Bear Township, MN.