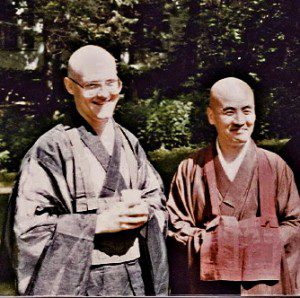 Today would be the 91st birthday of my first teacher, Dainin Katagiri Rōshi (1928-1990). Happy birthday, old boy!
Recently, the Hōkyōji Zen Practice Community, one of the centers that Katagiri Rōshi founded, asked me to share some memories of the early days there, given that they're celebrating their 40th year. Below you'll find what I wrote, slightly modified.
---
Hōkyōji was very important to my development as a Zen practitioner, and I'm very grateful to everyone who made this wonderful place possible, especially, of course, Katagiri Rōshi.
I first went camping on "the land," as we then called Hōkyōji, soon after it was purchased in 1978, although we didn't use it much for the first couple years. I believe there was a tree planting in 1979 of the pines on the bluff-side above the cabin. During the simple planting ceremony Katagiri Rōshi gave a great shout, and that seemed like it really started the practice there. This shout was particularly surprising becauseKatagiri Rōshi was not a "shouting-Zen" type.
In the summer of 1980, Katagiri Rōshi asked me to coordinate the first sesshin at the land. It would be a major undertaking because we didn't have a road into the area we had chosen (the future building site) and there were no buildings and certainly no utilities. We also had to ford the creek to get back into the area that is now developed.
I believe it was Paul Dōshō Courtney that found the big army tent that we used for a zendo and Greg Taizan Shaeffer who built a portable bridge for the creek. We cooked over a fire and with Coleman stoves. Idealists that we were, we planned the sesshin for the first weekend in October, not anticipating that the temperature would get down to 22 degrees. We sat on frozen ground with only a lining of plastic tarp for insulation. Thank buddha for even our paper-thin zabutons!
Most of the couple dozen practitioners who attended sat zazen in the early morning with our sleeping bags wrapped around us – except Katagiri Rōshi, of course, who wore the same thin robes as usual. He gave a talk during zazen about "Dongshan's No Heat, No Cold," and concluded by saying, "This not cold. Eiheiji (the monastery he trained at in Japan) was cold. Very cold. This not cold."
I tell you, though, it was cold. How cold was it? As the timekeeper, I sat facing out. Just as Katagiri Rōshi ended his "inspirational" talk, I saw a horse fly buzzing awkwardly around the altar. The horse fly suddenly made a beeline for the candle, committing suicide, and snuffing out the flame, all in one swoop.
Don Uphold, who sat next to me (and was always tougher than me), also started the period without his sleeping bag, but during that first cold and endless period of sitting he stealthily reached over and slowly pulled my bag off me and over himself. He often tried to make me laugh during sesshin, and succeeded more than once, but this was just not funny!
Soon after that, we did some fundraising with the beautiful poster that you may have seen. See below. We were inspired by Kobun Chino's group that had raised $250,000 with a similar poster.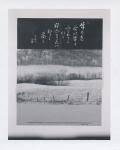 Unfortunately, we didn't have a "Steve Jobs" on our mailing list and the fundraising didn't go well. We raised just enough to cover the printing and postage, about $32,000, if memory serves (more than our annual budget). This wasn't good because we had a balloon payment of about $25,000 coming up in about 1982. So we tried again. This time I asked Rōshi if I could recruit the most "worldly" and extroverted students in the group to focus on fundraising and he supported the idea. So several other odd Zen students and I met every Tuesday night for the better part of a year figuring out how to bring in money. We not only had a great time together, but also succeeded – we raised enough for the balloon payment and the first buildings.
I'll end with one more story. At one of the first practice periods, I was Katagiri Rōshi's anja (in-the-room attendant). Greg had rigged a Japanese-style soaking tub for Rōshi with a 50-gallon barrel on a small platform next to the cabin (in very early stages). One of my jobs on bath days was to heat the water with an old propane camp stove. I had to keep an eye on it so it didn't go out, blow up, or burn down the cabin with Rōshi inside. Sometimes Katagiri Rōshi would come out and sit with me in the grass and talk.
I remember asking him during one such conversation about dharma transmission. This might have been just after I was priest ordained, so around 1984. He got very serious and said, "I will do only in most authentic way." Unfortunately, I didn't ask him what he meant by "most authentic." I assumed he meant in Dōgen's way because, for Katagiri Rōshi, "authentic" = Dōgen's way.
Then later, just before he died, he did give dharma transmission to twelve of us. I have often wondered if this was in line with Dōgen's authentic way. Katagiri Rōshi and the several monks who came from Japan to help with the ceremony, told us that our dharma transmissions were premature (although I think they may have used a more delicate term), and so it was very important that we continue our training.
After all this time, I am very happy to see Hōkyōji celebrating 40 years, and continuing to offer practice opportunities!
---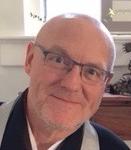 Dōshō Port began practicing Zen in 1977 and now co-teaches at the Nebraska Zen Center with his wife, Tetsugan Zummach Ōshō. Dōshō also teaches with the Vine of Obstacles: Online Support for Zen Training, an internet-based Zen community. Dōshō received dharma transmission from Dainin Katagiri Rōshi and inka shōmei from James Myōun Ford Rōshi in the Harada-Yasutani lineage. He is the author of Keep Me In Your Heart a While: The Haunting Zen of Dainin Katagiri.