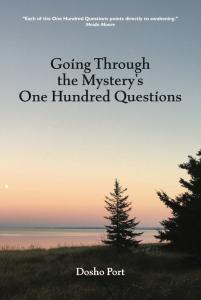 Going Through the Mystery's One Hundred Questions
, my third book, is now available through Sumeru.
Click here
.
It isn't quite ready-to-go yet on Amazon, but should be soon. There will be a Kindle version of the book soon. 
A dedicated web page for all things
Going Through the Mystery
is now open
here
. You'll find more about the book – blurbs, excerpts, and other upcoming book-related events. Coming soon – audio versions for some of the sections. And
here's the back-cover description for you:
---
In Going Through the Mystery's One Hundred Questions we sit together with a passionate Zen pilgrim, Yuantong, and his cold-blooded teacher, the Soto Zen master Wansong, also the teacher of Genghis Khan. They hail to us from sometime in the thirteenth Century. We get to eavesdrop as a sincere student asks burning, heartfelt question after question.  And as a genuine teacher responds with turning word after turning word.
We are able to participate in their teacher-student relationship due to the presence of Wansong's attendant, Linquan, who later also became a famous Zen master and teacher of Kublai Khan. Linquan clarifies the meaning of each interaction in verse. Dosho Port has translated the original text and added brief commentaries to each Q&A to help the contemporary reader access the deep truths presented by these three exemplary practitioners.
The book is intended to offer inspiration and guidance for any earnest spiritual seeker. The thirteenth century was an enormously rich time for Zen with many profoundly awakened and skillful teachers, including Wansong and Linquan. However, this book is primarily about urgent, spiritual questions. What is this one great life-and-death that we share? How can the intimate truth be realized and embodied with great compassion for the benefit of all living beings?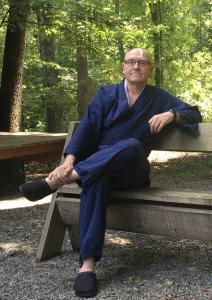 Dōshō Port began practicing Zen in 1977 and now co-teaches with his wife, Tetsugan Zummach Sensei, with the Vine of Obstacles Zen, an online training group. Dōshō received dharma transmission from Dainin Katagiri Rōshi and inka shōmei from James Myōun Ford Rōshi in the Harada-Yasutani lineage. He is also the author of Keep Me In Your Heart a While: The Haunting Zen of Dainin Katagiri. Dōshō's translation and commentary on The Record of Empty Hall: One Hundred Classic Koans, was published in 2021 (Shambhala). His third book, Going Through the Mystery's One Hundred Questions, is now available.
Click here to support the teaching practice of Dōshō Rōshi via Patreon.