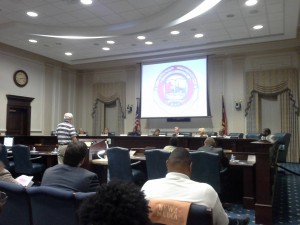 This Thursday's blog is about a recent experience an interfaith colleague of mine had during a radio talk show interview. Jerry McLeese is the chairperson of Interfaith Winston-Salem, and a good friend of mine. Jerry is not your average Christian. When I asked Jerry what flavor of Christianity he would use to define his religious/spiritual beliefs, this is how he responded:
"I dislike labels and would not claim one for myself. Some friends would call me a liberal Christian. Others have told me that I'm a heretic, even from the pulpit of a former church. I tend to accept ideas from both the rational and spiritual arenas, always with great flux. Seldom do my beliefs and actions today fully reflect what I would expect to believe and do tomorrow. I subscribe more to orthopraxy than to orthodoxy. I'm a member of the United Methodist Church because it has a wider middle that embraces more people and more ideas than some traditions with which I'm familiar."
Jerry also "aggravates and coordinates" with me, working hard to bring the movement, "Compassionate Cities" to Winston-Salem. He has the fun task of being our spokesperson of what it means to live in a Compassionate World, speaking to the citizens of Winston-Salem, NC. Just this past Monday, we gratefully received full City Council approval to incorporate a Compassionate Resolution into the city government. From this, we have received many invites for interviews with local media to discuss the movement and 'get out the word.'
When a local, conservative Christian radio station called inviting Jerry to be interviewed, he felt an obligation to assent to the interview, as part of his responsibilities with Compassionate Winston-Salem. The host introduced Jerry's segment of the interview with "Is this some kind of con job? Why does the government think it can tell us how we should act compassionately?" Jerry knew then that this would be a different kind of interview and a different kind of challenge.
During the interview, Jerry was asked if Compassionate Winston-Salem was some liberal scheme. He responded that it was all about the
Golden Rule
and that all religious and ethical traditions embraced it. Jerry's Christian training helped him to also say that when Jesus was asked "what was the most important commandment," his (Jesus') answer was pretty clear: ""Therefore all things whatsoever would that men should do to you, do ye even so to them" (Matthew 7:12). Jerry specifically told the antagonistic host at one point, "if we don't pull together we will pull apart." After this, the host then felt a need to ask him about an article in the newspaper that indicated Jerry felt there was hatred in the community. It wasn't a direct quote, and Jerry told him that "if he (Jerry)
had
made that statement, then he was wrong. There is division [in the community], but hatred was too strong a word."
Jerry's experience shows me – as a pagan – that we're "all in this together." How would I have interacted with the host? (I will surmise that I most likely would not have been invited to the radio station, but I digress). Point blank, Jerry didn't get to 'interact' with the host. As Jerry commented, one "can only interact with someone who is willing to be open."
In the interfaith world, "the best way to lose an argument like this is to try to win it." Jerry knew he had to keep his composure, but not back down. He shared his perspective that the approach the interviewer was taking is symptomatic of the problems that continue the deep polarization in religion, politics and other areas today. [Most conservatives – of any religion] look first at what can divide us rather than what can bring us together. It's a zero-sum game that gains no one anything. What we need is a non-zero sum game. Jerry (and myself) call that game Compassionate Action.
So you see, we Pagans are not the only ones to experience judgment and condemnation for not being in line with the conservative branch of *any* religion. What it takes to make interfaith work is perseverance, compassion, and tolerance of ALL people. Even those who appear to be against tolerance, respect for diversity, don't believe in equality, or seem to be unable to feel compassion. These people remind me daily of my goals to experience a peaceful, loving, empowering world – the only way to get there is by being those things – with ALL people, all animals, and all the trees. I know we'll get there one day. I can feel it in me bones.