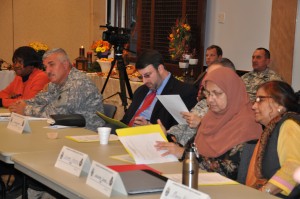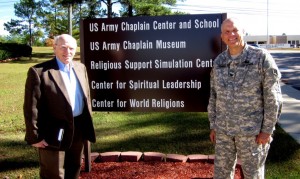 The military as an example of daily interfaith relations? Never having been a soldier, it had not occurred to me, but that's one of the things I heard at a remarkable meeting this week at the U.S. Armed Forces Chaplains School and Center, here in Columbia, S.C., at Fort Jackson. The Chaplains School was hosting the annual meeting of Interfaith Partners of S.C., and "host" would be an understatement for the outstanding experience they provided.
From the time I parked my car across the street I was greeted by chaplain-soldiers about every 100 yards who made sure I found my way to the meeting hall. Inside they had put up a lovely display of religious materials and mementos of various military interfaith gatherings around the world, plus, beautifully-presented refreshments. While the Navy chaplains had a conflict and could not join us that day, the room was full of Army and Air Force chaplains, many of them instructors at the school, who bustled around making us feel welcome as we arrived. The welcome included name tags and nice table tents, two official photographers, and a local television news camera in the corner.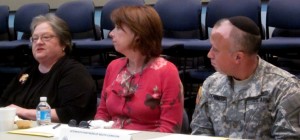 Each of us left with a lovely color certificate of appreciation signed by Chaplain (Col.) David Colwell, Commandant. :
"For your service and outstanding support of the Interfaith Partners of South Carolina (IPSC) shown by your willingness to meet with the United States Army Chaplain Center and School at Fort Jackson, S.C. Your enthusiasm and devotion to the mission and intent of the IPSC added significantly to the overall success of the meeting. Your efforts are greatly appreciated. Your commitment is a credit to you, the general public in which you humbly serve, and the United States of America."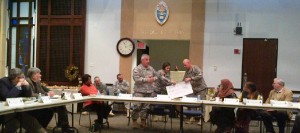 Our own IPSC chair, Dr. Carl Evans, was joined in presiding by school commandant and chaplain Col. David Colwell, as well as the Director of the school's Center for World Religions, Col. Mike Lembke (also a chaplain), who envisioned and organized the entire meeting. IPSC got our business out of the way and then Chaplain Lembke initiated a delightful program of short presentations by several people on military chaplaincy and how our two groups can support each other's mutual goals of interfaith service.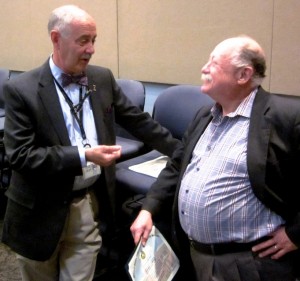 By chance, this fall I'm taking a chaplaincy course at Cherry Hill Seminary, so I found it fascinating to hear much of our classroom material being voiced by practicing chaplains. I was able to get a few notes – here are some bullets that stood out in my mind:
∙ No one ever said to me, "Don't pray for me."
∙ We are shepherds, not cowboys.
∙ Can you think of many headlines in the news that aren't affected by or which don't have some connection to religion?
∙ Military chaplains must take an interfaith approach because we are serving everyone, no matter what is our own personal religious identity. We do interfaith every day, in war zones, on battlefields, in barracks, and with families.
I'm aware of these religious affiliations among the chaplains who were present: Muslim, Lutheran, Episcopalian, Jewish, Southern Baptist, and others I did not catch. IPSC folks represented these religions: Muslim, Hindu, Christians of various stripes, Pagan, Sikh, Jewish and Unitarian Universalist. Many of us exchanged contact information, and some of us have plans to meet for lunch soon, or other such blossomings of friendship.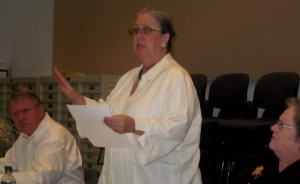 Cherry Hill Seminary received several favorable and public mentions, which bodes well for potential future engagement with the Chaplain School. Since CHS is beginning to work on an application to the Department of Defense to have our Master of Divinity recognized as equivalent to that of other accredited schools, it is very helpful for me to learn more about the culture of military chaplaincy and its educational requirements. Also gratifying was to hear several chaplains share their encounters with Pagans in uniform. It was a great day to be out of the broom closet, because Paganism was most certainly not invisible in this crowd, and received equal respect with all the other religions.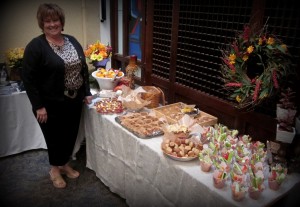 I was a bit surprised to see that the religious display was conspicuously Abrahamic, with only Jewish, Muslim and Christian materials present. While the subject was not discussed on this particular day, I have found my contacts to be fairly honest about the overall climate of conservatism still active in the Chaplains Corps. Some of this is a function of differences in our religions, e.g., the newness of the idea that Pagan ministers need a formal education. Some of it is no doubt an oversight of the military. But based on what I continue to see in my encounters at Fort Jackson, that culture is rapidly adapting to the overwhelmingly diverse world in which military chaplains must serve. I was honored to be able to participate in what felt like an historic occasion.
Click here to see all photos on Facebook