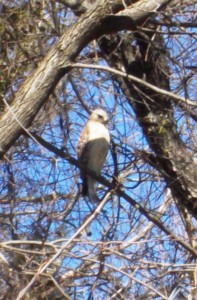 Red-Tail Hawk in a Tree
Doing interfaith work really never ceases to amaze me–and my recent experience was no exception. Here's what happened at the panel discussion I wrote about in my last post.
To recap–I was contacted by a colleague in a neighboring county who was putting together an interfaith panel to discuss spirituality and the environment. I checked my calendar and agreed it was possible.  The date changed due to Ramadan but the new date worked for me, too.
If you live in a small town, you can probably guess the make-up of the panel. Four people. Three Abrahamics and a Wiccan. Three men and me.  And the moderator was a popular local rabbi, so really four Abrahamics and me, which could be the title of my autobiography, if I had time to write one.
A few days before the event, the moderator sent us an email to set our minds to thinking about the issue at hand.  Thinking about the "environment" is something I do all the time but I was curious about the direction we were heading in our jolly afternoon adventure.  The title of the event was a dead giveaway–"Faith and Creation: an Interfaith Panel Discussion about Religion and the Earth."
O dear…well, it gave me a direction for my opening remarks anyway.  I'd start by unpacking "faith" and "creation" and go from there.
Included in the email were some sacred writings to do with environmental stewardship.  There was the "dominion" section from Genesis, as well as the "stewardship" section.  And there was an odd verse about not cutting down trees. That triggered a memory of the sacred groves of the indigenous people being destroyed and I did a quick Google search to find the verses I needed.
Off I went on the appointed day to be part of this panel discussion.  I arrived early and had with me a cardboard triptych that explained what "Pagan" meant, among other things.  A visual aid. Show-and-tell.
All the speakers arrived and I sat with a friend who had graciously surprised me by attending.  I introduced myself to the moderator rabbi and to the Christian panelist (who was also the man who'd asked me to participate) and I was aware that neither the Muslim man nor the other rabbi looked my way.  Not unusual in my world, I'm afraid.  I did not assume it was anything other than an oversight, combined with their arriving at the last minute.
They tried to make me go first because they thought that Wicca was a very ancient religion.  I explained that it was hardly that–so I got to go last, which I prefer.
Lots of blah blah blah but the moderator read all the Torah verses aloud, the ones he'd sent us to contemplate. We didn't actually address many of the issues in the verses but each had our own schtick.  At the end of the three presentations (10 mins each), we were to discuss amongst ourselves and then take questions from the audience.  We all sat down and checked the floating microphones and Modersator Rabbi asked where we'd like to start and there was an odd silence, into which I interjected one word–
Trees.
I had a question about trees and described myself as a genuine tree-loving dirt-worshipper.  General titter in the audience.  I quoted the verses from 2 Kings and quipped–so you don't cut down some trees but the trees of the Goddess-worshippers–my people's trees–those were fair game, huh?
He shook his head, smiling and we high-fived each other as the audience chuckled.  A light moment, silly, an opening for deeper discussion.  Except the other rabbi, the one on the panel, got a little hot under the collar.  He explained, without looking at me, that Judaism's primary job was to stand against Paganism, that Jews hate that sort of thing.  I looked over at him and raise one eyebrow. He went on a bit about Pagans and how the trees weren't just trees but symbols of the dreaded and despised Paganism.  He and I had a bit of back-and-forth and it wasn't playful banter.  He kept muttering about a real debate and I muttered back–bring it.
The moment passed thanks to our clever Moderator Rabbi but it left me a little sad. In my interfaith world, a comment like "Jews hate Pagans" directed by a rabbi at an actual Pagan would have been quickly followed by an historical explanation and some reassurance that it wasn't the case now.  That was not forthcoming in this instance.
So I treated myself to chats with my Jewish friends who reassured me that my Pagan self was just fine with them.  Whew–that was good to hear. But I used it as a personal learning moment–did some Google searches, read (and posted on Facebook) some of the terribly odd websites I uncovered.  I reminded myself that this interfaith thing can still be a little fraught, a little emotional.  And I think that's a good thing.  There are massive issues that rise up between people of different spiritual traditions and we are wise to consider them and openly discuss them.  We don't move forward if all we do is talk about our commonalities.  We also need to look at where we really, really don't agree and then discover how we can continue to be in relationship while holding such differences.
Trees.  Who knew that a wisecrack about 2 Kings would lead me to so much new information and so much understanding and love from and for my friends?  Maybe I should quote the Old Testament more often.  There's a really cool story about Jeptha's daughter…