Respect for our differences is our common ground. – Don Frew
This was just one nugget of wisdom gleaned during an interfaith panel at last week's Covenant of the Goddess annual Leadership Works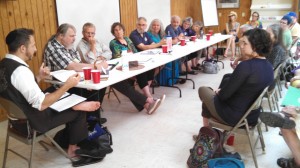 hop, "Standing On Common Ground," held this year at the beautiful Chattahoochee Nature Center in Roswell, Georgia. CoG interfaith representatives spoke from a panel during the morning session, and in the afternoon they were joined by community representatives of several faiths: Baha'i', Unity, Buddhist, Christian and Jewish. The lively discussion nicely illustrated the growing embrace of Paganism as a respected partner and resource for other religions.
What I seldom see, however, is much curiosity by Pagans about the same people of faith we wish knew more about us. This strikes me as odd since we are the most curious of creatures, researching and adopting sources and cultures far afield from our own. Last week I heard a great deal about the environment, the concerns of indigenous peoples and human rights — all vital and worthy causes. What I did not hear was why it is healthy and enjoyable for us as Pagans to open ourselves to other religions, and how workshop attendees could go home and *do* interfaith. No doubt, there was curiosity in the room, but I did not hear it voiced.
It's hard to interest most people in interfaith participation. I get that most of us are very busy, and most just are not religiously-curious. I find that it's even harder to get Pagans involved; that's why I've been willing to share some of my personal stories here on Wild Garden, as illustrations of the completely unpredictable delights that occur. Where Pagans are willing to be involved, more often than not, they seem to show up primarily to "educate the others" about Paganism. This is certainly an essential responsibility, but it's a completely one-way relationship. We want people to dialogue with us and be open to our beliefs and concerns, but too often we do not reciprocate. I'm not saying there isn't a need for education, just that we should not assume that we will be doing all the educating.
My favorite example of such an unexpected gem at this workshop was to hear the Buddhist and Christian strongly refute the idea that "we are all alike, all one, all worship the same god," an opening pronouncement by the Baha'i' guest. Predictably, one could feel the room stiffen when he cheerfully shared what we knew was a well-intended, if clichéd sentiment that we hear all too often. What we may not have predicted was that non-Pagans would step forcefully forward to confront that issue and talk honestly about how being different matters.
Near the end of the day Don Frew, arguably the most seasoned interfaith participant on the panel, did bring up the technique of appreciative inquiry which has been used extensively by the United Religions Initiative (which Don serves as a trustee). I'd like to hear more about that in a future workshop, maybe break into small groups and practice. Macha NightMare (Aline O'Brien) shared several stories of activities in her local Marin Interfaith Council. These local activities are, to me, the heart and soul of the interfaith movement. Hearing the stories of others like Macha has inspired my work here in South Carolina and given me ideas I could apply regionally.
It's often said that people fear they will lose their religion if they join interfaith groups, then find that their interaction with people of other spiritual paths actually strengthens and enhances their own. It's also a source of pride for me that I can share something I kept private for so long and find that it genuinely touches the hearts of people who did not know about us. I urge all of us to seek out opportunities to step out, not just out of the broom closet, but to walk the garden path through both weeds and flowers over to our neighbors' place and see what discoveries we can make.