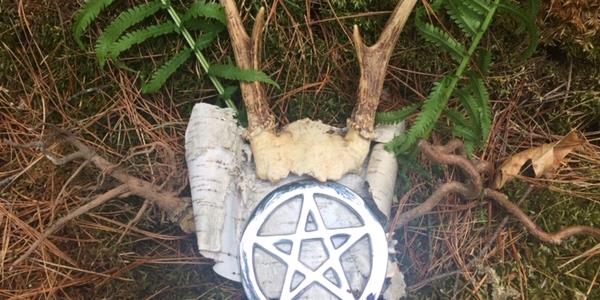 We so often see antlers, bones, and ram skulls in our pagan artwork, tattoos, or pictures, but especially during this time of the year. Images of the deities of the wood, such as the Greenman, Cernunnos, Herne, or Pan, are now more abundant, their glorious antlers and horns being so majestically displayed. The season of the Dark One's decent to the Underworld at Samhain brings us visions of antlers, bones, and horns, being more prevalent now in our artwork, and pictures of the season.
Antlers and horns have become symbolic to pagans and shaman alike, their ancient artwork revealing spiritual guides and entities with these features. The Shaman of Trois Freres, a mysterious melding of human and animal features, antlers branching, and the Pashupati Seal, a horned god. There is Pan with horns of a ram, or Herne and Cernunnos with broad antlers. The symbolism between the two differing.
The antlers, represent vitality, growth, expansion, abundance, as well as strength and protection. Antlers are shed in the fall, the squirrels, racoons, chipmunks, and mice benefiting from the nutrients, a true death and rebirth symbol. The horns on the other hand are not shed, they endure… they prevail. They are true symbols of vitality, staying strong and living on well after it's service of the animal is done. They are the symbols of a life ever lasting, the wheel of the year, forever turning.
Use antlers in your animal, or spirit guide work, when you desire abundance, or working with the spirits of the wood. Use the horn for your celebrational ritual drinks, as a fetch, or to celebrate his living on, both here and in other realms. Embrace the deities of the horn.
It is a time of death, a time if rebirth, and a time of life everlasting, Enjoy your celebrations. )0(