Ostara Sabbat initiates our season of spring. It is the Spring Equinox, the liminal time, holding in the balance the darkness and the light. Ostara is a most welcomed moment when we bid adieu to Old Man Winter, and welcome in the fresh breeze of Lady Spring.

This is the time of Maiden Goddesses, Horned Gods, the fertile hare, and for gaily colored eggs shared as a blessing between friends. But once you've dyed all those eggs, what are we to do with them? Allow me to make a suggestion…
I'm a Southern woman, and around these parts we are known for our "deviled egg" recipes. No Easter Sunday Church potluck dinner is complete without them. However, I'm a witch, so I call my version something slightly different: "Devil May Care Eggs" are the hit of any Sabbat pot-luck. I hope you love 'em as much as I do!
Ostara Blessings!
~Heron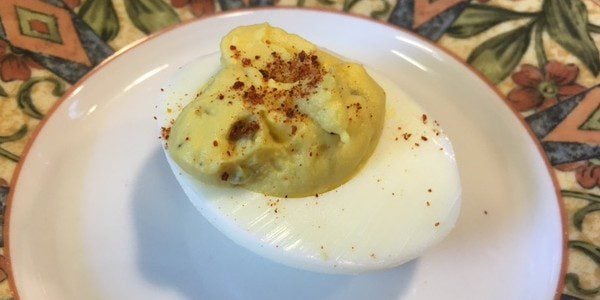 Devil-May-Care Stuffed Eggs
Ingredients:
1 dozen hard-boiled eggs, peeled, halved
2-3 tablespoons yellow mustard
2 tablespoons mayonnaise
2-3 tablespoons sweet pickle relish
1 – 1 1/2 tablespoons Apple Cider Vinegar
1 teaspoon granulated cane sugar
1/4 teaspoon celery seeds
1/2 teaspoon sea salt
1/4 teaspoon black pepper
Paprika

Instructions:
Hard boil your eggs and allow them to cool completely. Peel, wash and dry them.
Cut them in half long-wise, and scoop the yellow yolks of the eggs into a wide, flat bowl and mash with a fork. Add all the rest of the ingredients except paprika. Mix thoroughly with a spatula. Taste it and see if you like it…adjust as needed. Too sweet? Add a bit more salt. Too sour? Add a bit more pickle relish or sugar. Want more ZIP? Try a bit more vinegar. I like my eggs pretty zippy.
Take a gallon-sized resealable plastic bag, stuff a corner of it into an empty coffee cup and fold down the top of the bag over the edge of the cup. With the spatula, shovel all the mix into the bag, using the edge of the cup to scrape the spatula clean.
Close the bag, squishing all the mix into one corner, burping the bag for any air bubbles, and sealing shut. Twist the bag to push down the mix and use like a pastry bag. Cut about a half inch corner off with the scissors, and squeeze the mix back into the eggs, using a bit more than the indention will hold, until all gone.
Sprinkle a bit of paprika on each egg as a garnish.
VOILA!