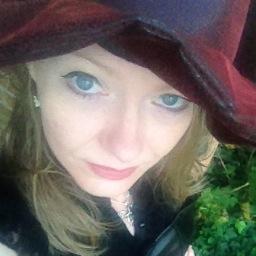 Heron Michelle lives in Greenville, North Carolina and is a graduate of East Carolina University with a Bachelor of Science degree. Being the mother of two precocious children and three highly-suspicious cats keeps her pretty busy. Otherwise, she enjoys writing, making art through painting and Mehndi, cooking and crafting, and throwing fabulous parties.
However, her Sacred Mission is as a Witch and Priestess., in service to her patrons Aphrodite and Hermes. She is a Reiki Master in Lotus Blossom Usui Reiki Ryoho, and a clairvoyant specializing in past-life retrievals and tarot.
Most days, she can be found behind the counter of her shop, The Sojourner Whole Earth Provisions, as a merchant of metaphysical supplies, teaching classes, and working with her clients. Heron and a dedicated staff opened the doors of The Sojo in 2009, building a temple to Divine Love, where they engender progressive ideals through a diverse acceptance of all people, transcending race, age, gender, background, sexual preference, culture, spiritual path.
Beginning in 2010, Heron developed her unique thealogy into a 48-lesson, "Year and a Day" training program teaching Modern Witchcraft as a religion, a magickal art, and a science, and it's practice as an occupation. Her program prepares witches for self-initiation through a direct connection to Spirit in service as healers, a diviners (psychic/spiritual counselor) and a Walkers Between the Worlds as the Priesthood.
Her thealogy is best described through the Four Rules of Witchcraft for Personal Sovereignty and Aphrodite's Thealogy of Perfection.
The Sojourner Tradition of Modern Witchcraft emerged from that training program, and continues to evolve through the dedicated service of it's initiates who now mentor new seekers and engage in The Great Work of Magick through group celebration. The Sojourner tradition is based upon the importance of personal sovereignty and is a synchretism of the British religion of Wicca and American Modern Witchcraft; both ceremonial and folk magick; neo-paganism and shamanism from around the world; metaphysics and western esoteric occult sciences along side modern sciences and psychology; Reiki and other energy healing techniques.
Heron now serves as High Priestess of The Sojo Circle Coven, and continues to teach year-round. She is available to travel for speaking engagements at pagan festivals and conferences, and to lecture in academic settings. She also offers private intensive workshops hosted in your own community. Inquiries may be made to: michelle@thesojo.com