This hearty meal is so satisfying when the autumn descends into winter's chill.  I named this creation Purple Stew, because I've long thought about my nutritional balance based on the color of the vegetables I'm eating. To put it simply: Purple is for longevity. Red onions, purple varieties of cabbage, cauliflower, and carrots, red and purple grapes (including wine and balsamic vinegar) and eggplant are all "purple" foods that have some stellar health benefits.
Usually I make this stew with grated eggplant, but I do peel it first, so I guess that is cheating a bit. This time, I substituted grated zucchini and it added a nice splash of green to the party. Other veggies I'd usually add would be purple carrots, when I can find them. If you need to make a gluten-free version without barley, I recommend breaking down a head of purple cauliflower into "rice," instead. Just shorten the stewing time to 30 minutes. For a vegan version, that is as simple as omitting the beef, and marinating the mushrooms and eggplant instead.

Purple Stew is a Longevity Potion
Purple foods have nutrients that help maintain youthfulness, kill cancer, fight ulcers, heal your liver, prevent urinary tract infections, and lower "bad" cholesterol, helping the heart. I'd call that a good start to longevity.
It's a scientifically-proven fact that the darker the food, the higher the antioxidant level…they have the ability to mop up free radicals and keep you looking younger, longer. Thus, dark foods with a purple pigment, such as purple onions, concord grapes, purple cabbage, black mission figs, prunes and blackberries, are known for having amazing healing powers. The purple pigment in all of these fruits and vegetables contain flavonoids, including resveratrol, which can help decrease blood pressure…Produce with purple hues contain a variety of polyphenols that can reduce the inflammatory response in the body. Source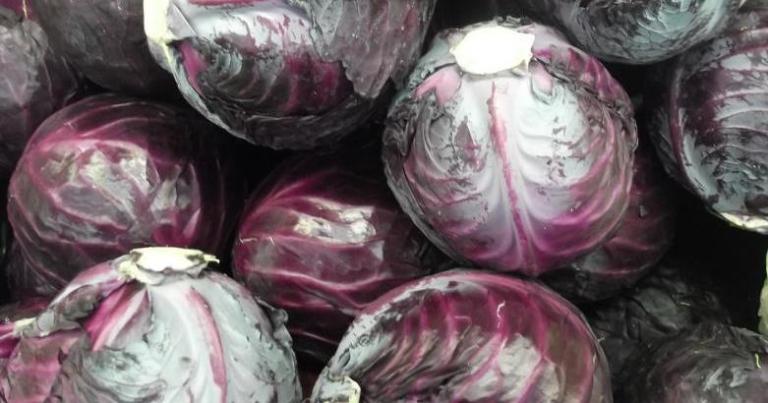 Purple Color Magick
What magick is brought to the potion with the color purple? Well, longevity isn't the first word that comes to mind. Purple is the color of the Crown (violet) and third-eye (indigo) chakras – so connection to divinity and psychic insights? Depending on the folk magick tradition, you'll find associations with wisdom, influence, spiritual power, contact with spirits, the ability to drive away evil, to change your luck, gain independence, and break bad habits. This might work out well for you if the hindrance to your longevity is a bad habit – like drinking too much. In that case, trade the barley for black rice!
"Purple foods are good for your liver Black rice, which has more anthocyanins per gram than blueberries, is a delicious antioxidant grain that has been found to reduce damage to the liver incurred by excessive alcohol intake." Source.
Beef and Barley Purple Stew
First Step: Marinate the Beef
1 pound cubed stew beef
1/4 cup balsamic vinegar
2 tablespoons Bragg's Amino Acids or Tamari Soy sauce
1 teaspoon garlic powder
1 teaspoon onion powder
1/2 teaspoon black pepper
In a shallow dish, blend the marinade and stir in the raw beef cubes, coating well. Cover and allow to soak for an hour at room temperature.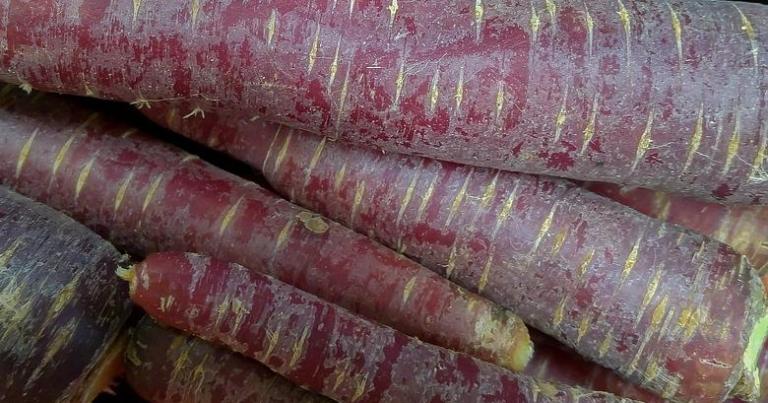 Second Step: Sauté
1 Tablespoon Extra Virgin Olive Oil
1 cup dried pearled barley, or a GF alternative of purple Cauliflower "Rice."
2 cups chopped red cabbage
1 medium diced purple onion
1 tablespoon minced fresh garlic
1-2 cups quartered and sliced baby bella mushrooms
2 cups grated eggplant (or zucchini in this case.)
a few diced purple carrots
1 teaspoon dried Thyme.
In a large, deep soup pot, heat the olive oil on high. With a slotted spoon, strain out the meat from the marinade, and add to the hot oil in a single layer. Allow to brown without stirring until the meat lifts easily without tearing – a few minutes. Turn the meat once, and then add on top the onions, garlic and mushrooms. After a few more minutes, stir fry it around until the mushrooms are soft. Add the remains of the liquid marinade. If anything stuck to the pan, stir to loosen up all the good browned bits from the bottom.
Add barley (or the purple cauliflower rice) and thyme and stir in. Add chopped cabbage, diced purple carrots (if you have them) and grated eggplant (or zucchini in this case) – saute a moment or two more.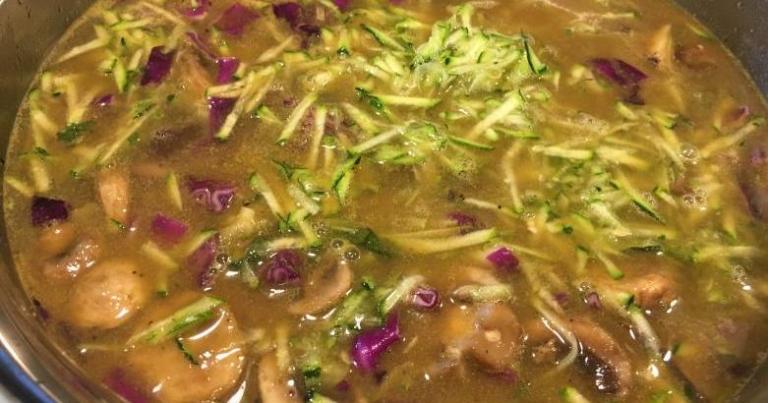 Third Step: Stew
4 cups prepared vegetable or mushroom stock
2 cups water
Add the stock and water, stir, lower heat to medium-low. Cover and allow to simmer for at least an hour if using barley, 30 minutes if using cauliflower rice. Taste the broth. Add more vinegar to brighten, or more Bragg's for more saltiness. Black pepper is a favorite of mine in heavier soups, but I add more to my own bowl, rather than blast the whole family.
I like to serve this stew with something fresh and bright like fruit – blackberries are another delicious purple food.  Add a crusty fresh bread for dipping. In the south, we use bread like a utensil to help us lap up every drop. Make sure to include a robust red wine, like a Cabernet Sauvignon, because wine is also a good "purple foods potion" and the tannin in the wine help to cut the fattiness of the stew.
As winter's dark blanket falls, may this meal sustain you and keep you warm for a long life to come.
~Heron