Christians are providing food & clean water, housing & transportation and much, much more.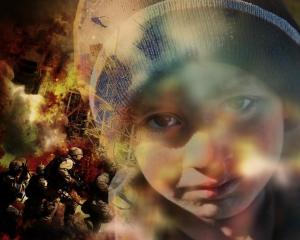 Christianity is a beautiful faith of love and salvation. It never shines more brightly than when followers of Christ reach out to others, as Christians in Ukraine and around the world are doing.
Some Christians in Ukraine are "facilitating rescues and feeding, housing and transporting refugees…. caring for wounded soldiers and seeking out the most vulnerable to make sure they are not forgotten," according to the National Christian Foundation.
"Others are sharing God's Word as comfort; providing clean water, sanitation and hygiene; offering medical assistance; (and) traveling alongside refugees until they reach safety."
What's Happening in Ukraine Right Now?
Ukrainians are in desperate need of help as the war continues.
Earlier this week, Russian missiles disrupted critical fuel and water supplies in some areas of Ukraine that are already battling harsh winter temperatures, according to CNN. Read article here.
"Kamikaze" drones attacks pose a new threat, as they rain down terror on civilians, the news organization added. Read article here.
And the tragedy extends beyond the borders of Ukraine, as Russian blockades prevent Ukraine from exporting grain to starving people in vulnerable areas such as East Africa, the International Rescue Committee reported. Learn more here.
The Brookings Institute painted a bleak picture of the situation saying:
Nearly one-third of Ukrainians have been left homeless.
More than 7 million have flooded Europe.
An additional 13 million are stranded in Ukraine because of fighting, impassable roads or lack of resources to move.
European countries are welcoming Ukrainian refugees, but "it has been challenging as refugee fatigue slowly emerges in Poland, Germany, the U.K. and elsewhere," Brookings said. Read blog here.
"As millions of Ukrainians flee their war-torn country, relief agencies and Christians from all over are responding to Europe's worse refugee crisis since World War II," according to The Gospel Coalition, a network of evangelical churches. Read more here.
How Are Christians Helping?
Christians in Ukraine have harnessed their resources to help the devastated people.
Episcopal: The Episcopal Church has created a fund to help Episcopal churches across Europe respond to refugees' immediate and long-term needs. Those needs vary, but food, shelter, emergency supplies and trauma counseling are priorities, according to Episcopal Relief & Development.
"We are taking steps to equip congregations to welcome these refugees and connect them to ongoing humanitarian initiatives," the organization said. "Your gift will help provide cash, blankets, hygiene supplies and other needed assistance to families from Ukraine," the organization said. Read more here.
Catholic: Catholics in the U.S. have made it possible for church organizations in Europe to provide homeless Ukrainians with food, shelter, medical care and spiritual support.
Through Catholic relief efforts, "Children who have been ripped from their homes as bombs fell are able to act like children again in the child-friendly spaces within shelters," the U.S. Conference of Catholic Bishops (USCCB) said. Catholics also have established school programs in some areas of Ukraine to prevent current traumas from becoming long-term disabilities.
"The USCCB Church in Central and Eastern Europe program is well-positioned to deliver aid where it is needed most because of the close connection to key partners on the ground," the bishops' organization said. Learn more here.
Baptist: Poland has accepted a large number of refugees, according to the European Baptist Federation. "Polish Baptists are actively responding to the crisis….Churches on the border have turned into shelters for people to temporarily stay."
Hungarian Baptist Aid and Hungarian churches, Romanian Baptist churches and even churches in Russia also are trying to help, the organization said. Most Ukrainian refugees have brought nothing with them and need food, clothing, hygiene products and other basics. Read more here.
Methodist: The United Methodist Committee on Relief (UMCOR) has provided grants to its ecumenical partners, non-governmental organizations and United Methodist churches in countries that surround Ukraine. These grants are providing direct aid to Ukrainians, whether they are still inside the war-torn country or have fled, UMCOR said.
"The United Methodist community in Ukraine, though quite small, is actively engaged in assisting neighbors in need," the church said. Support ranges from transportation, food and water to clothing, medicine, safe shelters, legal assistance, counseling and social support.
There also is an urgent need for medical supplies, support for winterizing and repairing homes and shelters, and help in removing explosives, UMCOR added. Click here and press "Ukraine Response / Learn More."
Churches of Christ: One of the biggest needs in Ukraine is money, according to The Christian Chronicle, a religious newspaper associated with the Churches of Christ. Churches of Christ in countries such as Poland, Romania, Slovakia, and Moldova set up shelters when Ukrainian refugees began to enter those countries.
The churches also are trying to provide financial for Ukrainians who remained in Ukraine. But sending money to them is quite difficult, the newspaper added.
In its post, "Ukraine Crisis: How to Help," The Christian Chronicle provided a list of ministries and congregations that are collecting funds to help in Ukraine. "Most of these entities have workers on the ground in Europe and Ukraine," the newspaper said. Read more here.
Latter-day Saints: The Church of Jesus Christ of Latter-day Saints (Mormon) noted on its website that the war has limited Ukrainians' access to basic items and specified rice, pasta, flour, baby food and canned, ready-cooked meals.
The Latter-day Saints organization has worked with the Ukrainian government "to deliver needed food items to provisioning centres and warehouses in the nearby countries of Poland and Romania." The government then used its established transport network to deliver the food.
One major obstacle has been the high cost of fuel and language differences, the website article said. "In a few cases all communication had to be accomplished through Google translate," said Daniel Garcia, who is a buyer in the church's European purchasing department. Find out more here.
Other
The Gospel Coalition's website provides information on several organizations that are accepting donations to assist Ukrainians. As always, you may want to research the groups before donating. Read more here.
Donations Still Needed
Some of the posts cited above are several months old. However, the war in Ukraine continues as of December 2022, and Ukrainians will need help for the foreseeable future.
Want to help? You may want to check out the websites listed above or contact other relief organizations such as the Red Cross. Again, check out organizations before you make a donation if you have questions or concerns.