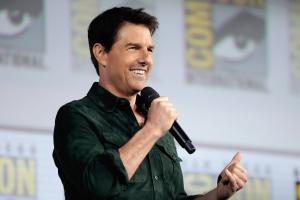 Tom Cruise speaks at the 2019 San Diego Comic Con International, for "Top Gun: Maverick" at the San Diego Convention Center (photo courtesy of Wikimedia/Gage Skidmore)
How Did the Actor Get Involved with Scientology & What's His Relationship with the Church Today?
(UPDATE: The Church of Scientology has objected to my original post, and I address those objections at the end of this article.)
Tom Cruise has been a Scientologist for 30 years, and he remains the celebrity face of the faith as of May 2023. "Although rumors pop up from time to time that he's leaving Scientology, it seems extremely unlike he ever will," says Reel Rundown, an online publication. We will get to possible reasons shortly.
In the meantime, let's look at Cruise's relationship with Scientology and the organization's beliefs, as well as answer one basic question: "Is Scientology actually a religion?"
The answer to that questions depends on which country you ask. Italy, South Africa and Australia say it is, while France says it's a cult and the German government considers it a threat, according to Reel Rundown. The U.S. agreed to classify Scientology as a religion in 1993 following a long battle between the church and the IRS, which ended in a settlement over the organization's tax-exempt status.
Tom Cruise's Introduction to Scientology
Actress Mimi Rogers introduced Cruise to Scientology when they were dating in the 1980s. He was a rising Hollywood star and a potential "prized golden child" for the organization. Scientology's founder, science fiction author L. Ron Hubbard, believed that celebrities like Cruise had star qualities that would attract young people with high aspirations to his organization.
Rogers was born into Scientology, as her father was friends with Hubbard and had a role in creating the new religion in the 1950s. Cruise and Rogers were married in the late 1980s and divorced in 1990. Did Rogers recruit Cruise? Maybe. Hubbard had created "Project Celebrity" to reward Scientology members who recruited famous people. He also made Hollywood his headquarters because he thought that celebrity was something Americans worshipped. He was probably right.
Besides Cruise, Scientologists may have also tried to recruit Elvis Presley, Michael Jackson, Will and Jada Smith and Brad Pitt among others. Elvis brushed aside efforts to draw him into the organization saying, "There's no way I'll ever get involved with that son-of-a-bitchin' group. All they want is my money," according to Reel Rundown. But Scientology did bring Lisa Marie and Priscilla Presley into the fold for a time.
Why Does Scientology Appeal to Tom Cruise?
In its post, Tom Cruise and Scientology: Separating Fact from Fiction, Reel Rundown notes that most religions treat members equally, but Scientology makes no secret of the fact that celebrities get preferential treatment. "It even has set up Celebrity Centres for 'artists, politicians, leaders of industry, sports figures and anyone with the power and vision to create a better world,'" the publication said.
It's not surprising that this treatment is attractive to stars such as Tom Cruise. But there's more.
"While Tom Cruise has clout in the movie business, it's paltry compared to what he enjoys within Scientology. In that bubble, he's treated like a demigod who – after thirty years of practice, study and huge amounts of fees – has achieved the status of Operating Thetan VII," Reel Rundown explains. Even Christ hasn't reached that level, according to Scientologists.
Thetan status is a lofty level, indeed. True believers think Cruise can leave his body whenever he wants, think inanimate objects into moving and control human and animal behavior.
Cruise also holds a high rank in Scientology's leadership structure. "Hubbard, although deceased, is still considered number one as the faithful await his return. David Miscavige, the current leader, is number two, and Cruise is number three," Reel Rundown reports.
Actress Leah Remini, a former Scientologist and long-time critic of the faith, has been quoted as saying, "Being critical of Tom Cruise is being critical of Scientology itself. You are a person who is anti the aims and goals of Scientology. You are evil."
Marrying Outside the Faith
Mimi Rogers was a Scientologist when she married the actor, but Cruise's second and third wives – Nicole Kidman and Katie Holmes – were raised Catholic. Why, you may wonder, would a devout Scientologist such as Tom Cruise marry outside his faith? The answer lies in L. Ron Hubbard's desire to recruit celebrities who would attract new members, including other celebrities.
"It's been widely reported that Scientology played a significant role in finding Cruise a third wife," Reel Rundown says. "His matchmakers vetted popular young actresses such as Scarlett Johansson and Jessica Alba for the job" before selecting Holmes.
And following his 2012 divorce from Holmes, Scientology reportedly played a major role in Cruise's dating life. According to Reel Rundown, two women he dated – namely Penelope Cruz and Sophia Vergara — may have been targeted in the hope that they would become Scientologists and share the religion in their homelands of Spain and Columbia, respectively.
Career Damage
Cruise no longer publicly discusses Scientology because of two major missteps that damaged his career. One occurred when he appeared on Oprah Winfrey's show in May 2005. While talking about his then-new love Katie Holmes, he jumped on Oprah's sofa and fell to his knees on the floor.
It's putting it mildly to say that his behavior didn't go over well with the public. Many people thought it was ridiculous for a 42-year-old, twice-divorced man to behave that way about a woman he barely knew.
The second misstep occurred a few weeks later when Cruise appeared on Today to promote his new film, War of the Worlds. In the course of the interview, he got off-topic and criticized Brooke Shields' use of medication for postpartum depression. He also slammed Ritalin, which he called a "street drug."
Cruise's comments reflected Scientology's decades-long battle with mental health professionals and psychiatric drugs. But his comments caused a major backlash among fans and the general public, as well as mental health professionals and probably the makers of those medicines.
They also hurt the actor's reputation in Hollywood, where Steven Spielberg was angered by the potential damage Cruise did to War of the Worlds, which Spielberg directed. It's probably no coincidence that the two men have not worked together since War of the Worlds.
At any rate, the two incidents did substantial damage to the actor's career.
Scientology's Beliefs
So much for Tom Cruise and his career. Having touched on Scientology's beliefs about psychiatry, let's look at the organization's other teachings.
Scientology's three basic belief are these:
Humans are immortal spiritual beings.
The human experience extends beyond a person's single lifetime.
People's capabilities are unlimited, although they may not be realized at present.
Other beliefs are outlined by Crosswalk, an online provider of news, educational articles and other Christian materials.
Survival: It's the primary principle of human existence. Things that maintain a person's survival are good, while things that hinder it are bad.
Engrams: Everyone has an analytical mind that usually makes the daily decisions necessary for survival, according to Scientology. But in times of stress, the reactive mind (possibly the subconscious) takes over and leaves lasting scars called "engrams."
Auditing: Scientologists can go through a process called "auditing" to get rid of the engrams and allow their analytical mind to regain control. During auditing, an auditor uses an electropsychometer – called an e-meter – to measure a small electric current running through the person's body. Scientologists say this device shows changes in the person's emotional state and identifies engrams. Agents of the U.S. Food and Drug Administration seized e-meters and church publications in 1963, claiming they were fraudulent. Ultimately, a federal appeals court ruled it couldn't, by law, decide this religious question. However, a district court decision in 1971 limited the use of e-meters to religious counseling and mandated warnings "that the devices had not been proven to cure diseases," according to John Vile, a U.S. constitutional scholar and author of numerous academic books and essays.
Thetans: Moving on, Scientologists believe that humans are immortal souls called "thetans," which "emerged early in creation, and through their interaction created the physical universe of matter, energy, space and time," per Crosswalk. Thetans became trapped in the physical universe and were stripped of their creativity and memories, according to Scientologists. The thetans can become "clear" once they purge the engrams from their previous lives, the church says. The purge allows them to reach higher moral and ethical standards, become more creative, gain more control over the environment and become less susceptible to disease. Clear thetans can then become "operating thetans."
Purification: Scientologists believe that all drugs are poison, a belief that prompted Tom Cruise to condemn Brooke Shields for taking medication for postpartum depression. Believers can remove the toxins by using a sauna, taking mega-vitamins and minerals, and living a healthier lifestyle.
Scientology acknowledges the existence of a supreme being, but leaves it to individual Scientologists to decide about God. The religion doesn't believe that Christ is divine, nor do they believe in the Holy Trinity.
It's difficult to go beyond these basic beliefs. Crosswalk states that "much of Scientology belief is secret and only available to higher tiers of Scientologists."
One of the "secret" beliefs may involve "the idea of an ancient intergalactic civilization in which millions of beings were destroyed and became what are known as 'body thetans,' which continue to latch onto humans and cause more trauma. Advanced Scientologists confront body thetans through more auditing," according to a CNN post, Scientology: What Exactly Is It.
Conflicting Beliefs
Scientology conflicts with Christianity in several major ways, as outlined by Crosswalk:
Christians glorify God above all else. Survival is the top priority for Scientologists.
Christians do not believe in reincarnation. Scientologists believe our souls or spirits occupy multiple bodies over many lifetimes.
Christians believe that we all fall short. Scientologists believe that people are basically good.
Christians believe we need a savior, which is Jesus Christ. Scientologists rely on themselves.
Christians put God before all else. Each individual Scientologist makes their own decisions about a supreme being.
All in all, it isn't difficult for a lifelong southern Protestant like me to conclude that L. Ron Hubbard, an author of science fiction, used his fertile imagination and an understanding of human nature to create Scientology. He made an excellent decision when he decided to headquarter his new religion in Hollywood – a place where reality takes a back seat, fantasies thrive.
Update:
Church of Scientology Objections to My Post & My Responses
The Church of Scientology has responded to this article and asked me to share their objections with readers. The email from the church is rather long, and I will not include all of it here. What I will do is give you the essence of the church's complaints and my responses to them. I will, however, share the entire message with anyone who's interested in reading it.
I try to be a thorough researcher whenever I write anything, and I did a significant amount of research in order to write the above article. Most of what I discovered was not included in the article because it had nothing to do with the purpose of the post.
In the meantime, let's look at the Church of Scientology's objections and my responses and sources….
Scientology's Objection #1: "The article gives the false impression that Scientology conflicts with other religions. The Church of Scientology is a strong proponent of religious freedom for all religions. We have a long history of fighting for religious freedom – both domestically and internationally – and work with representatives of many religions to support and encourage interreligious dialogue, constitutional law and respect for religion in society…."
My response: Scientology may have no problem with other churches or religions, but several leading Christian denominations and organizations have major problems with Scientology.
The Church of Scientology apparently looks at the issue from the standpoint of religious freedom, while the Christian websites that I reviewed looked at it from the viewpoint of belief systems. Yes, Scientologists enjoy freedom of religion in countries such as the U.S., but that doesn't mean that Christian churches and their members embrace Scientology, especially when its beliefs conflict with their churches' teachings. In my opinion, it's like comparing apples to oranges.
At any rate, I did extensive research on Scientology before writing my original article. If you read any of the websites mentioned below, you will note that I didn't use their anti-Scientology rhetoric, which I might have done if my purpose was to attack Scientology. But my only purpose in writing the article was to talk about Tom Cruise's association with the church, the current status of his membership and Scientology's beliefs. I tried to keep my beliefs about Scientology to myself.
My research included the following sources:
Scientology's Objection #2: The Church of Scientology objected to my statement about Germany considering Scientology "a threat to democracy," which was a direct quote from Reel Run. The church said that German courts have rendered some 50 decisions that give Scientologists "the protection of freedom of religion" guaranteed by the German constitution.
My response: Again, the Church of Scientology emphasizes the court decisions that provide freedom of religion in Germany, rather than people's perceptions. Those two issues are different.
Yes, the court decisions in Germany have given Scientologists religious freedom in that country, but the decisions don't necessarily reflect the opinions of people in the German government or the general population, for that matter.
My sources included the following:
Scientology and Germany included a section called Scientology Propaganda Against Germany on the Carnegie Mellon University's website. Read that post here.
Another Carnegie Mellon University post, Official German Responses to Scientology, is available for reading here.
German Court Rulings on Scientology is available to read by clicking here.
Read Tom Cruise and Scientology: Separating Fact from Fiction on the Reel Rundown website, which I referenced in my article, here.
Scientology's Objection #3: The church said my statement about the U.S. government being reluctant to classify Scientology as a religion in 1993 following a court decision on the organization's tax-exempt status as "blatantly false."
My response: The Los Angeles Times, the New York Times, Forbes and Carnegie Mellon University have posts about the lengthy legal battles and controversies that existed between the Internal Revenue Service and the Church of Scientology. The IRS suddenly reversed a decades-long battle over giving Scientology tax-exempt status in 1993, and those websites reported the news and/or questioned the IRS's motivation.
Given my research on the court proceedings, I concluded that the IRS was not enthusiastic about giving Scientology tax-exempt status, and I labeled it "reluctant." Let me note that the church's tax-exempt status is again in the news.
You also may check out some of my other sources, below:
Read a series of articles on Scientology that the LA Times ran in 1990 here.
The New York Times article ran an opinion piece, which you may read here.
Two articles on the Forbes website are available to read below. See Scientology Ruthlessly Harassed Reporters (Including Me) for Decades here and an older article, IRS and Scientology – Everything You Want to Know and More here.
And finally, the Carnegie Mellon University website features a post. "Scientology versus the IRS here.
Scientology's Objection #4: Finally, the church objected to my statement that the founder of Scientology, L. Ron Hubbard, had two major goals in creating the church: to spread his new faith and to make money. They said the latter statement was proven false by Hubbard's long-time humanitarian efforts, saying he addressed "moral decay, violence, illiteracy and drugs" worldwide.
My Response: My source was a post on Business Insider, which you may read by clicking here. here. The Church of Scientology flatly denied that Hubbard made statement, and I deleted it from my original post.
So, this is how my light-hearted article on Tom Cruise became a bigger deal than I expected.
(My post is also available on my Facebook page.)