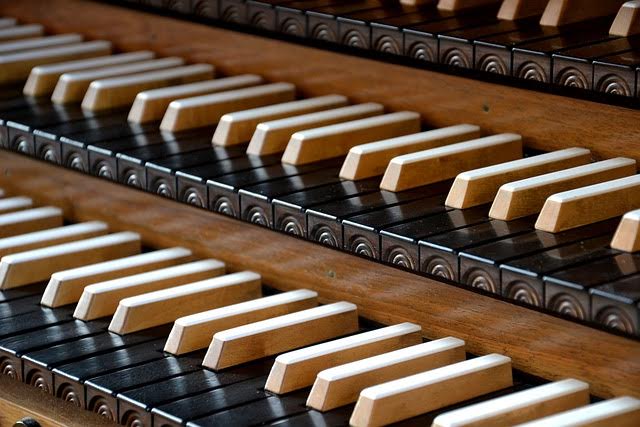 Ahhhh….classical music….People tend to love it or hate it, and I love it. Since September is Classical Music Month, I decided there's no better time to write about three great pieces of classical Christian music and the composers who wrote them.
Those pieces are Johann Sebastian Bach's "St. Matthew Passion": Click here for the Netherlands Bach Society's performance;
Frideric Handel's "Messiah": Listen to the Royal Choral Society perform the "Hallelujah Chorus," which reportedly brought a king to his feet, here;
And finally, "Ave Maria" by Charles Gounod and Bach, which took nearly a century to complete. (I'll answer the obvious question, "Why?" shortly.) In the meantime, listen to the incomparable Luciano Pavarotti perform it here.
Before you stop reading at the mere thought of "classical Christian music," know that in their time, these "superstar" composers mesmerized audiences with their music. And they still do.
My Musical "Expertise"
Before we delve into the music, let me confess that I'm neither a professional musician nor a music expert in any sense of the word. I'm simply a person who has loved classical music since early childhood.
My piano lessons began at age five or six, and I put them to good use as a church pianist for 20 years. I no longer play very often because of an accident that damaged two fingers, but I still enjoy various types of music.
When I was quite young, I attended a presentation of Handel's "Messiah" in which a second cousin sang the lead tenor's part. As my mother, grandmother and I listened from the balcony, I remember standing against the railing, entranced.
A little later, I discovered conductor and composer Leonard Bernstein's "Young People's Concerts" with the New York Philharmonic on television. I was hooked.
The music touched something deep within me, and as I grew older, classical music continued to touch my soul as no other music has.
But enough about me. Let's get back to the music that captures the hearts of audiences several hundred years after it was written.
Bach, First & Foremost
When we talk about classical music – especially classical Christian music — we must name Johann Sebastian Bach first and foremost. (Listen to "Bach: Top 30 Best Pieces" by clicking here.
An unnamed listener of this music had this to say: "I've never listened to Bach or anything classical before. I've been doing a Bible study on music, origins, and genre and I was put on to listen to Mr. Bach. All I can say is wow, I've been missing out on something so brilliant. I just can't explain it…. All glory to Christ, man!"
Another commented: "Every Bach composition is a masterpiece. I did music theory for my undergrad. I can honestly say there is not one piece of music that man wrote that isn't great."
And a musician quoted one of his professors as saying, "'Bach is the god of music.' She was right.'"
Why Does Bach Matter Now?
Bach was an 18th century German music master who wrote exquisitely complex melodies that take listeners into the deepest valleys and then soaring into the heavens with angels. At times, you feel as if you're in God's presence.
Some experts doubt there would even be classical music as we know it were it not for Bach. Many experts consider him to be the greatest composer who ever lived.
So, who was he? An orphan by age 10, Bach went to live with his brother, Johann Christoph, who introduced him to the keyboard. The younger Bach excelled and became a choirboy at St. Michael's Church in Luneburg in 1700.
"Bach was a master of virtually every musical form of his day," according to The Atlas Society. "He mastered the church organ and the scoring and presentation of German church chorales. We see this in the able and often brilliant chorale-based cantatas he churned out weekly over several years during his tenure in Leipzig."
If you listen to his chorales, keep in mind that he produced many of them within a week's time, with the next Sunday's church service being his deadline.
He also mastered single-melody music that's standard today, as well as music in which two or more melodies intertwine. Listen to today's popular music and you will hear modern-day musicians incorporating the same.
"To be a great composer today would mean to master the techniques of making music, as Bach mastered the techniques of his day, and use them as the springboard to create art that is fresh and true – and that is not ashamed of being intelligible or enjoyable."
The key words are "fresh and true."
What Is the "St. Matthew Passion"?
Bach's "St. Matthew Passion" tells the story of Christ's last days on earth focusing on the last supper, Christ's betrayal by Judas and the trial and crucifixion. As the Netherlands Bach Society explains, the piece was a complex intertwining of melodies and lyrics from the Lutheran hymnal where Bach was the choirmaster.
The lyrics were sung as a dialogue between one group representing Jerusalem and another representing the so-called faithful souls. "Bach reinforces the dialogue effect by having two separate ensembles of singers and instrumentalists, which he refers to as coro I and coro II….
"The first choir is part of the story and provides the most important emotional reactions….The second choir asks questions, provides commentary and draws conclusions."
"St. Matthew Passion" is a staple of Easter services in many parts of the Christian world.
NPR says, "Bach's 'Passion' continues to move audiences nearly three centuries after it was first heard in St. Thomas's Church in Leipzig, Germany. Standing as one of the pillars of Western sacred music, it is at once monumental and intimate, deeply sorrowful and powerful."
Well said!
What about Handel's "Messiah"
Frideric Handel wrote another masterpiece of classical Christian music called simply "Messiah." It was first performed in Dublin, Ireland, and traces Christ's story on earth.
The Smithsonian tells us, "It burst onto the stage of Musick Hall in Dublin on April 13, 1742. The audience swelled to a record 700, as ladies had heeded pleas by management to wear dresses 'without hoops' in order to make 'Room for more company.'
"Handel's superstar status was not the only draw; many also came to glimpse the contralto, Susannah Cibber, then embroiled in a scandalous divorce.
"The men and women in attendance sat mesmerized from the moment the tenor followed the mournful string overture with his piercing opening line: 'Comfort ye, comfort ye my people, saith your God….'"
"Messiah" is divided into three sections: The nativity story, the crucifixion and redemption of humankind, and Christians' victory over death.
It has become a staple of the Christmas season, as concert halls throughout the U.S. and Great Britain mount presentations of the piece every year. However, it's also appropriate for Easter.
So, Who Was Frideric Handel?
A "superstar" in the 18th century music world, Frideric Handel was born in 1685, the same year as Bach. And like Bach, he was German.
The famed 19th century British conductor Sir Thomas Beecham proclaimed that Handel "wrote Italian music better than any Italian, French music better than any Frenchman, English music better than any Englishman, and with the exception of Bach, outrivaled all other Germans."
Classic FM, the so-called "home of classical music in the UK," suggests that Handel was quite a character. "He was a brilliant all-rounder, who injected more life and energy into his music than any composer before."
"Messiah" is a prime example.
Handel's father didn't allow him to play music in the home, but his mother stashed a clavichord in the attic for him to use. (Clavichords are small stringed keyboard instruments.) Because of his father's objections to music, the young Handel studied law for a year before thankfully returning to his first love.
What Made Handel a Superstar?
"Handel's robust personality and generous physique were as renowned as his music. His delight in intrigue and gossip was matched only by his insatiable appetite for food and liquor," Classic FM says in its article "Why We Love Handel"
He rose to fame because of his organ concertos, operas and oratorios and made such an impact in England that Queen Anne gave him an allowance for life.
In leaving behind modern-day Germany, Handel left behind his employer, Georg Ludwig of Hanover, who became King George I of England when the childless Queen Anne died.
I'm not sure whether the royal connection helped Handel given the fact that he left the future king's employ rather abruptly.
"Handel reveled in back-room intrigue. He regularly became embroiled in battles with temperamental directors and singers, especially when rival sopranos started mauling each other during a performance," according to Classic FM.
His antics sound like something modern musicians do.
What about Handel's Masterpiece: "Messiah"?
His master work is, of course, "Messiah," an English-language oratorio that was written at a time when Italian, German and French were the languages of classical music.
Lyricist Charles Jennens, a friend of Handel's, took the words straight from the Old and New Testaments and delivered his work to Handel, who put it on a shelf for some 18 months.
When Handel finally set the words to music, he worked feverishly for a three-week period in 1741 to produce the 2½ – 3-hour master work. During that time, he barely stopped to eat or sleep.
"When he got to the 'Hallelujah Chorus,' his assistant found him in tears, saying, 'I think I did see Heaven open, and the very face of God,'" according to Haven Today, whose mission is to spread Christ's word.
If you have never attended a performance of "Messiah," you may be surprised to see everyone stand up for "Hallelujah Chorus." The tradition reportedly began when "Messiah" was first performed in London and King George II rose in reverence. The audience then stood with him – as one tends to do in the presence of kings. And the great composer Ludwig Beethoven called Handel "the greatest composer who ever lived."
Handel saw "Messiah" as an Easter piece, and it was originally performed during Lent. The Victorians moved performances to Christmas to revive that neglected holiday. Given its theme of Christ's life, either holiday is an appropriate time for performances.
How Did Gounod Collaborate with Bach?
Now, we come to "Ave Maria" by Charles Gounod, a 19th-century French composer, and Johann Sebastian Bach, the great 18th-century music master.
Gounod, who was born in Paris, is best known for his operas, particularly "Faust." But he also wrote a beautiful version of "Ave Maria" in collaboration, so to speak, with the long-dead Bach.
The French composer received his early musical training from his mother, a skilled pianist, and was educated at the Lycee Saint-Louis.
He served as the organist and choirmaster at the Church of the Missions Etrangeres and studied theology for two years. He then entered a seminary, but ultimately decided not to take the holy orders.
At this point, the composer turned to writing operas, which were quite popular at the time. Two of his works, "Sapho" in 1851 and "La Nonne sanglante," or "The Bloody Nun" in 1854, received lukewarm receptions. This led Gounod to try comic opera, which is light opera with happy endings.
However, his greatest work – "Faust" – is full-on opera in five acts. It tells the story of a scholar named Faust, who has reached old age without accomplishing much. He makes a deal with the devil, who disguises himself as a wealthy gentleman, and regains his youth in exchange for his soul.
As his younger self, Faust finds the road to power and wealth seductive, but finally "realizes his salvation is tragically bound to others…." says The Kennedy Center.
How Did Gounod's "Ave Maria" Come About?
Despite the more famous "Faust," it's Gounod's lovely "Ave Maria" that interests me. It doesn't come near the scope of Bach's "St. Matthew Passion" or Handel's "Messiah," but it's beautiful, nonetheless.
Bach's 1772 piece, "The Well-Tempered Clavier," became the basis of Gounod's work. The latter considered Bach to be the "master of masters," according to Britannica. During an evening with friends, Gounod improvised a melody over Bach's piece, and one friend urged him to play it again and then put pen to paper.
Gounod published the piece in 1853 under the title "Meditation on the First Prelude of Sebastian Bach," which was a mouthful to say the least. This version had no lyrics, but Gounod added words from a poem in 1859. He was encouraged to change the lyrics and chose a popular prayer called "Ave Maria," or "Hail Mary."
It was an insignificant piece of music to Gounod compared to "Faust," and he neglected to mention it in his autobiography.
However, its popularity grew as people began to include it in weddings, masses and funerals, and by the 20th century, legendary opera singers such as Luciano Pavarotti were performing it.
Gounod's version of "Ave Maria" is now acclaimed, though some people still criticize the composer "for defaming a classic by adding unbridled sentimentality," Britannica notes.
But Gounod recognized Bach's greatness. "If the works of the Grand Master of Music like Mozart, Haydn, and Beethoven were annihilated by a sudden cataclysm, we can still fill the void," the composer once said. "It would be easy to refurbish Bach's music. In the vast sky of art, Bach is the mist yet to be condensed."
To hear "The Well-Tempered Clavier," click here and for "Ave Maria" by Gounod and Bach here. And read another perspective on sacred music in the Patheos post, "Does Sacred Music Need Words?" here.
My Musings
As I finish this post, I listen to Pavarotti sing "Ave Maria" and thank God for giving this singer and these composers the talent to create beautiful Christian music that reaches into my soul. The world would be a lesser place without them.