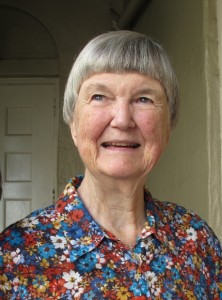 What is prayer anyway? I haven't a clue. These days, when I go to pray, I often find I haven't a thing to say to God.
Every tradition I've observed over the years as a religion writer and reporter recommends — insists upon — prayer. Yet right now I don't know how to do it. I don't even know why to do it.
That's why I found my conversations with Sister Barbara Hazzard of Oakland, California, so compelling. Sister Barbara has had a lot of experience with prayer. She's the Benedictine monastic who founded the pioneering Hesed, an urban, non-resident community in Oakland that teaches and practices Christian meditation in the Benedictine tradition of John Main.
Here's what Sister Barbara had to say about prayer during our interviews for my book, Wrestling with God: Stories of Doubt and Faith, just released by Patheos Press:
Meditation, sitting in silence, is a prayer of faith. You totally let go of being in charge, which is different from what most prayer is about, because as long as we use words, we are in control.

Most of us as Christians have been trained that prayer is talking to God. We feel the responsibility to do something, to be active when we pray, but in meditation, you enter it with the idea that you will let the Spirit transform you. You don't talk, you listen.
You don't talk. You listen. What a thought. Does that mean I don't have to start the conversation, or even hold up my end of it? That I don't have to be ready to impress God with something smart/enlightened/pious to say?
Could it be, as Sister Barbara suggests, that it's enough to just be open to the Divine Presence? For my wordy, talky, intellectualizing self – is it possible that just listening, just being there, could be enlightening?
Or, since I'm a person who takes everything, including myself, so, so seriously — lightening?
I'd like to hear what you have to say. What is prayer anyway? Do you do it? Why? How do you pray? With words? Or, like Sister Barbara, by just being there?
© 2015 Barbara Falconer Newhall
Barbara Falconer Newhall is a veteran newspaper journalist whose stint as the religion beat reporter on the Contra Costa Times in the San Francisco Bay Area inspired her newly released interfaith book, Wrestling with God: Stories of Doubt and Faith. A version of this essay first appeared on BarbaraFalconerNewhall.com.