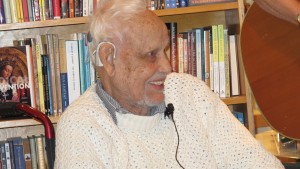 By Barbara Falconer Newhall
Huston Smith was well into his 90s. His mind was sharp. His last books, though slender, were inspired. But his hearing was going, and he had taken to a wheelchair. Finally on December 30, at the age of 97, Huston Smith left his millions of fans and readers behind.
I'm just one of the countless believers, seekers and skeptics who admired — loved — this wise and compassionate man. Huston Smith didn't know it, but he's been my mentor for the past two decades — ever since I took a job as religion reporter at the Contra Costa Times in Walnut Creek, California.
The religion beat has a steep learning curve, so when I discovered Smith's authoritative book, "The World's Religions," it quickly became my bible. It has remained so all these years.
Reading Between Huston Smith's Lines
Studying Smith's book, I often found myself trying to read between the lines — who was this man who spoke so fluently of Islam and Judaism, Hinduism and Taoism? What did he personally think of the many disparate religions he studied? Was he still a Christian? Did he ever practice any of the religions he studied?
I finally got some answers to my questions when an autobiography, "Tales of Wonder: Adventures Chasing the Divine," written with Jeffery Paine, was brought out by HarperOne in 2009.
In a chapter entitled "My Three Other Religions" Smith revealed that he "never met a religion I did not like." Indeed, he practiced Hinduism unconditionally for ten years, followed by ten years of Buddhism, and ten years of Islam — all this without ever forsaking the Christianity of his missionary parents.
He was not following a checklist, Smith writes. He simply found these wisdom traditions, each in its turn, fitting.
And, "the proper response to a major spiritual tradition, if you can truly see it, may be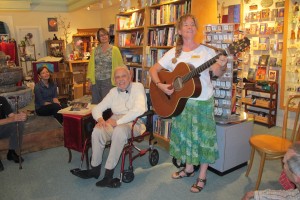 to practice it. With each new religion I entered into, I descended (or ascended?) into hidden layers within myself that, until then, I had not known were even there."
"The World's Religions" was first published in 1958 under the title "The Religions of Man." It was given its gender-neutral title in 1991. Over the years, the two editions have sold some 3 million copies.
During his long academic career, Smith taught at the University of Chicago, University of Denver, Washington University in St. Louis, MIT, and most recently at the University of California, Berkeley.
Good-bye, Dear Reader
"Tales of Wonder" was published when Smith was 90 and living in an assisted living facility in Berkeley, not far from the house in the hills he had shared with Kendra, his wife of 65 years. In it he reports that he'd finally found a mantra that suits him. He repeats it under his breath in the bathroom and in the assisted living elevator.
It's "God, you are so good to me."
After a lifetime of studying and teaching, investigating and deliberating, how simple it has finally become, he writes. "I have forgotten more about the various religions than I knew in the first place. All that is left of my study of them is . . . me."
But for me, as Huston Smith's anonymous mentee, the most wrenching words in this book are in the epilogue:
"Soon it will be time to say good-bye," Smith writes. "Good-bye to you, dear reader . . . Although we never met in person, you were like a friend, the thought of whom spurred me to my best efforts."
Those last words brought me to tears.
© 2017 Barbara Falconer Newhall. All rights reserved.
If you enjoyed this post, you might want to read "Where Islam and Christianity Meet — and Clash."  More about Huston Smith at "Huston Smith: 'Be Happy'" 
For a really interesting read, check out my religion reporter colleague Don Lattin's book, "The Harvard Psychedelic Club: How Timothy Leary, Ram Dass, Huston Smith, and Andrew Weil Killed the Fifties and Ushered in a New Age for America."