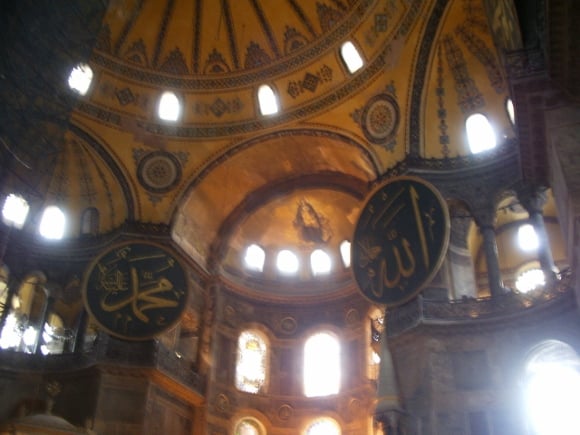 Note: I wrote this post a few years ago after a trip to Turkey and the Greek Isles, where religious strife has long been a part of history — between Christian and Jew, Jew and Muslim — and even Christian and Christian. Since its founding, America has been a place of religious pluralism, a place that strives for religious acceptance and understanding. It isn't always easy, as this post exemplifies. It's something Americans have to work at. And, I believe, most of us do.
As a Christian who was born, grew up and has lived her entire life in the United States — a mostly Christian country, despite its religious pluralism — I've understood religious oppression only intellectually all these years. I've never experienced first-hand how it feels to have one's faith and its most cherished symbols obliterated by a colonizing force.
Until, that is, I stepped inside Instanbul's Hagia Sophia — where Christians, and later Muslims, have worshipped for centuries. Make no mistake, this is not a rant against Islam or Muslims. As a religion writer, I've got plenty of respect for Islam as well as for the many (friendly, smart, lovable, cool, inspiring) Muslims I've met on the religion beat over the years. So, trust me.
It's about how it feels to have one's culture and faith subsumed by someone else's culture and faith. I am fully aware that Western Christians have done their share of imposing their culture, technology and religion on the peoples they have conquered or overwhelmed. I know, just for starters, all about how the Parthenon, a temple built to honor the Pagan goddess Athena, was taken over and turned into a church dedicated to the Virgin Mary.
I got a first-hand feeling for how those long-ago Pagans might have felt when I entered the magnificent Hagia Sofia for the first time during a trip to Istanbul a few years ago. Completed in 537 by order of the Emperor Justinian, this glorious Byzantine basilica was the focal point of Eastern Orthodox Christianity for nearly a millennium.
The Hagia Sophia's status as a Christian church came to an abrupt end, however, when the Ottoman Turks conquered Constantinople in 1453 and converted the basilica into a mosque soon after.
Today the few remaining signs of Christianity – mosaics of Jesus, the Virgin Mary and Saint John Chrysostom, for example – were nearly invisible. Not at all invisible, however, were eight huge round black disks, each one nearly 25 feet across and each one emblazoned with — to me unintelligible — Arabic calligraphy.
Constructed of wood and leather, the disks were conspicuously placed, high on the columns supporting the basilica's massive dome. The disks – also known as medallions or roundels — felt like giant, flashy billboards for Islam. I've got God on my side and you don't, they seemed to argue. It didn't help that, when I climbed to the upstairs balconies and stood behind the disks, I could see their crude wooden backs.
To my Muslim friends no doubt the calligraphy on those medallions would feel holy and beautiful. The inscriptions represent, after all, the names of Allah, Muhammad (Peace be upon him), Islam's first four caliphs, and Muhammad's two grandsons.
But as a Christian standing in what had once been a magnificent church, I could not feel the holiness of those huge disks. I felt bullied by them. It's been hundreds of years since the Hagia Sofia was seized and turned into a mosque, but on that day a few years ago, I felt the desecration like it had happened yesterday.
The Hagia Sophia is a museum now, and I hear there's a campaign afoot to restore the basilica as a Christian church. Part of me would love to see those eight in-your-face disks go away. But another part of me knows better. Just as Jerusalem has become a holy spot for Christians, Muslims and Baha'is as well as Jews. So has the Hagia Sophia come to belong to Muslims as well as to Christians.
Back home now, sitting here in my writing room, I study my photos of the offending medallions. I hunt down more pictures of them on line. I ponder their elegant, swooping lines. I open my mind – I try to – to the beauty of the calligraphy.
And after a while I see that, yes, indeed, they are beautiful. Like the Christian icons that preceded them, I find the boldface disks with the strange writing on them to be windows into the sacred.
Soon I am scouring the Web for more photos. My eyes follow and are amazed by their complex, mysterious lines. I wonder, the next time I enter the Hagia Sophia, will I feel oppressed by those medallions – or touched? I honestly don't know.
A version of this essay first appeared BarbaraFalconerNewhall.com where Barbara riffs on life, family, books, writing, and her rocky spiritual journey. Her prize-winning interfaith book from Patheos Books, "Wrestling with God: Stories of Doubt and Faith," retells the faith journeys of a score of Americans — Christians, Jews, Muslims, and Hindus, as well as a Buddhist, an atheist and a Witch. In her book, Barbara strives for diversity of every sort: she made sure she included a fundamentalist Christian as well as a progressive Muslim.