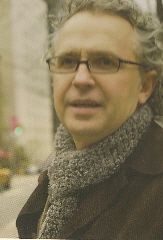 By Barbara Falconer Newhall
Samir Selmanovic grew up atheist. His family, like so many Croatian intellectuals living in Zagreb in the former Yugoslavia, was comfortably atheist. But Selmanovic's life took a different turn during his time as a young soldier in the Yugoslav army. He became religious — a Christian.
His family, his father in particular, was so shaken by the news that they decided he needed psychotherapy. "They hired top psychiatrists to talk to me," Selmanovic told a gathering of the Religion Newswriters Association. When that didn't work, "they rang up all of my girlfriends. They came and tried to convince me." That didn't work either.
The family was atheist, but it was also nominally Muslim, which meant that, "between the two evils – Christianity and Islam – Islam was the lesser evil." As a last resort, the family contacted an imam.
When the imam arrived at the Selmanovic home, the young Samir, fresh from his military service, expected a tongue-lashing, or at the very least, a lecture.
Instead, the imam proved "an open-minded, kind, soft man." He put his hand on Selmanovic's shoulder and said, "I'm glad you're a believer."
Then, to the elder Selmanovics the imam said, "There is no problem with your son."
That gentle imam had nothing to gain in standing by a new, young convert to Christianity, Selmanovic said. "He was a Christ figure in my life."
Thanks in part to the Muslim imam, Selmanovic persisted in his faith journey, despite years of painful shunning by family and friends. Eventually he migrated to the United States, studied religious education at Andrews University in Michigan, and became an ordained pastor of the Seventh-day Adventist Church.
He went on to found Wisdom Workroom, a leadership coaching and consulting firm in New York City, and to become the Executive Director of Faith House Manhattan, an interfaith community that brings together Christians, Jews, Muslims and atheists.
Selmanovic's personal story is compelling. But the theology that grew from his experience as an atheist, a Muslim and finally a Christian, combined with his friendships with Jews, has convinced him that people of all faith traditions – along with atheists – need to open themselves up and experience God in each other.
We need one other, Selmanovic said. And that need should be at the center of our religious feeling. Indeed, he asserts that giving is overrated in religion: Too many religionists take an attitude of imperialist privilege: "I have God, and I'm going to give it to you."
Instead we – Christians, Jews, Muslims, Hindus, Buddhist, atheists – might concentrate on doing less giving and more receiving, Selmanovic said. Because "it's when you are in need of the other that you are in God's presence."
If you enjoyed this story, you might like "The Atheists Are Coming — Out of a Closet Near You." Also, "Americans Are More Thoughtful About Religion Than We Think."