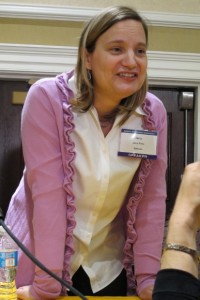 If you're a writer hoping to have a prayer of selling your book — to agents, publishers, readers, and even to loyal friends and family — you know about the elevator pitch, a few words you can use to sum up your book in the time it takes an elevator to get you from the lobby to the third floor. Fifth floor max.
I never did cook up a decent elevator pitch for my newly released book, Wrestling with God: Stories of Doubt and Faith. I was too darned close to my subject. And there were too many subjects in it — the Jewish mortician, the pretty Witch, the Catholic teaching sister turned monastic, the Hindu guru who hugs her devotees.
What I couldn't do for myself and for my multi-themed, interfaith book, my religion writer colleague Jana Riess has pulled off nicely. Here's how Jana sums up my book in an endorsement she wrote for Wrestling with God. (And yes, you could deliver this pitch before the elevator doors open on the third floor. I timed it.)
In a score of in-depth interviews with people from all walks of life—right and left, atheist and Christian, young and old—journalist Barbara Falconer Newhall incisively shows where these individuals find ultimate meaning. Some have had dramatic encounters with God while others discover the transcendent in personal relationships or the beauty of the earth. All, however, give thoughtful voice to the deepest questions of human life. — Jana Riess, author of Flunking Sainthood and The Twible
Wrestling with God has just been released by Patheos Press in paperback and as an a Kindle and Nook ebook. It's available wherever books are sold. I hope you'll take a closer look at it at your favorite on-line bookseller, at IndieBound.org, or on your local bookstore's website.
Formerly a reporter for the San Francisco Chronicle, the Oakland Tribune and the Contra Costa Times, Barbara Falconer Newhall posts weekly for the Patheos Spirituality channel. Wrestling with God is her first book.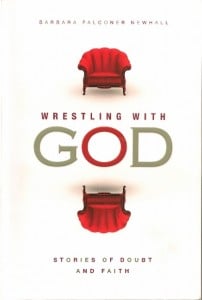 Wrestling with God: Stories of Doubt and Faith, by Barbara Falconer Newhall, Patheos Press, 2015, $14.99 paper, $7.99 ebook.