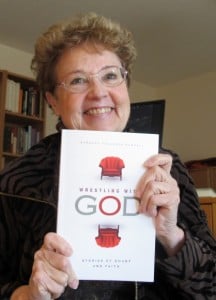 Writing Wrestling with God: Stories of Doubt and Faith was fun. Getting the book ready for publication has been almost as fun. (If you haven't seen the book yet, visit WrestlingWithGodBook.com to learn more.)
We writers hate to leave our garrets. Some people would rather be fishing, or playing tennis, or hiking the Pacific Coast Trail under a withering sun. But some of us would truly rather be at our desks, rubbing words together, looking for sparks.
Some parts of the process of getting the book from my computer and into your hands have been a pleasure. One of those has been working out a cover design with the talented, very professional Michelle Lenger — who happens to live a stone's throw from my favorite place on earth, Lake Michigan.
Michelle and I did a lot of emailing back and forth last summer. We chatted about designs, colors, what we thought would show up best on a book shelf or on the website of an e-tailer, and I got a lot of pleasure out of imagining Michelle working away on the cover design for a book I'd written within breathing distance of good, old Lake Michigan, my home spot.
Just so you know, Lake Michigan is a character in "Wrestling with God," along with the Christian, Jewish, Muslim, Hindu, Buddhist, Native American, atheist and Wiccan folks who told me their stories.
I suspect that those of you who have ever spread a beach towel out on the shores of the inimitable Lake Michigan will enjoy the story of the adolescent me sprawled out on the sand, dreaming of God.
And those of you who love Lake Michigan will understand why the dream happened there, in that spot.
Now's the time to order your copy — copies? — of "Wrestling with God." It's there, waiting for you at WrestlingWithGodBook.com