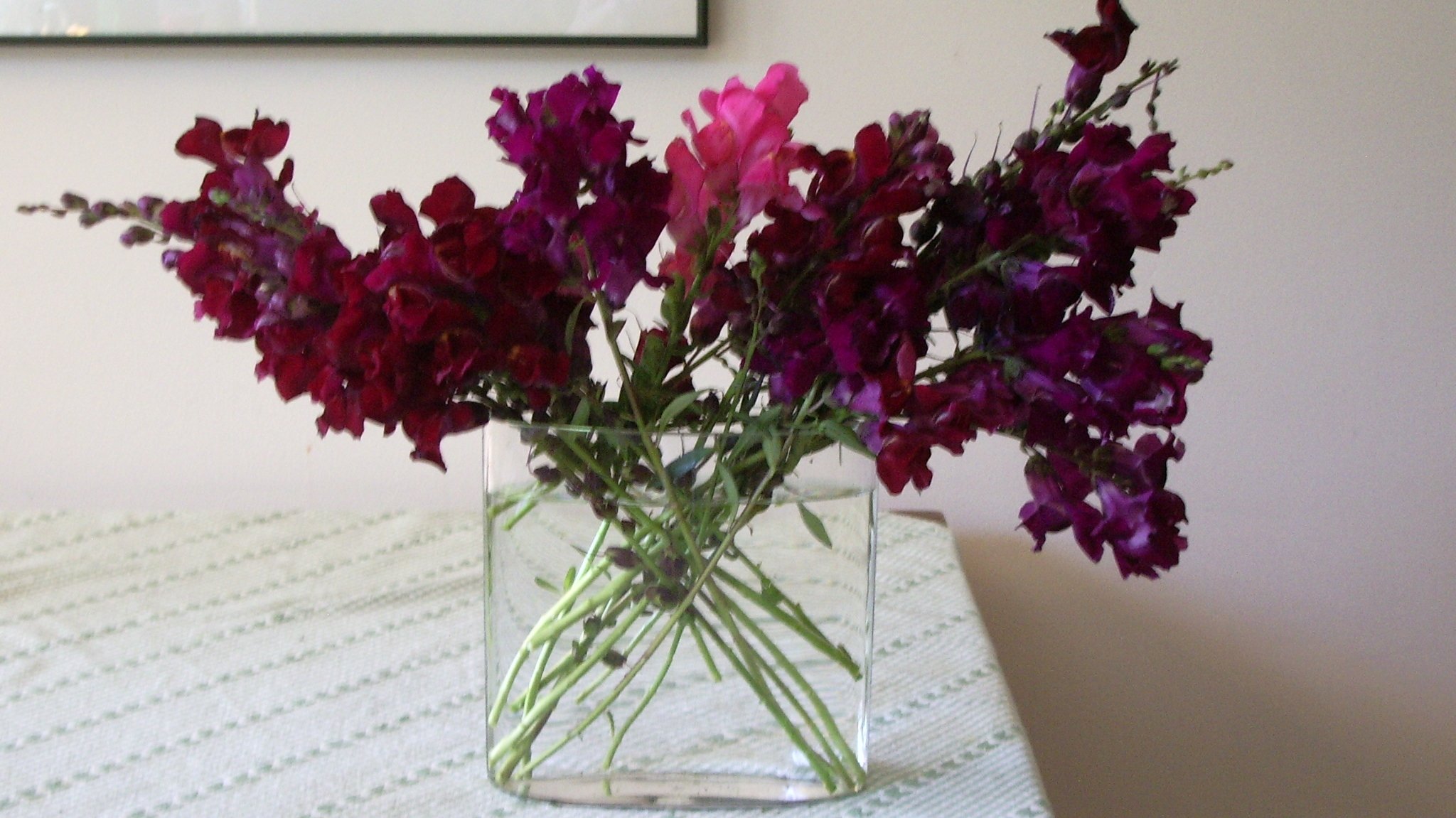 By Barbara Falconer Newhall
It was done. Those ugly, maroon snapdragons had been banished from our front yard, despite their hearty will to live. I'd pulled them up by the roots, and my rock garden was the better for it. But what to do with the blossoms? I could have taken the flowers over to my 92-year-old mother's assisted living apartment — except she didn't like maroon any more than I did.
I couldn't bear the sight of the plants languishing, roots, dirt and all, where I'd tossed them on the garden steps. And I couldn't bring myself to put them in the compost bin to rot. They were trying so hard to live, to be the velvety, deeply colored snapdragons they were destined to be. And so, much as I disliked their gloomy, blood-red coloring, I invited them into the house for their final days.
Too Rich, Too Thin
I clipped the flowers from their roots and searched my cupboards for something to put them in. I tried one vase, then another, and another. None of them did the doomed blossoms justice.
Jackie O used to say that a woman can't be too rich or too thin. I say that a woman can't be too rich, too thin, or have too many vases. I put the blossoms into vase after vase from my collection, which takes up an entire shelf in our broom closet, until I finally located a narrow glass affair that I thought might show off the snapdragons' stems. Bingo. Blossoms, stems and leaves arranged themselves artfully in their final container.
They lasted a long time, those snapdragons. It took a week or so for them to die. They spent their last days leaning this way and that from that glass vase, as if reaching for something.
That was several summers ago. Those snapdragons are long gone. And so is my mother.
If you enjoyed this post, you might like "Nicheless — Where Do I Fit In as a Writer? As a Believer?" Also "Leap Year 1976 — The Day I Popped the Question." Learn more about Barbara and her book, "Wrestling with God," at WrestlingWithGodBook.com.