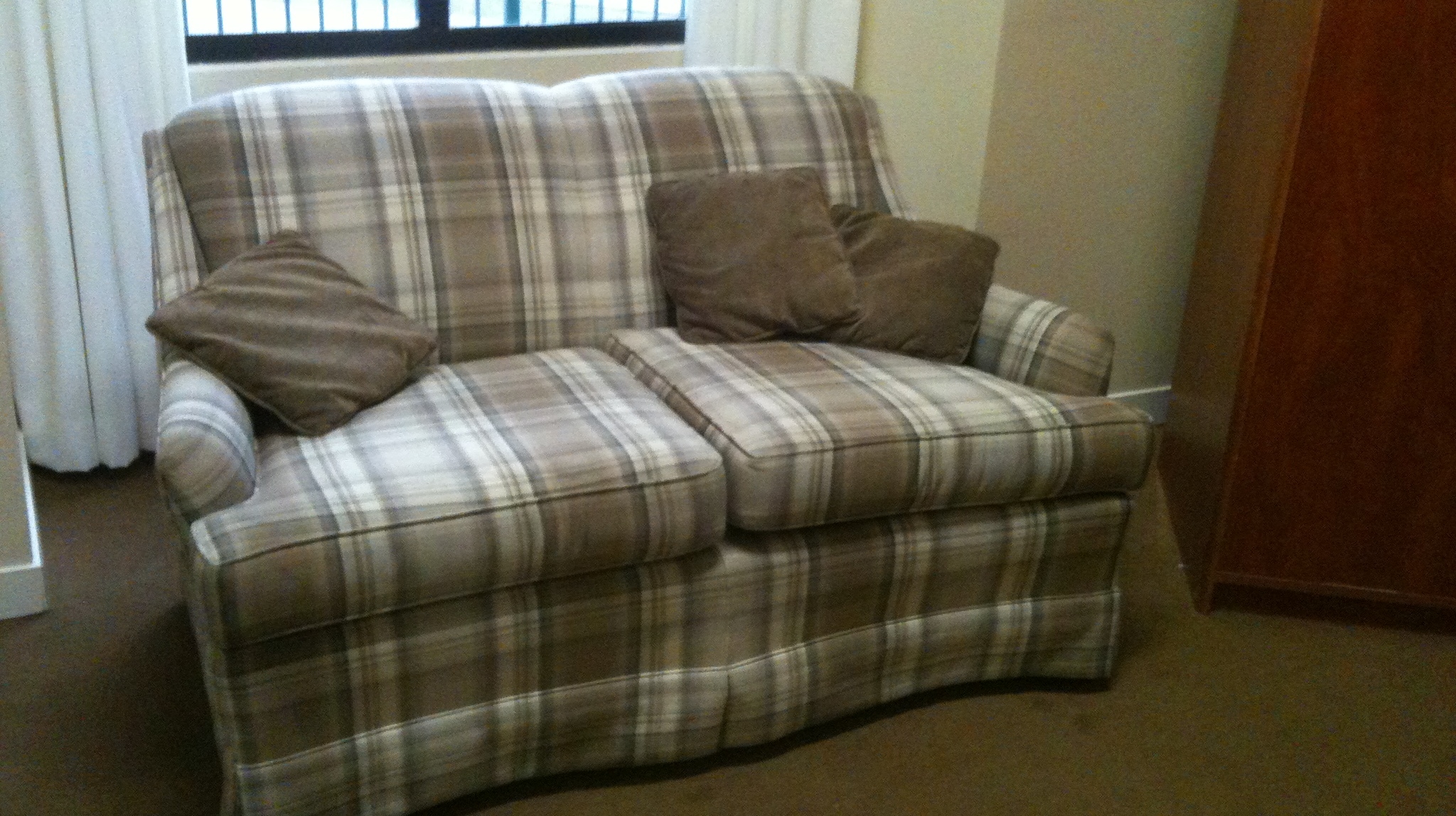 By Barbara Falconer Newhall
My mother isn't here anymore. She died. But like most people who have spent time on this planet, she left behind some stuff. Among them, a timeworn handbag and a small sofa that she liked to call her love seat. The love seat followed my mother from our home town of Birmingham, Michigan, to a retirement village in Phoenix, and from there to California, where it moved into and out of three different assisted living facilities.
Some people preferred to sit across the room from my mother when they visited. But I always wound up on that love seat, alongside her.
After my mother died, I managed to leave her love seat behind in her last residence, along with my father's mahogany dresser. My brothers and I had already given away the chair she'd needlepointed with blowsy pink roses.
But, six years later, I still have a closetful of my mother's things, including that old herringbone and leather purse. She'd used it day in and day out for the last months and years of her life. It was battered and smudged, but she refused to give it up.
My brother had given her that purse, but if he tried to replace it, she'd admire the new one dutifully then stash it in her closet or, more likely, underneath the love seat.
Toward the end, my mother had very little to put into that old tweed purse — some tissue, a single credit card and an otherwise empty wallet — but she'd sling it over the handle of her walker and take it with her wherever she went, to dinner in the assisted living dining room or off to a department store lunch with me. My mother liked that purse.
I thought of adding a photo here of my mother holding court on her famous love seat. But that would miss the point of these picture, which is to record my mother's absence.
If she's not here, where is she? Is she anywhere? One of the condolence cards I received after her death was corny as heck, but it brought me to tears. It read, "A mother's love is forever."
It's true. Things come and go. The love seat, the embroidered chair, and the battered purse will wind up in the dump some day. But none of that can alter the fact that, four billion years into the life of planet earth, the woman who owned them loved her baby girl.
If this story resonated with you, you might want to read The Trouble With Daffodils. Order Barbara's book at WrestlingWithGodBook.com.