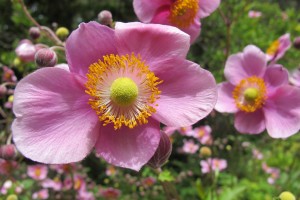 By Barbara Falconer Newhall
It's September, which means it's still summertime in California and things are still blooming like mad in my front yard rock garden. So bear with me if my thoughts turn once again to nature's urge to flower.
Flowers. The fine artist wannabe in me asserts that flowers are just too nice and too darned pretty to be the subject of Real Art. That perfect rose is just too perfect.
Real Art needs grit. It needs to be problematic. It needs tension. It needs woe and desolation. Something has to be askew. But flowers, by their very nature, fail the tension test. They never seem troubled to me, or even ruffled.
Whenever I find myself face-to-face with a plant in bloom, be it a hot house orchid or a forget-me-not growing up through the pavement cracks by our mailbox, I am beguiled by its perfection. By its completeness.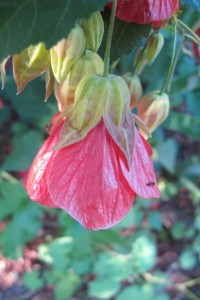 I can't take my eyes off the thing.
There is something about a Japanese anemone in bloom, or an abutilon nodding from its stem, something that reckons on being looked at. Just as fragrance is meant to be breathed, and texture fingered, so is a flower meant to capture the eye. A bee's eye. A hummingbird's eye. Your eyes and mine.
A flower in full bloom has something in common with the teachings of the world's great wisdom traditions: they are so, so nice. So unapologetically upbeat. Yes, they say, God is actually, really and truly in her heaven and all is right with the world. "All shall be well, and all shall be well and all manner of thing shall be well," as of Julian of Norwich wrote.
My husband would rather I not cut flowers from the garden and bring them into the house. He can't bear their evanescence. They make him sad; he knows that sooner or later, like the humans in his life who have passed away, they will shrivel and die. They always do. Death and decay are embedded in that abutilon's DNA.
So, yeah. It turns out that perfect blossom has woe and desolation aplenty. Does that make it a work of art?
More flowers — preserved and arranged by the experts — at "Where Poppies Dance and Cactuses Are Petit Fours,"   "It's Art — But Is It a Bouquet?" and "A Final Toss of the Bouquet."