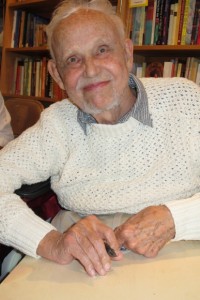 By Barbara Falconer Newhall
When Huston Smith turned 90 he did what he'd been doing for a good part of his adult life – he published a book.
But this one was different. Instead of exploration and analysis of the world's great wisdom traditions, this book was an autobiography, Tales of Wonder: Adventures Chasing the Divine, written with Jeffery Paine.
Huston doesn't know it, but he's been my mentor for decades – ever since I took a job as the religion reporter at a local newspaper. The religion beat has a steep learning curve, I quickly discovered, and Smith's authoritative book The World's Religions became my bible. It has remained so all these years.
But Who Is Huston Smith?
Studying it, I often found myself trying to read between the lines — who is this man who speaks so fluently of Islam and Judaism, Hinduism and Taoism? What did he personally think of the many disparate religions he studied? Is he still a Christian? Did he ever practice any of the religions he studied?
When I finally got my hands on a copy of Tales of Wonder, I found some answers.
In a chapter titled "My Three Other Religions" Smith reveals that he "never met a religion I did not like." Indeed, he practiced Hinduism unconditionally for ten years, followed by ten years of Buddhism, and ten years of Islam — all this without ever forsaking the Christianity of his missionary parents.
He was not following a checklist, Smith wrote. He simply found these wisdom traditions, each in its turn, fitting. And, "the proper response to a major spiritual tradition, if you can truly see it, may be to practice it. With each new religion I entered into, I descended (or ascended?) into hidden layers within myself that, until then, I had not known were even there."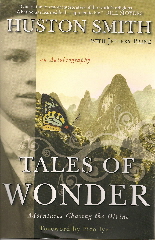 And What Can He Tell You About God?
What does a nonagenarian think about God when he's all alone in a private moment? Smith reported that, at 90, he had finally found a mantra that suited him. He repeats it under his breath in the bathroom and in elevators.
It's "God, you are so good to me."
After a lifetime of studying and teaching, investigating and deliberating, how simple it has finally become, he wrote. "I have forgotten more about the various religions than I knew in the first place. All that is left of my study of them is . . . me."
But for me, as Huston Smith's anonymous mentee, the most wrenching words in this book are in the epilogue:
"Soon it will be time to say good-bye," Smith wrote. "Good-bye to you, dear reader . . . Although we never met in person, you were like a friend, the thought of whom spurred me to my best efforts."
Those words brought me to tears.
Tales of Wonder: Adventures Chasing the Divine, an autobiography, by Huston Smith with Jeffery Paine, HarperOne, 2009.
© 2015 Barbara Falconer Newhall
A version of this story first appeared on BarbaraFalconerNewhall.com, where Barbara riffs on life, family, books, writing, and her rocky spiritual journey. Barbara is a veteran newspaper journalist whose stint as the religion beat reporter at the Contra Costa Times in the San Francisco Bay Area inspired her newly released interfaith book, Wrestling with God: Stories of Doubt and Faith.