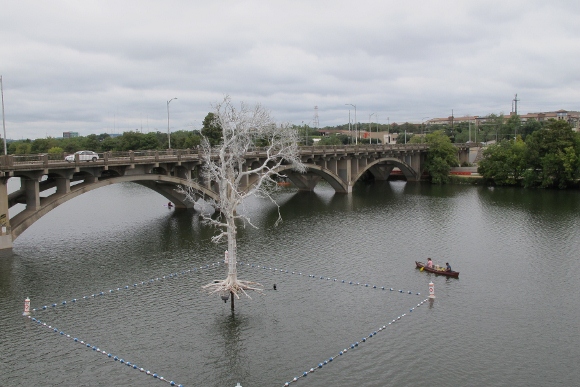 Some temporary art installations deserve to be temporary.
The graceless light projections of Danish artist Asbjoern Skou are a good example. So is the half-submerged red sedan in the rhino exhibit at the Schönbrunn Zoo in Vienna. Ditto the wind-battered half-mile of plastic trash bags that a white-booted woman named Sheri strung across Nevada's Black Rock Desert for Burning Man one year.
For me, some temporary art installations are just plain annoying.
Sometimes it's because the rationale behind the art work is way too rational for my taste. Skou, as an example, describes his work as "concerned with investigating the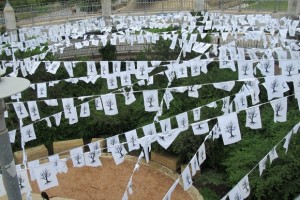 peripheral and hidden structures of actual spaces and discourse, and communicating these in attempts to navigate and negotiate their identity."
Huh?
Even more annoying are the artists who take out their frustration with modern life by running roughshod over the viewer. The massive oil pump plopped ironically in the penguins' enclosure at the Vienna zoo, for instance, feels mean-spirited to me. And Sheri's string of 2663 trashy trash bag is just plain ugly.
Which makes me wonder whether some artists fear their authenticity creds will be endangered if they venture to create something beautiful, something not-cynical, something that alludes to spirit — or at least is open to the possibility of spirit.
That's what was running through my head as I took in the beautiful, thoughtful Ghost Tree hovering over Lady Bird Lake in Austin, Texas, a couple of years ago.
Placed there by a group called Women & Their Work as a temporary art installation called THIRST, the Ghost Tree and the white prayer flags strung nearby were my idea of a really cool temporary art installation. Here's why:
The Ghost Tree made a statement — that a shocking 300 million trees died in the 2011 Texas drought.
It evoked emotion — grief at the loss of so many beautiful, nurturing living things.
Placed as it was at the heart of Austin in the water between two bridges, the tree enhanced rather than belittled its environment.
And, far from alienating its viewers, the Ghost Tree created community through a sense of shared loss.
And finally, to my grateful eyes, the Ghost Tree was not afraid to be just plain beautiful.
Painted a ghostly white, the tree – a 35-foot cedar elm that died in the 2011 drought – stood a few feet above the dark waters of Lady Bird Lake (named for First Lady Lady Bird Johnson). The tree's thirsty roots, also painted a ghostly white, were just out of reach of the water below.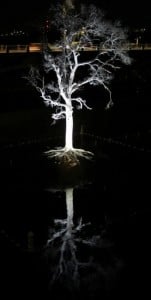 Complementing the tree were 14,000 prayer flags strung along a 2.5-mile loop from Lamar Bridge to the First Street Bridge and the popular Pfluger Pedestrian Bridge. Each flag was silk screened with the image of a dead tree. (The flags are white, btw. That means that, unlike the once-colorful prayer flags you see all over the Himalayas and Berkeley, they won't be fading to a dreary gray.)
Collaborating with Women & Their Work on the creation of the installation were Beili Liu, Associate Professor of Art at the University of Texas; Emily Little and Norma Yancey, of Clayton & Little Architects, and Cassie Bergstrom, of dwg landscape architecture. The project was supported by a grant from the Robert Rauschenberg Foundation. Which makes the Ghost Tree the legacy of one of my favorite artists.
As you can see, Ginger and Ron, my Austin friends who very kindly took me and my trusty point-and-shoot for a daytime walk along the Pfluger Pedestrian Bridge during my 2013 visit to Austin, indulged me with a second, after-dark visit to the tree.
Installed on September 29, 2013, the Ghost Tree — temporary art installation that it was — was taken down on December 16.
In this case, too bad it was temporary.
A version of this post first appeared on my website, BarbaraFalconer Newhall.com. Learn more about my interfaith book at WrestlingWithGodBook.com.