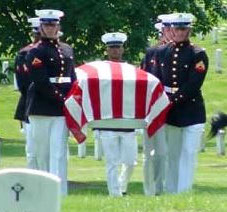 This is a special Memorial Day edition of the YIM Catholic Community Prayer Intentions List.  In the United States, Monday, May 31st is a federal holiday. On this day we honor those who have given their lives while serving in the armed forces of our country during armed conflicts.
As the resident Marine on the blog, writing this post is a duty I must fulfill. Truthfully, I didn't want to write it. But then I started remembering two Marines who died in an accident that almost killed me. Their names are Sergeant Armando Avila, and Sergeant Michael Vasquez.

They served with me in the artillery unit that I belonged to. Sgt. Avila was a cannoneer and responsible for a team of Marines that manned the 155MM howitzer that we all knew and loved, the M198. Sgt. Vasquez was a Forward Observer, or the eyes of the battery. He would radio back to our Fire Control Center positions and coordinates for targets. I loved these two men as brothers. Their families loved them even more.
I still wasn't going to write this post though, because my two friends had died in a peace-time accident. Then one of my friends posted the picture and story of a guy I served with when he was a young enlisted Marine. Let me introduce you to my friend and comrade-at-arms, Major Jay Thomas Aubin, USMC.
Jay had always wanted to be a pilot, it was a dream of his. His father owned a little airstrip up in Maine. Little Jay was a lot like me, you see. He knew what he wanted to be when he grew up, and he knew it at a young age. Also like me, Jay wasn't born with a silver-spoon in his mouth, but he had a goal, and goal setting is how you actualize dreams. Or maybe he, again like me, was called to the vocation of warrior.
Jay enlisted in the Marine Corps right out of high school for a four-year enlistment. After graduating from Parris Island, he went to school to learn how to repair communications and navigation equipment on aircraft.  He worked on A-6 Intruders, an all-weather attack aircraft. He was a good kid, a good Marine. He did his four years honorably, and left the Marines with money he had saved and earned. He attended college.
Like me, Jay didn't go to college to "find himself" either. He went to earn his bachelor's degree so he could come back into the Marine Corps as an officer and take his shot at flight school. If all this sounds pat and easy, believe me, it is far from that. The entire endeavor was a long-shot if there ever was one. College was the easy part but surviving Quantico (where Marine Officers are made), which is known for many things, is no cakewalk. He did well, made it to flight school, earned his wings of gold. Easy words to write, but extremely difficult tasks to accomplish.
He married a girl named Rhonda, who knew what she was getting into when she met Jay. Military wives are a special breed, and they need to be remembered as well. The Twin Towers were struck, and the machinery of society geared up for war. By this time, Aubin had moved up the ranks and was a Major and an experienced pilot (when I knew him he was a wee Corporal). His country said his unit must go to war, and he said "Aye aye, sir."
Operation Iraqi Freedom was the name of the deployment. The war began on March 20, 2003. From here, I'll let Hugo Kugiya of the Associated Press tell the rest.
Maj. Jay Thomas Aubin was among the first casualties of the war. He was piloting a helicopter with three other Marines and eight British Marines aboard when it crashed in Kuwait, two days after the war started.

The chopper was emblazoned with his nickname, Sweet Pea. It was a name given to him by a subordinate, inspired by the way Aubin responded to a favorable report: "Oh, sweet!"

"No one could find a name to suit him," said his mother, Nancy Chamberlain of Winslow, Maine. "They kept coming up with these macho names, but they didn't fit."

He was not an imposing man, possessing a slight build and an easy smile.
Let me break in with a little reality here. Jay was tough as nails. Look at the photograph. He could run 3 miles like a gazelle, doing it in 18 minutes or less. Slight build? He could do 20 dead-hang pull ups. And when I knew him, 80 sit-ups in under 2 minutes. Marines come in two varieties: big and mean, and skinny and mean. OK? Back to the civilians' write-up,
His was more of a nurturing personality. After the Marine Corps ball, he took his wife home, then checked out a van and drove back to the party, waiting for drunk Marines to exit, offering them a ride home.
Knowing him as I did, I can believe every word of this. He was an outstanding human being.
Aubin, 36, enlisted in the Marines, first, as a way to pay for college where he earned a business degree, then, so he could pursue the dream he had had of learning to fly, ever since he was an infant and his pilot father strapped him into his two-seater.

The crash that killed Sweet Pea was ruled an accident — there was no gunfire. Blowing sand and smoke from burning oil wells were thought to be a factor, his mother said.

"The thing that bothered me the most was I thought he was going to be blamed," Chamberlain said. "But he wasn't …

"He always said if he was flying a helicopter that went down, he wanted to go down too. I miss him more than I can tell you, but sometimes there are things worse than death. We're the ones suffering now. But if he had lived, he would really be suffering."
And that is how I received my orders to write this post. My buddy, Corporal Jay Aubin became Major Jay Aubin, aka Sweet Pea, and his family lost him at the age of 36. He was survived by his parents,  his wife, Rhonda, and their children, 10-year-old Alicia (now 17) and Nathan, 7 (now 14).
Our Lord said,  this is my commandment: love one another as I love you. No one has greater love than this, to lay down one's life for one's friends (John 15:12-13). Whether or not you believe that this includes members of the military, let me assure you that it does. Sudden death is an occupational hazard for members of the military. For the rest of us, it is just a hazard. But death, either way, is inevitable, and those who put their lives on the line during combat operations are definitely following Our Lord's commandment.
In the comment box below, if you would like to offer up a prayer for any of your friends or family members who have given their life while serving in the armed forces, please do so. You can remain anonymous or not, it is up to you. I would only ask that you adhere to our other regular rule, which is to avoid divisive politics.
There are hundreds, thousands,  tens of thousands of stories similar to Jay Aubin's that I've shared with you today. So let us pray for the brave souls of our fallen, and for their families who have borne their sacrificial loss, together as a community. Semper Fidelis.
God of power and mercy,
you destroy war and put down earthly pride.
Banish violence from our midst and wipe away our tears,
that we may all deserve to be called your sons and daughters.
Keep in your mercy those men and women
who have died in the cause of freedom
and bring them safely
into your kingdom of justice and peace.

We ask this through Jesus Christ our Lord.
Amen.