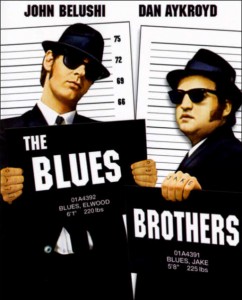 It's not often we get a free pass to go to the movies from the Vatican.  But that is what we received earlier this week. And heck, I couldn't be happier because I love this movie. My mom loves this movie. Come to think of it, my wife, sister, brother, and even my kids love this movie.
Bravo Zulu to the Vatican Film critics. So head to the library, Blockbuster, or boot up your Netflix account and have a blast watching this classic comedy starring the late John Belushi and Dan Akroyd. Here is one of my favorite clips and a little preview clip to boot.
"It's gotta cop motor, 440 cubic inch plant.  It's got cop tires, cop suspension, cop shocks. It's the model made before catalytic converters so it'll run good on regular gas. Whaddaya say? Is it the new Bluesmobile or what?"
That's what I'm talkin' 'bout!
"We're on a mission from God."