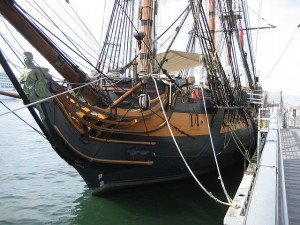 All hands, we have arrived at Patheos a little broken, but unbowed. Heavier than expected weather has knocked away a few spars and we will need to make repairs before heading out to deep water. This will also bring the opportunity to scrap the barnacles from our keel, pump out the bilge, repaint, etc.
In the meantime, I'll be unpacking my seabag as the crew here helps pull things that were stowed for the voyage up out of the hold and put back to their rightful places. As you can see, Our Lord and King figures prominently in the banner (Carravagio's Supper at Emmaus) and always shall. In the good news department, my collection of books made it through the gale unscathed and can be found in the tool bar below the banner. Joy!
I hope to add a few more things to the bar there, such as the Pandora radio channels and a few other features. The sidebar will look more and more familiar shortly. I hope you'll forgive the generally chaotic process of squaring away the deck here, as the crew at Patheos brings over the archives of posts and establishes links to the blogs Facebook Page, Networked Blogs, and all the other behind the scenes stuff that keeps the ship running smoothly.
So update your blog rolls, RSS feeds, bookmarks, and all of that techie "New Media" stuff so you'll miss nary a post. Thanks for your support!