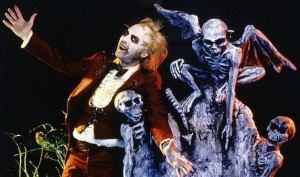 Hey, it's not every year that Music for Mondays falls exactly on Halloween. Last year, see, Monday was All Saints Day, and I went totally religious on you. But as this only happens once every seven years, I have to make the most of it. So in honor of the High Holy Day of Halloween, I've put together a little collection of eight of my favorite songs to enjoy the Eve of the Feast of All Saints. I'll run these roughly through a sort of chronological rock n' roll order, starting with the the oldest song from 1962.
Bobby "Boris" Picket & The Crypt Kickers, The Monster Mash. A chart topper in 1962, it also soared to the top in 1973, which is when I remember hearing it a lot. Visions of Herman Munster, and the Addams Family always dance through my head when I do.
Kiss, Rock n' Roll All Night. Sure, Alice Cooper was creepy, but he didn't take creepy mainstream the way these guys did. So named in 1973 when Gene Simmons, Paul Stanley, and Peter Chriss were joined by guitarist Ace Frehley, the boys decided to adorn themselves in Halloween makeup, see, year 'round. I remember when my big brother got his first Kiss album, don't you?
http://www.youtube.com/watch?v=Um_7-jvkono&feature=related
Rocky Horror Picture Show Soundtrack, The Time Warp. It's 1975 now, and the film based on the little rock opera that could, made an appearance and became an instant cult classic. Starring Tim Curry, Barry Bostwick, and big fan of the Catholic Church, Susan Sarandon. A young couple gets lost, see, and weird stuff happens to them. What, you've never seen this movie?!
Michael Jackson, Thriller. It had been really quiet since RHPS came out. So Michael Jackson got inspired, and even got Vincent Price involved in this mega-budget, choreographed masterpiece with special effects out the yin-yang. No one has ever been the same since. And what Michael says in the beginning? I agree with that statement, and I'll follow it with "hang on for the ride of your life!" This is awesome.
Greg Kihn Band, Jeopardy. It was so fun, that long time rocker Greg Kihn got in on the act with this next song in 1983, because Michael had made creepy cool again.
http://www.youtube.com/watch?v=3tCEQwww65g
Oingo Boingo, Dead Mans Party. This came out in 1985, by the modern musical genius behind the Batman soundtrack, and a host of other film scores, including ones for creepy classics Beetlejuice and Nightmare Before Christmas. I'm talking about Danny Elfman, and his group with the funny name. This was New Wave creepy, when it first came out. This tune hit it big when it was included in the film Back to School, starring comedian Rodney Dangerfield.
Will Smith & D.J. Jazzy Jeff, Nightmare On My Street. Hitting the airwaves in 1988, it climbed the charts after Wes Craven's Nightmare On Elm Street scare film franchise hit paydirt. The word is that the producers of those films sued the Fresh Prince and his deejay partner for copyright infringement. Have a listen and you'll see why,
Harry Belfonte, Jr, Jump in the Line, Shake Señora. The Halloween tradition at Casa del Weathers is that we go trick or treating, and then we watch Tim Burton's classic, and campy, creep show Beetlejuice. Danny Elfman did the score, but our family's favorite is the song used in the closing sequence. I dare you not to break out in a gig.
What are some of your favorites? Hit me up in the combox. In the meantime, have a Happy Halloween, be safe, and I'll see you here next week.