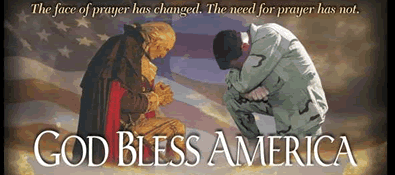 First of all, then, I ask that supplications, prayers, petitions, and thanksgivings be offered for everyone, for kings and for all in authority, that we may lead a quiet and tranquil life in all devotion and dignity.
Those are the first words the Apostle Paul writes in the second chapter of his first letter to young Timothy. Basically it's a command to pray for our leaders and for all. You see, we have so much to be thankful for, living here in this great land of ours, that often we forget how blessed we are and how many of our blessings are owed to God. Do you know how many? Why…all of them.
On this day we harken back to the folks who landed upon the shores of Massachusetts, determined to start their lives anew in a land of promise. The draw of freedom was the catalyst for their endeavor, and yet they too had leaders. For without shepherds, no flock can survive and thrive.
And so while we are giving thanks today in the United States for our individual blessings and God given graces, we should also take a moment and follow the precept laid down by the Apostle in his instruction to Timothy and be thankful for, and pray for the guidance of, our elected and appointed leaders
Expanding on this idea then, here is a "Prayer for the Authorities" found in Fr. John J. Burke's Catholic Prayer Book for the Marine Corps. Give over a few minutes of your time today and pray this prayer with me, if you would be so kind. Absolutely no one is left out of it, as St. Paul instructed.
Given the difficulties and challenges our nation, and the other nations of the world face, our leaders need all of the help they can muster.
We pray thee, O God of might, wisdom and justice! through Whom authority is rightly administered, laws are enacted and judgements decreed, assist, with Thy Holy Spirit of counsel and fortitude, the President of these United States.

That his administration may be conducted in righteousness and be eminently useful to Thy people over whom he presides; by encouraging due respect for virtue and religion; by a faithful execution of the laws of justice and mercy; and by restraining vice and immorality.

Let the light of Thy divine wisdom direct the deliberations of Congress and shine forth in all the proceedings and laws framed for our rule of government; so that they may tend to the preservation of peace, the promotion of national happiness, the increase of industry, sobriety, and useful knowledge; and may perpetuate to us the blessings of equal liberty.

We pray for His Excellency the Governor of this State, for the members of the Assembly, for all Judges, Magistrates, and other officers who are appointed to guard our political welfare; that they may be enabled, by Thy powerful protection, to discharge the duties of their respective stations with honesty and ability.

We recommend likewise to Thy unbounded mercy all our brethren and fellow citizens, throughout the United States, that they may be blessed in the knowledge, and sanctified in the observance of Thy most holy law; that they may be preserved in union, and in that peace which the world cannot give. And, after enjoying the blessings of this life, be admitted to those which are eternal.

Through Jesus Christ, Our Lord and Savior. Amen
As an old hymn from my childhood goes,
Count your blessings,
Name them one by one,
Count your many blessings,
See what God has done.
You may also be interested in the prayer that President George Washington prayed for the nation back in 1789. It was one of the little finds I shared with some blogger named Webster Bull. On Thanksgiving of 2009, see, he had invited me to write a little something.
Happy Thanksgiving everyone.
Update: Fr. Dwight Longenecker on The Theology of Thanksgiving.