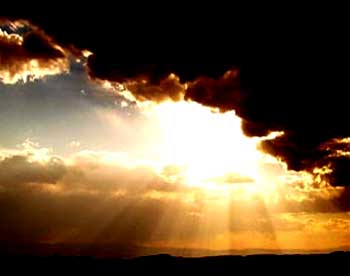 At least this has been my experience. Perhaps this poem by Emily Henrietta Hickey can help me explain.
Conversion
I.
Conversion! Some will shake the head
and sneer
Even at the word: yet some can surely tell
How bitter, sweet, and irresistible,
The change came to their life, and all things here
Grew changed; the dusk was light, the dark was clear;
The clash of discords into music fell
As sweet and solemn as the sacring bell;
The silence throbbed harmonious on their ear.
The life of God in glorious billows prest
About their life, and stirred it as the roar
Of seas might stir a sea-bird on the shore,
That burst the shell beneath a barnfowl's breast;
So were they moved and could not be at rest;
So were they moved, once and for evermore.
II.
Yea, God's large life in awful beauty beat
About their life. Oh, trouble and joy and great
Sobbing of quick new sense, and passionate
Desire for something passing good and sweet!
And loins were girded up, and eager feet
Sped swiftly o'er the King's highway, where, late,
They had lingered in their weariful estate;
On, on, the coming of the King to greet.
"Stay, stay ye runners, what avails your speed?
Ye will not hasten Him Who comes, one whit;
No, not one moment earlier shall be lit
The lamp that must illume the night of need !—"
"Oh, we shall meet Him, see His face indeed,
And know the utter loveliness of it."